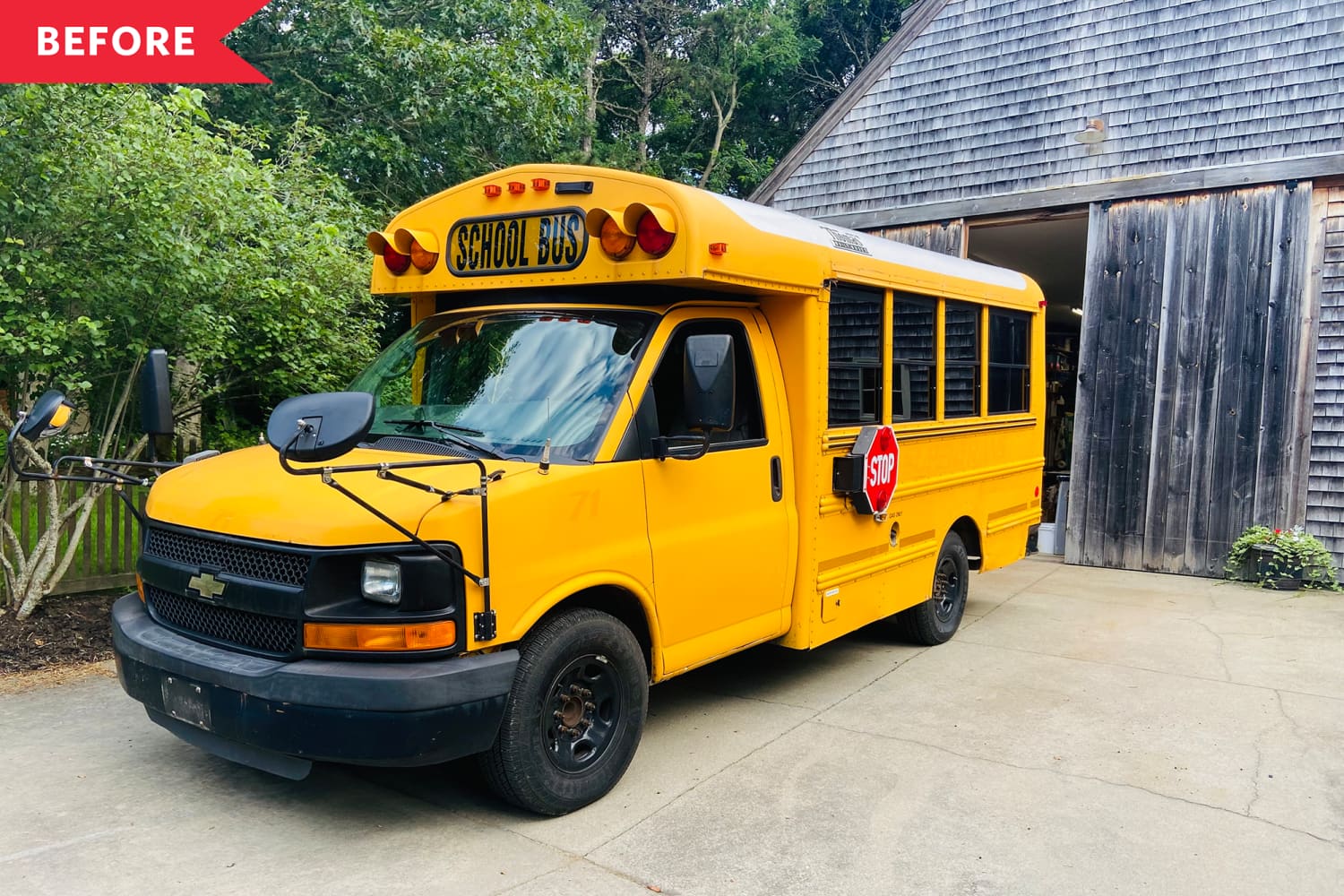 We independently select these products—if you buy from one of our links, we may earn a commission.
November is Family Month on Apartment Therapy! We're sharing stories all month about families — whether that's partners, kids, roommates, parents, pets, or plants — from improving your daily relationships or going home for the holidays. Head over here to see them all!
Designer's Names: Lisa Donahue and her daughter, Megan Donahue, owners of Live Simply Buses.
Location: Linus was built in the beautiful beach town of Eastham, Massachusetts, but given the fact that he is 100% mobile his permanent or temporary residence can be just about anywhere in the United States!
Type of Home: Linus is a "skoolie," a school bus transformed into a tiny home/motorhome.
Size: 97.5 square feet
Megan and her mom Lisa started Live Simply Buses as a tribute to their brother and son Michael who passed away at the age of 15. Transforming school buses into homes-on-wheels allows them to spend quality time together while honoring Michael's memory. In fact, the idea to renovate buses came when they combined the spirit of Michael's life motto, "It's the simple things in life that make it worth living," with their own love of creating and designing beautiful spaces. "We really pride ourselves in promoting how important it is to spend time with your children/loved ones because you really never know what each day brings," they explain.
This particular bus-turned-home is their ninth renovation, and they've named it "Linus." (They name all of their buses with names that end in "us".) "Linus is a 2011 Chevy school bus that has been transformed into a one-of-a-kind surfer's dream," they describe of the skoolie they designed and long-time carpenter Bob Field built. "We found Linus on Facebook Marketplace in the beginning of June and he has been a full-time project ever since." It has less than 100-square-feet of living space inside, but Lisa and Megan maximized every single inch of the home with storage and smart designs, like a dining area that transforms into a couch or a twin-sized bed for guests. They also expanded the available living space by creating an outside dining area with two barstools for outside entertaining and more.
While Lisa and Megan don't themselves live in their creations, it's amazing that they've been able to turn a hobby into a business, selling their creations on wheels to potentially helping other families find connection. "Linus' future owners are still up in the air as we do a thorough job interviewing all possible candidates," they explain. "We hope that whoever is the lucky owner is an adventurous spirit who looks forward to making a lifetime of memories in this one-of-a-kind home on wheels."
Apartment Therapy Survey:
Design professionals' Inspiration: When we build a bus we first give it a name. This one is named Linus which was named after the character in Charlie Brown. The color comes from Linus' childhood blanket in the Charlie Brown specials. We took that color and ran with it. Since Linus was built near the beach we decided to make him a "surfer's dream machine." It is sleek, modern, and minimalistic with touches of warm colors to make it feel like home while also still giving it the light and airy feel associated with beach homes.
Design professionals' Favorite Element: Ooooh this is a tough one! We might be biased because we love every piece that's in this quaint small space. If we had to answer, we would have to say the backsplash in the kitchen, the two-tier counter setup, or the kitchen faucet. The backsplash really makes it feel like a home and the two-tier counter adds a little bit of movement to the kitchen area. A fun fact about the countertops/dining table is that they used to be a part of the bar from the restaurant that Bob the builder's family owned on Cape Cod for decades called Hole in One. We love tying in pieces that have sentimental values; it makes the build even more special. We're also huge fans of the little matte black canisters on the shelf in the kitchen and the fun burnt orange runner.
Design professionals' Biggest Challenge: We'd say the biggest challenge was the size of the bus. With less than 100 square feet you HAVE to make sure you utilize every square inch. A way we overcame this obstacle is making sure every element in the bus has at least two purposes. For instance, the dining area can transform into not only into a couch but also a twin-sized bed for a child or even a guest. Another challenge we have with buses is sound. Since everything is metal it can be challenging adding elements to a bus without hearing it on the road. A way we solve this issue is taking it for test drives after we add something each time, pinpointing that sound and then securing it when we get home to eliminate the rattling and bangs for the future buyer.
Homeowner's Proudest DIY: This is a funny question because the answer would probably be the entire bus because the whole thing is a DIY. We are so proud of each of our buses; they are like our children in a sense; we want to send them off and watch them do big things!
Biggest Indulgence: The biggest indulgence would either be the flooring or the solar!
Homeowner: Is there something unique about your home or the way you use it? Since it's a skoolie, we would have to say that everything is pretty unique. It's not every day that you see a full-on home inside of a vehicle you used to get on to go to school as a kid. We hope that the new owners of this bus will take it on a lifetime's worth of adventures!
Design professional: What's your absolute best home secret or decorating advice? Our best advice would be to start with buying a throw pillow or bedding first when designing a bedroom. This way you're not picking a paint color and then looking for materials to match. If you pick the pillow or bedding first it's a lot easier to carry that around with you when searching for a paint color or other elements to match it. We also always suggest designing around things/colors you love. At the end of the day your home is where you go to relax. You want to make sure it's a breath of fresh air every time you walk through that door.
This submission's responses and photos were edited for length/size and clarity.