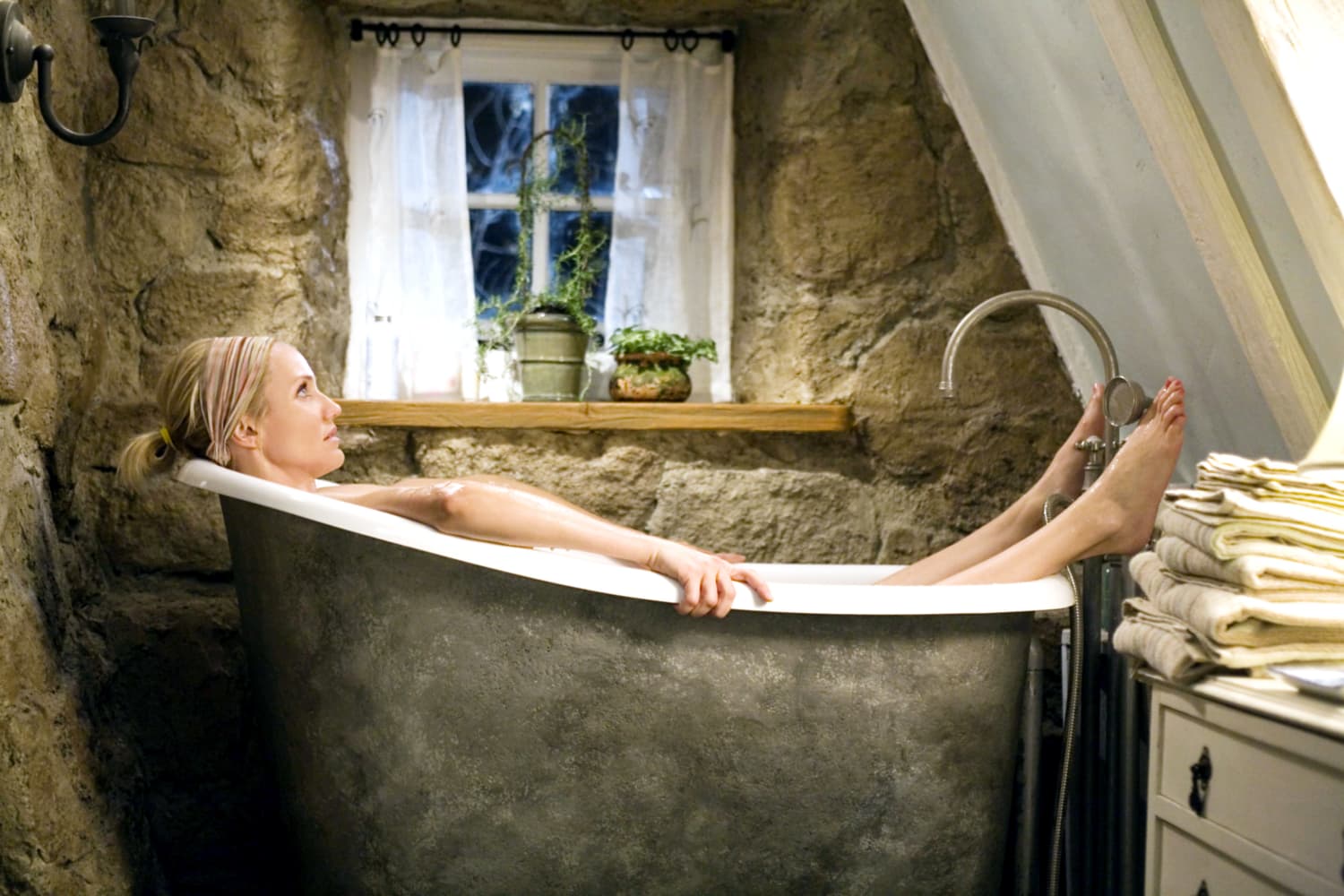 "The Holiday" has all the overarching themes that a good holiday movie has: meet-cutes, unexpected romance, and reunions with loved ones. And, while at its core, it's a cozy movie to be enjoyed throughout the festive season, "The Holiday" — which is celebrating its 15th anniversary this year — is so much more than that to me. Throughout the happy times, sad times, and really challenging times, it has provided me with comfort, and that comfort stems from one particular element in the film: Rosehill Cottage's bathroom.
The cottage is full of quintessential English country charm, and from the moment I first saw it, I adored the space straight away — just like Amanda (Cameron Diaz) did when she first spotted Iris' (Kate Winslet) residence on a home exchange website. But it's the delightful bathroom that solidified my love for the home and the movie at large.
First, it's hard to resist its lovely shabby chic aesthetic, with white furniture and creamy accents offsetting the lived-in look of the slightly wonky wooden beams and exposed stone wall. Furthermore, the rustic accessories throughout the space give it a cozy feel, and the harlequin-painted floorboards add character and personality to the bathroom.
I am a huge fan of every part of the bathroom, right down to the little plants on the windowsill. But the standout feature for me? The tiny freestanding bathtub that Diaz squeezes herself into in the movie.
It's no surprise why I feel this way, as taking a bubble bath is one thing that really helps my mental health. My tub time is my me time, where I am able to switch off and spend a little time soaking away the stresses of the day. I only hope to be able to enjoy this in my own "The Holiday"-style freestanding tub one day.
Well, speaking of that, the same model of bathtub actually can be purchased today, and it's got a super cute name: the Tubby Torre. While the teeny tub looks a tad inconvenient for Amanda — her feet dangling out of the tub as she's replaying her "complicated" conversation with Graham (Jude Law) — the small-but-deep design adds to the enduring, perfectly imperfect vibe of the bath. Plus, at 5'2″, I don't think I would have any issues curling up for a long soak.
Sadly, the cottage isn't real (although it's inspired by a real-life home that was on the market not too long ago). Bu there's no doubt that I will be incorporating elements of the bathroom (like the tub) into my own future home, whether that be in the quiet village of Shere, the village in England where "The Holiday" was filmed, or the bustling city of Manchester. Wherever my journey takes me, I will always have Rosehill Cottage as my inspiration.