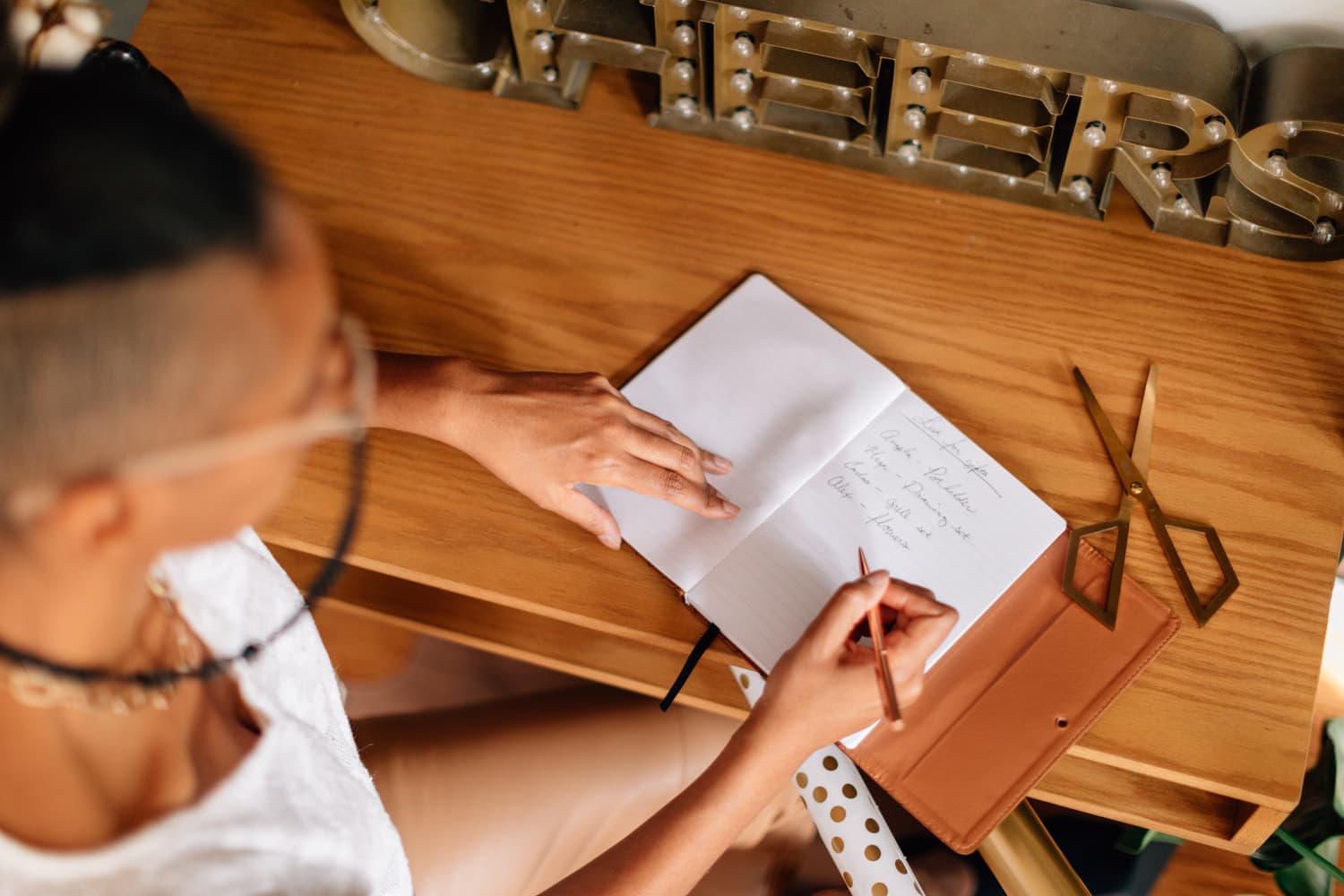 Now that the holiday season has officially arrived, there's no time like the present to start making plans about how to tackle your shopping list. Gift giving may be all about showing one's love and generosity to those that matter most, but sometimes it's not always possible to go above and beyond your means when celebrating the holidays.
That's why it's incredibly helpful to set some boundaries, make a few lists, and prepare your wallet for a budget-friendly holiday shopping season — and there are plenty of experts on Instagram who know a thing or two about helping you achieve all of the above.
Whether you're looking for money-saving shopping tips or ideas on how to craft your own DIY gifts, here are 10 Instagram accounts offering a variety of ways to stick to your holiday budget this year.
If you have more than a handful of people to buy gifts for this holiday season but only so much money to spend, it might be helpful to set some budget boundaries. Enter @thebrokeblackgirl, which is also a blog. Led by financial coach and former accountant Dasha Kennedy, the account has plenty of tips and advice on how not to overstep your financial threshold and stick to what you intend to spend on holiday purchases.
Another great resource to check out for money-saving tips and sticking to your budget this holiday season is @shewolfeofwallstreet. Led by Amanda Wolfe, this Instagram account is all about financial literacy and helping others understand how to save, invest, and drive down debt, according to one's individual economic situation. With Christmas just weeks away, Wolfe suggests you start saving now rather than scrambling to find cash later. Putting a little money away each week, whatever you're able to afford, which will give you a decent fund to work with by the time it's right to say, "Happy holidays!"
If you need a crash course on all things holiday budgeting, look no further than @thefinancialdiet. Whether you need evergreen advice or tips on shopping hacks, budgeting information or just moral support about how not to go bananas in the midst of an wildly busy holiday season, this page has it all. Give yourself the gift of peace of mind this year by not obsessing over the fact that you may not be able to afford gifts. Instead, opt for gifts that won't cost you a dime — just time, thoughtfulness and a little TLC.
Once you have your budget set and know exactly how much you're willing (and not willing) to spend on the holidays this year, it's time to shop. Kendall, aka Babe On A Budget, provides insider tips on holiday shopping dos and don'ts on her Instagram, some of which identify the best ways to pay for your festive items. From the best Buy-Now-Pay-Later companies that allow you to break down the cost of an item into smaller payment installments, to whether or not you should opt to pay with cash or a credit card, Babe On A Budget can help you keep track of exactly how you're spending your shopping money.
In addition to saving money and figuring out the best way to pay for your purchases, there are also ways to put money back into your account. That's Common Cents, a financial wellness blog started by a business school graduate named Jess, is showing you the money when it comes to cash-back apps that give you the best bang for your buck. Apps like Rakuten, Dosh, and Lolli are all good, reliable cash-back resources that can sometimes give you a 10-15 percent return on your holiday shopping list. There's even an app that gives you cash-back in bitcoin. Even if you're still fuzzy on all things crypto (same), it may not be a bad idea to give it a shot!
So you've got your shopping list and you're checking it twice, but now you're wondering how to go about tackling each item. Should you visit brick-and-mortar stores, or opt for an online experience? How early (or how late) should you start shopping? Journey to Launch may have the answers you're looking for. Founder Jamila Souffrant suggests shopping online and using credit card rewards programs as some of the best ways to save on gifts. The financial independence advocate also recommends waiting until after Christmas to buy certain items and to give smaller, inexpensive but meaningful gifts in the meantime.
Chances are that good organization skills will come in handy during the busy holiday season. Stay neat, tidy, and color-coordinated with organizing tips from Tânia of Homganize. Find some of the best ways to sort your holiday dinner groceries in the fridge or reorganize the pantry to keep your go-to seasonal ingredients handy. You can even grab a few party organizing tips from Homganize for those hosting holiday soirees at home.
Even though it might seem strange to think about after the holidays when the season has hardly begun, fast forward for a moment to when it's time to take the Christmas decorations down. Janelle Williams, an entrepreneur and busy mom of three, has plenty of cost-saving tips, tricks, and soothing photos to satisfy your post-holiday organization needs on @organizedbyjwc. The meticulously kept Instagram suggests taking inventory of your decorations to sort through what you want and don't want to keep for next year, plus creating a system in your home that can help you compartmentalize your holiday items.
Turkey doesn't have to be limited to Thanksgiving during the holidays. In fact, this very cute and clever turkey leg DIY project from arts and crafts blog P.S.- I Made This is something you can use throughout the season (and wherever else you might get a kick out of it!). Pop some popcorn, grab a pack of small brown paper bags from the dollar store along with some twine and paper, and you're on your way to a fun and festive party favor for your dinner guests to snack on. P.S.- I Made This also has other fun craft ideas for the holidays, so keep checking their Instagram for more.
If you like to linger in Target's $5 and Under decor section near the checkout lines, you'll find yourself in good company with craft artist Laurel Harry's aka @thehousethatdiybuilt. Filled with tons of colorful, easy-to-make homemade projects, Harry offers neat and inexpensive tricks to populating your home with festive holiday decor. Her tiny Christmas village homes all came from the dollar bins at Target and were customized with paint and glitter — a fun and budget-friendly way to get into the holiday spirit this year!
Do you have a favorite Instagram account with holiday shopping budget tips? Let us know in the comments below!