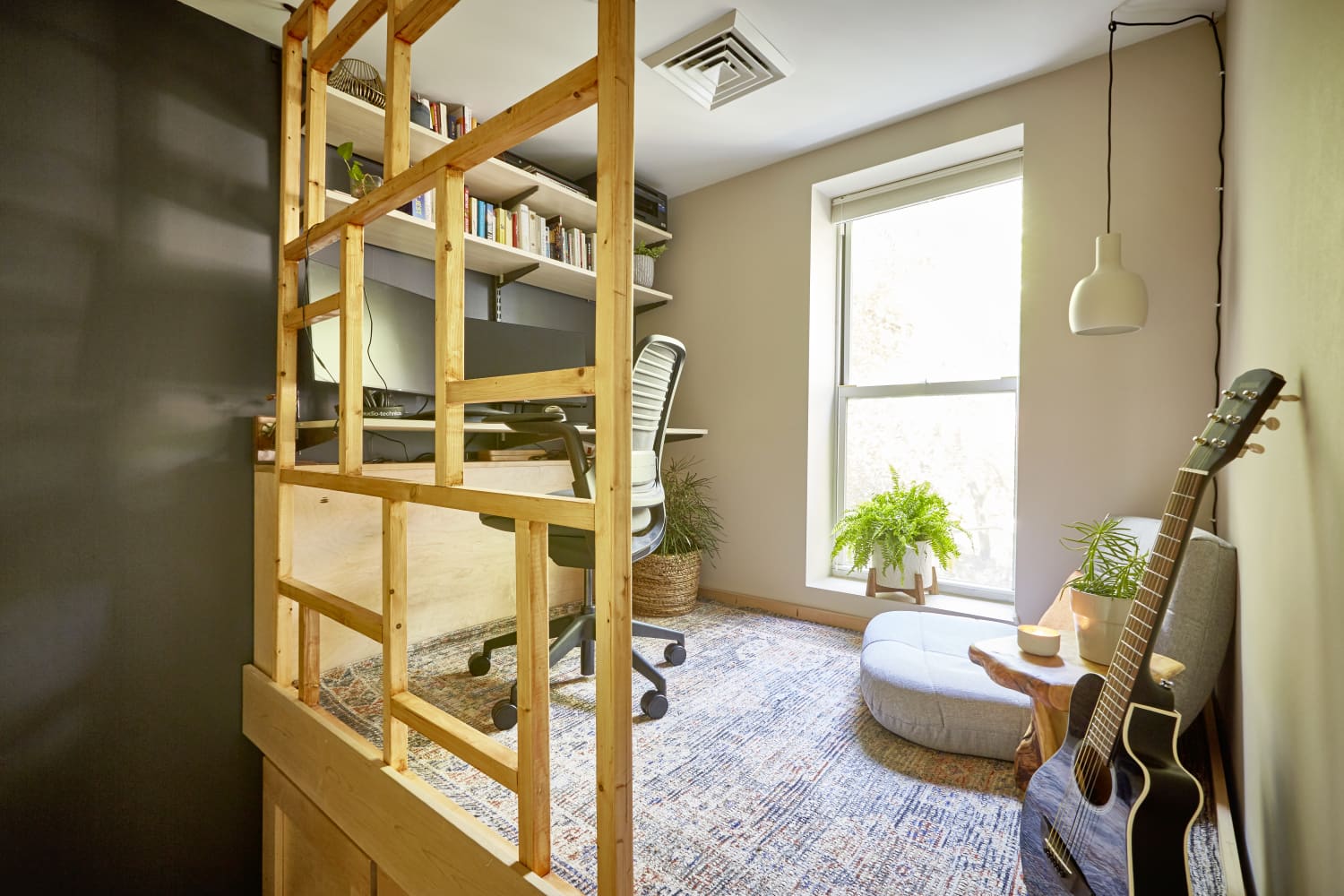 We independently select these products—if you buy from one of our links, we may earn a commission.
If people have learned one thing from the pandemic, it's the need for flexibility. This spirit of adaptability reflects strongly in how people are living in and using their homes. They've turned offices into homeschooling classrooms, closets into noise-proof Zoom meeting safe havens, and garages into home gyms.
Using spaces to their fullest potential matters now more than ever as people continue to spend lots of time at home. These 11 house tours are great examples of flexibility and innovation — because they all feature rooms that are being used differently than their intended purpose. Here's to adapting to meet the needs of specific situations, and doing it with style.
1. A Tiny Closet as a Minimalist Kitchen
When this renter realized her Los Angeles apartment didn't have a kitchen (it was called a bachelor apartment) she took matters into her own hands, turning a closet into a makeshift cooking space. The best part? She can hide the mess with a curtain in a pinch.
2. A Combined Office and Dining Room
Home organizer Fay Wolf used a secret weapon in this Los Angeles apartment — a bold, diagonally painted wall — to create the illusion of two separate spaces in one room. A kitchen table sits very close to an office desk and bookshelf, but they visually look like two rooms in one. That's not the only way she made her apartment more personal; she and her boyfriend decided to put their bed in the living room to turn the bedroom into a music space, an idea Fay attributes to her partner Garrett. "He had the brilliant idea of moving the bed into the main room, allowing for a larger, closed-off creative space for us both.
3. A Cozy Bedroom Inside a Closet
This clever Chicago renter figured out how to convert her 500-square-foot studio into a one-bedroom. How? By turning her closet into a cozy bedroom. "Yes, my twin bed is in the closet!" she said in her tour. By turning the closet into a cozy sleep space, it opens up the rest of the small apartment, making the entire place feel much larger than it is.
4. A Closet as a Workshop
Katie R. T. Giaimo wasn't afraid to use the rooms in her home for exactly what she wanted… instead of just what they were intended for. She and her husband use the second bedroom as a main because she thinks it's "dumb to have the biggest room be one you just use to sleep instead of enjoy." Perhaps most impressively, they use the main bedroom closet as a woodshop thanks to shelves and other smart organizing tricks. In fact, she got creative with just about every room in the apartment: "The main bath is storage and the cat's own bathroom for their litter box. We don't have a dining room; instead I have an open office space in the living room because I work from home so much."
5. An Extra Bedroom as a Second Living Room
Haley Boyko, a footwear designer and freelance illustrator, shares this three-bedroom apartment with her partner, Nick Sylvester, and their three dogs, Maya, Emma, and Penny. Thanks to an abundance of bedrooms (three!), they were able to use two of them for other purposes beyond sleeping. "The third bedroom is used as my office space, and then the second one we decided to turn into a separate living room," explains Haley.
Natalie Wong removed a hallway closet and added a wall in her Los Angeles condo's upstairs to create a third bedroom that she calls the "cloffice." It has served many purposes during the pandemic, like an office, yoga studio, and a closet. Oh, and it even works as a guest bedroom, too.
7. A Lofted Bedroom as a Home Office
When there isn't enough space, look up! This New York City renter converted a lofted bedroom into a small home office, as the built-in platform the owner installed can't be removed. He and his designer added carpet on the platform, moved in a desk and shelves, and built a custom wall divider to turn an area that was meant for just a mattress into a compact but efficient workspace.
8. An Extra Bedroom Turned Into a Boutique Walk-in Closet
Gone are the days of messy closets with buckets of clothes and purses strewn everywhere. This Philadelphia homeowner opted for built-ins that made this extra bedroom (which was honestly pretty small as far as bedrooms go) into a stylish walk-in closet, making the room feel more like a boutique clothing store than a storage space.
9. A Hallway as a Vanity Station
If you're already putting on your makeup, perfume, and sunglasses as you race out the door, you might as well move them to a convenient location. This brilliant space hack in a 600-square-foot Manhattan apartment has a hallway doubling as a vanity, complete with organized glasses storage and beautiful wallpaper.
10. A Living Room as a "Cozy Cuddle Puddle Room"
What if you took any room of your house and turned it into a place to snuggle with your pets? Sounds like a quarantine dream. This couple did just that in their Venice Beach bungalow. Now they spend time hanging out with their pups on a variety of soft textures and pillows right on the floor.
11. An Alcove into a Kid's Bedroom (and a One-Bedroom into Two)
When Jenny Davis and her husband, Cory, had their first child, instead of moving from their one-bedroom NYC apartment, they made a small alcove off of their living room (likely intended originally for a home office or something!) into a small bedroom for their son. Not ones to waste space, they also managed to fit a living room and dining room in the rest of their apartment's open living space along with ample room for toys and playing, too!