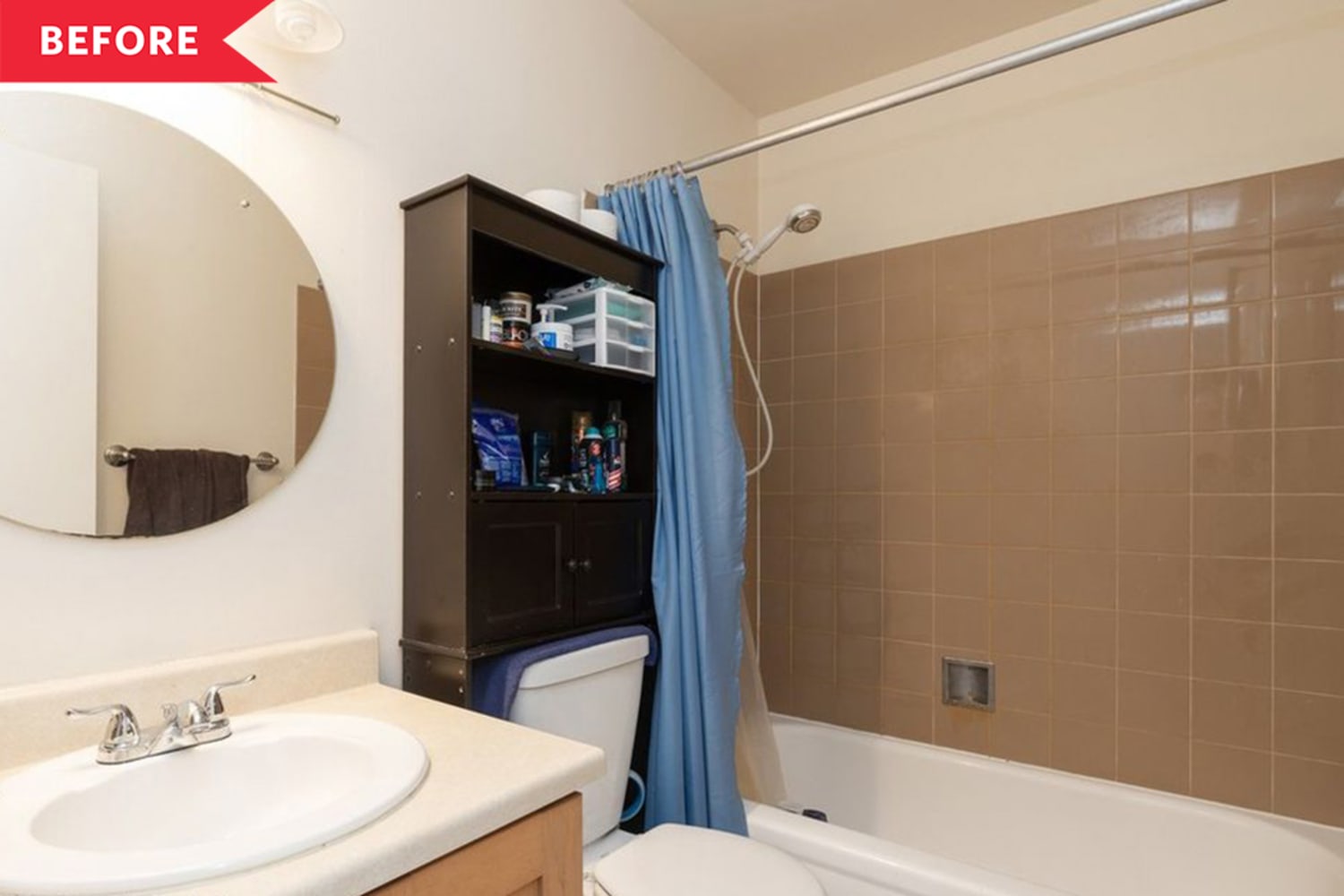 Even the nicest condos sometimes come with outdated, dirty, disappointing bathrooms — especially if the space was previously a rental for years. Dingy bathtubs, cracked floors, drab colors, you name it.
That was the case for Lauren and Kameron Sears' guest bathroom. Luckily, these bathroom issues can usually be fixed up with the help of a new vanity, some recaulking, or refinished tile. The couple did just about all of that to give their dated bathroom a sophisticated, modern refresh.
Prior to the upgrade, Lauren says they rarely used the bathroom. When they bought the condo, most of the rooms were in "poor condition." The guest bathroom in particular screamed outdated between its brown tile and builder-grade cabinets.
Lauren and Kameron decided to make the vanity fronts the showstopper and centered the design around them. They decided to get a little risky and painted the walls and ceiling blue to match the vanity and give the illusion that the existing tile didn't purposefully continue up to the ceiling, Lauren says. The white paint in the middle of the wall "really helps you forget where the shower tile starts and stops."
Placing a curtain or shower rod higher than where the tile stops is a smart way to add dimension to any room, and they took advantage of that.
They threw in a plant and some wood elements, and the space was complete. From demo to completion, the project took four weeks and rang in at around $2,500. Lauren says the priciest part was professionally refinishing the tub and tile, which came in at $850.
But be warned: Lauren says as first-timers laying floor tile, mosaic tile requires time, preciseness, and patience.
"We had never remodeled a bathroom before but with lots of research and help from various websites, we tackled one thing at a time, to complete the project with an outcome we are super pleased with," Lauren says.