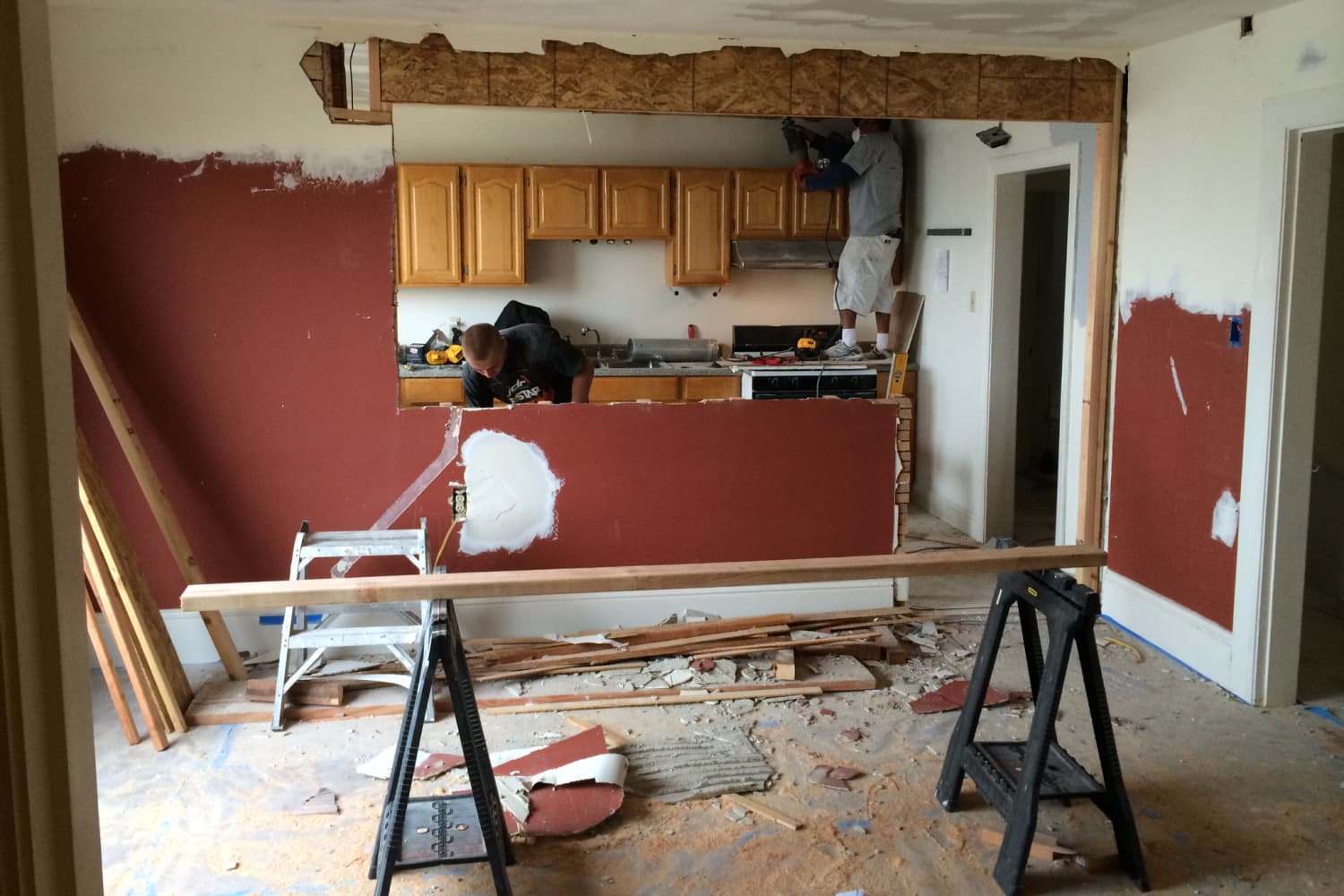 Name: Kara Haren, husband, two kids, and the chillest 70-pound rescue dog
Location: San Francisco
Type of home: Apartment
Size: 1,200 square feet
Years lived in: 6 years, owned
Tell us a little (or a lot) about your home and the people who live there: My husband and I got outbid on what felt like every property in San Francisco six years ago until this outdated and a bit beat-up little flat got in front of us.
The bones of the 90-year-old home were great, but the first impression was lackluster to say the least: cranberry painted walls, a kitchen that hadn't been touched in 20 years, flimsy and cracked windows. You get the idea.
We poured our hearts and souls into this place, doing every DIY/reno project we could on the weekends (and with whatever cash we had left!).
It took three years to complete, and we can say it truly feels like home to us.
We never imagined we would bring home both of our daughters to this flat, and we also never dreamed this would be the home project that inspired me to leave the corporate path to start my own interior design business.
I love storytelling, and thus, I love a rad or genuine story behind every piece. Design-wise, my husband is more clean and minimalistic, and I am a true maximalist, so trying to find the balance between us was tricky and quite humorous.
We combined both of our favorite art from my husband and myself, creating a very eclectic gallery wall that represents "us" (i.e. a Vespa poster given to me in honor of my Vespa scooter days, a Santa Cruz boardwalk print from our third date, a photograph my husband bought at a flea market years ago… all mashed up together!).
We both gravitate toward warm materials, so a mash-up of mixed woods and leather is sprinkled throughout our home. Nothing is too precious (c'mon, we've got two kids under four!), and most everything we touch or use daily. We buy things that we love or feel represent us, which is why we own a large fossilized dinosaur head, to give a nod back to my (still!) dino-obsessed husband.
What is your favorite room and why? My favorite room is the space I created for my first-born daughter, Lennox, which morphed into both of my girls' rooms once Tatum, my youngest, was born. We didn't find out the sex of either baby, and so we created a 'gender-neutral' theme that felt relaxed and cozy. When I was a kid, my own father would kiss my forehead and say "aim for the moon, girl" — and that sentiment still gets me teary, so I wanted to design a space back to that sentimental memory. And so, a moon-inspired nursery was born.
Describe your home's style in 5 words or less: Relaxed, eclectic, authentic, collected, happy
Any advice for creating a home you love? Buy pieces you love. Buy pieces that reflect you, your story, and memories. If you love something, don't overthink it. You'll find a home for it.
This submission's responses and photos were edited for length/size and clarity.