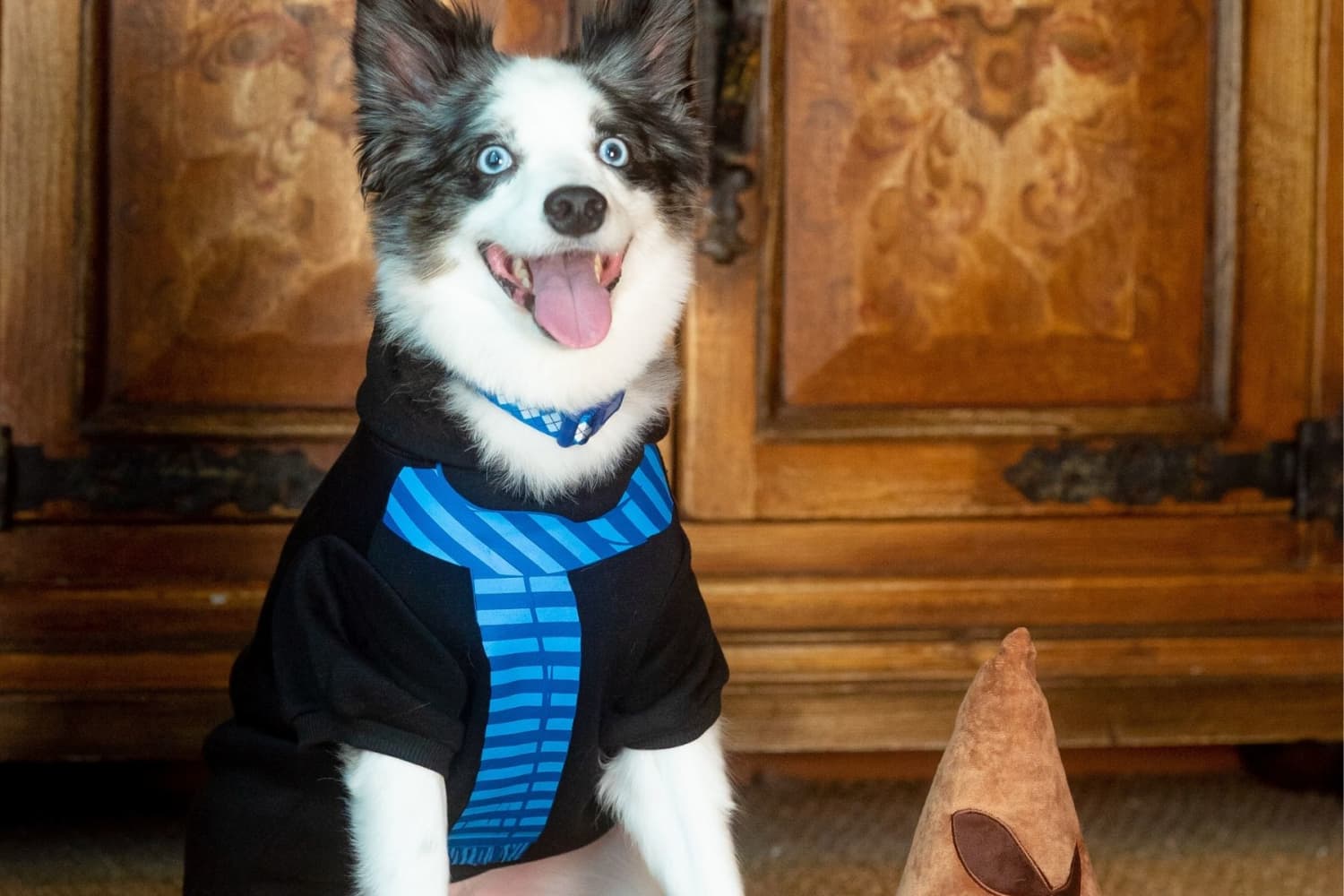 We independently select these products—if you buy from one of our links, we may earn a commission.
Fans of the Wizarding World will be delighted to know that PetSmart has teamed up with Warner Bros. Consumer Products to launch its first-ever Harry Potter-inspired collection for pets. From chew toys to clothing products, furry friends can now enjoy the magic and wonder of Hogwarts.
With a range of themed accessories from each Hogwarts house, you can pick your favorite pieces to perfectly match your pups' personality, whether they're a Gryffindor, just like Harry Potter, Hermione Granger, and Ron Weasley, or a Hufflepuff, Ravenclaw, or Slytherin. Not sure which house your four-legged friend belongs in? There's even a sorting hat!
The new and exclusive spellbinding collection was developed by Fetch for Pets and features everything from plush characters and charming collars to warming clothing and fun toys that are perfect for outdoor play. All of the items in the range are priced under $20, and there's something for every doggo to enjoy.
The Sorting Hat Burrow Toy, Harry Potter Plush Toy, Harry Potter Glasses Rope Toy, and the Dumbledore Crinkle Toy will keep dogs captivated for hours, while the Nimbus 2000 Rope Toy is great for pets who have always dreamed of winning the Quidditch Cup.
Your dog can also beat the chill this winter with a Harry Potter-themed hoodie that's sure to set your pup apart from the rest, available in sizes x-small to x-large.
"We couldn't be more excited to partner with Warner Bros. Consumer Products on these exclusive accessories and toys to share the magic with this Harry Potter collection at PetSmart," said Kristin Shane, Senior Vice President of Merchandising for PetSmart in a release announcing the collection. "We know pet parents will do anything for their pets. With the Wizarding World being such an iconic and beloved franchise, we know that this new collection will bring charm and joy and to both pet parents and their pets."