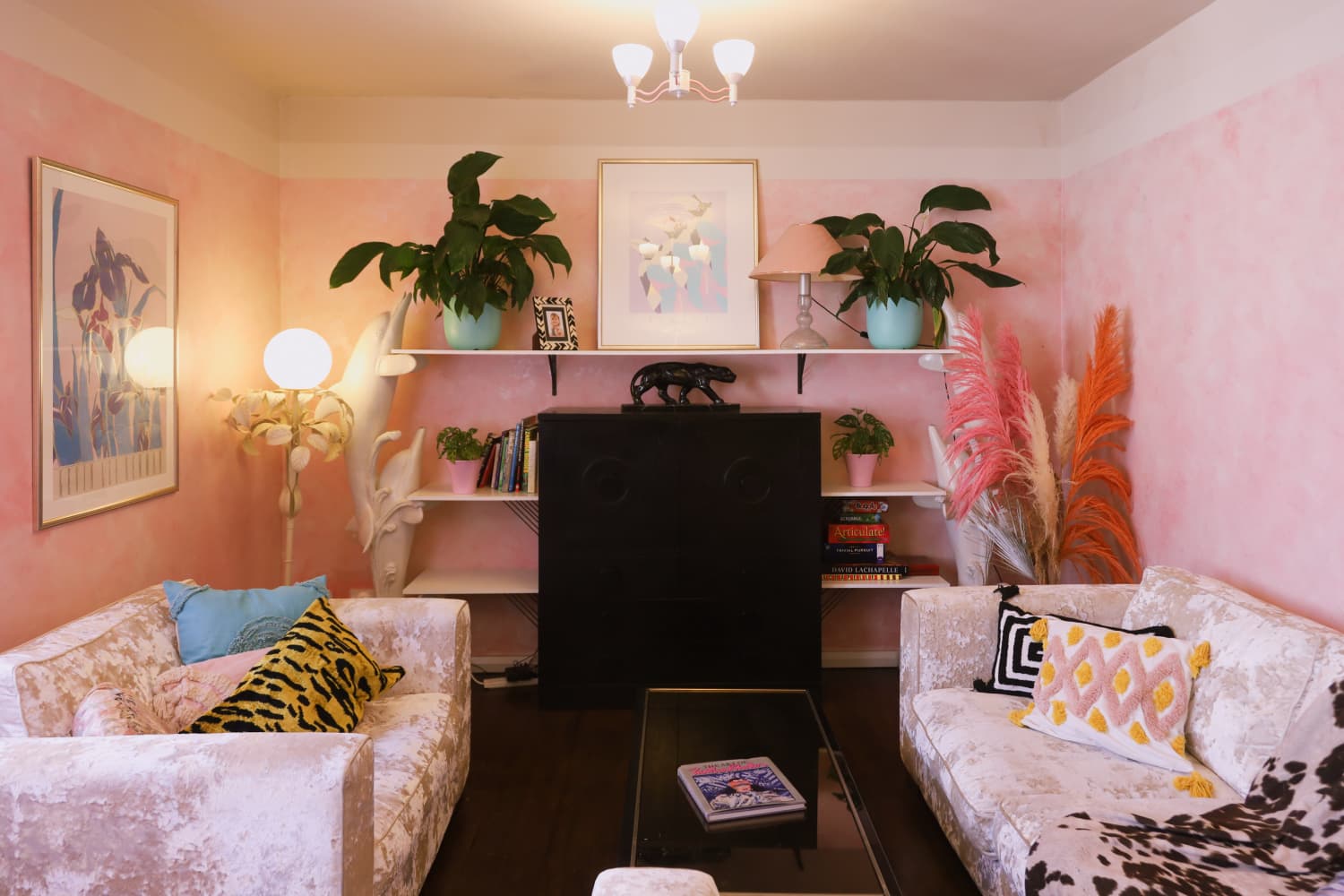 We independently select these products—if you buy from one of our links, we may earn a commission.
Name: Amy Exton and Presley the cockerpoo
Location: Margate, England
Type of Home: Three-story town house within a larger building
Years lived in: 5 years, owned
Amy Exton creates truly spectacular spaces. The interior and set designer uses vibrant color, energetic patterns, and vintage furniture and accessories to craft rooms that look incredible in person and on screen. She lives in one of those spaces, also known as the Margate Location House. "The house is part of a bigger building, which used to be a tuberculosis hospital at the turn of the 20th century, so it has lots of history and character, which is what I fell in love with when I bought it," Amy writes about the home she shares with her dog, Presley, and which she also rents out for photoshoots. "It's a great space with high ceilings, and sits over three stories so it feels really spacious." Along with two other designers, Amy created the interior design studio Studio Margate to continue designing incredibly colorful interiors.
Apartment Therapy Survey:
My Style: I never know how to describe my style to people aside from bright, lair-y, fun, and playful.
Inspiration: Elvis's Graceland, Zandra Rhodes, '80s American interiors, '90s changing rooms
Favorite Element: My favorite thing at the moment is the HK Diplomat sofa in the kitchen diner — I found it on a Facebook Marketplace really cheap and I still can't believe my luck. It's huge and only just squeezed into the room — Presley is a huge fan; it's his fave sleeping spot.
Biggest Challenge: Keeping it updated and fresh for photoshoots is probably the biggest challenge, as people always want something new and unseen, so I'm constantly redecorating. But luckily I get bored easily so would probably be changing it up all the time regardless. It's just a good excuse.
Proudest DIY: I do all of the cosmetic work myself so I'm always really proud after I've finished a room because such a lot goes into it. Proudest is probably the zebra print floor upstairs, which I painted by hand.
Biggest Indulgence: I've always had to work on a pretty tight budget (hence hand-painted zebra floor rather than expensive zebra carpet) but I've spent more than I probably should have on individual bits of furniture. The dolphin shelves in the lounge were pretty pricy for what they are — there's not exactly a huge market for them — but I couldn't stop thinking about them so had to invest, and they are the centerpiece for that room. They really make me smile; they're so ridiculous.
Is there something unique about your home or the way you use it? The lounge on the first floor was sold as a third bedroom, but I wanted more communal space so just turned it into a lounge instead. So combined with the seating area in the kitchen diner it makes the house feel a bit bigger, albeit less practical.
What are your favorite products you have bought for your home and why? Speaking as a true millennial, I'd have to say my plants. It's hard work keeping them happy but they give the rooms life.
Please describe any helpful, inspiring, brilliant, or just plain useful small space maximizing and/or organizing tips you have: Maximize ceiling height — if you're lucky enough to have high ceilings, make the most of it by getting tall furniture. I got extra tall cupboards in the kitchen — which means I can't reach some cupboards without balancing on a high stool, but means I have that extra storage space. Aside from that I would say just try to cut back on the amount of things you have. If I had too much stuff it would be a nightmare to clean, so I try not to have clutter anywhere. Makes life easier.
Finally, what's your absolute best home secret or decorating advice? If you think you might like something just try it out. Don't worry about whether other people will like it (unless if they live with you). When it comes to using bright color, you can always just paint over it if it really doesn't work. Also you can make a space bright and colorful with the way you dress it, which is even easier to change than paint.
This submission's responses and photos were edited for length/size and clarity.