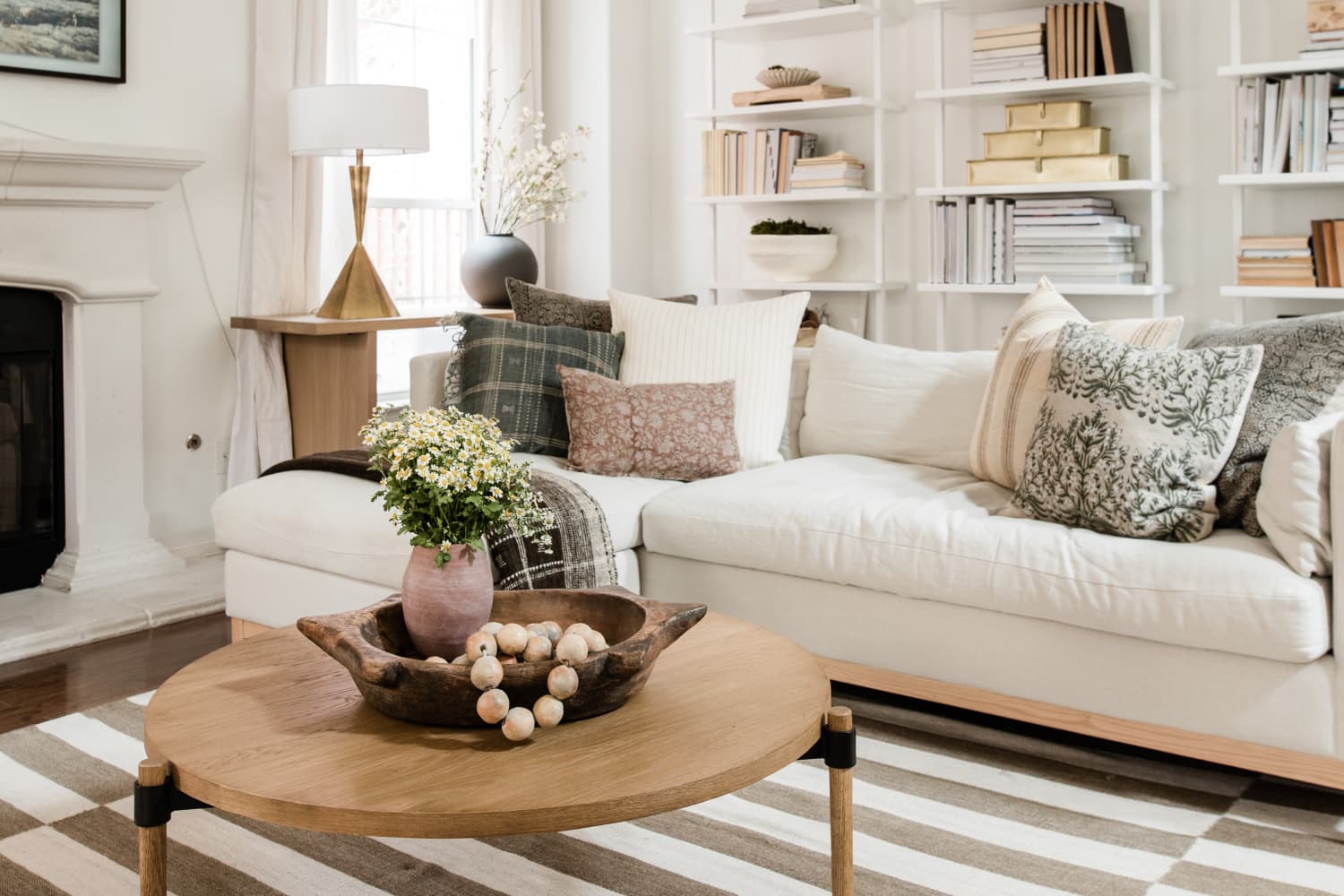 We independently select these products—if you buy from one of our links, we may earn a commission.
Name: Quinn and Anastasia Casey and Kennedy (dog)
Location: Austin, Texas
Size: 2,200 square feet
Type of Home: Condo
Years lived in: 4 years, owned
We were NOT looking for a house. It was on our five year plan, but had completely settled into our affordable rental. In the four years we've lived in Austin, property values have climbed rapidly. We were saving money and figuring out what we wanted to do long term. One day, an email appeared in an old email account with this house. It was a price we could afford, was beautifully maintained, centrally located, and perfect for us. I toured it that day. The next day, I went back and the agent informed me that the price had dropped $20k overnight. We made an offer that day.
Thirty days later, we owned our first house. It was the most stressful, scary, exciting time of our lives. I don't think either of us slept more than an hour a night that month. But now we're home, and we couldn't be more in love.
I think a lot of people missed out on our house because when they were searching, they didn't check 'condo' as a search filter. Because of that, they never saw our home (or homes like it) that live and feel like a free standing home, but without the price tag. We don't share any walls, we have a totally private backyard, plus a low cost HOA that does all our landscaping, irrigation, and even has a pool.
Apartment Therapy Survey:
My Style: Monochromatic aesthetic, layered in texture and pattern. My goal for spaces is to feel collected and elevated, with each piece telling a story.
Favorite Element: The natural light! When we first went to see it, I saw right past the gaudy, dark decor and focused on all the natural light, giant windows, and excellent floor plan. The ceilings are 11 feet tall downstairs and 9 feet upstairs, and the natural light in the house really is as bright as it looks!
Biggest Challenge: The budget for updating the space was the biggest challenge. While we saved for two years to tackle the big updates, we immediately painted the coffee-colored walls (with accents of red and black, no less!) Benjamin Moore's "Super White", which provided a blank slate.
Another challenge was our upstairs living area. It was always a pain point for me, as it has a half wall to the downstairs and acts as a thoroughfare to the rest of the house, but never felt cozy to me, and didn't have any clear boundaries. I finally got the design right by adding a vintage rug that brought a pop of color, and anchored the living area. Because you cut through this room to get to the laundry room, and use it as a hallway to the main bedroom and office, using a large area rug with color was a game changer. Previously, I had my go-to bleached jute rug in the space, but it felt super bland. Layering the colorful vintage piece on top gave it the pop it needed.
Proudest DIY: It's not a DIY but I am most proud of our renovation that we kept around $53,000. We lived in the home for about two years before updating anything to get a feel for how we used the space. The first thing we updated was our kitchen; it is visible from the entire first floor so it was the most dramatic change. I knew we could better utilize the kitchen and increase counter space by removing a pony wall that separated the kitchen from the dining space. We installed upper open shelving and updated all appliances and countertops. After the kitchen was complete, we saved for another year before taking on the upstairs bathroom, entry, stairs, and primary bedroom and closet.
Biggest Indulgence: My heart wouldn't budge on using leathered marble counters when we updated the kitchen. To make up for that investment (which was completely worth it!), we reused our cabinets and got new fronts, instead of replacing them entirely. Additionally, I also sourced a brass faucet from Kingston Brass instead of a designer brand.
Is there something unique about your home or the way you use it? We have a traditional "sitting room" off of our primary suite. It didn't have its own door and threw off the flow and function of the space. I turned it into my closet, closing the opening a bit and now the spaces feel like two designated separate rooms.
We also opted for a desk next to my side of the bed instead of a traditional nightstand to give us one more dedicated, private work space. Since my husband began working from home, it was important there were multiple spaces we could take calls at the same time without interruption.
What are your favorite products you have bought for your home and why? The Ginny Macdonald x Lulu & Georgia Hollingsworth sectional. This couch is SO comfortable and has never pilled. I love the wood detailing and clean lines. It cleans so easily with a shout wipe.
This oversized lamp is my go-to. I find myself moving it around the house regularly. It feels like artwork and makes a statement while beautifully filling the space.
My very favorite thing in the house is actually this shiplap we installed. It's just from Home Depot, was super easy to install and truly changed the feel of the entire house — from builder basic to cozy and bespoke. It felt like a big investment when we first did it, but I would do it 10x over.
Please describe any helpful, inspiring, brilliant, or just plain useful small space maximizing and/or organizing tips you have: When we updated our kitchen, we lost half of our storage. Here's how we made it work:
Finally, what's your absolute best home secret or decorating advice? Don't buy everything at once. The best spaces have pieces collected over time. Save up and buy the pieces you really love and don't feel rushed to buy something just because you "need" it. Be okay with living in a work in progress.
This submission's responses and photos were edited for length/size and clarity.