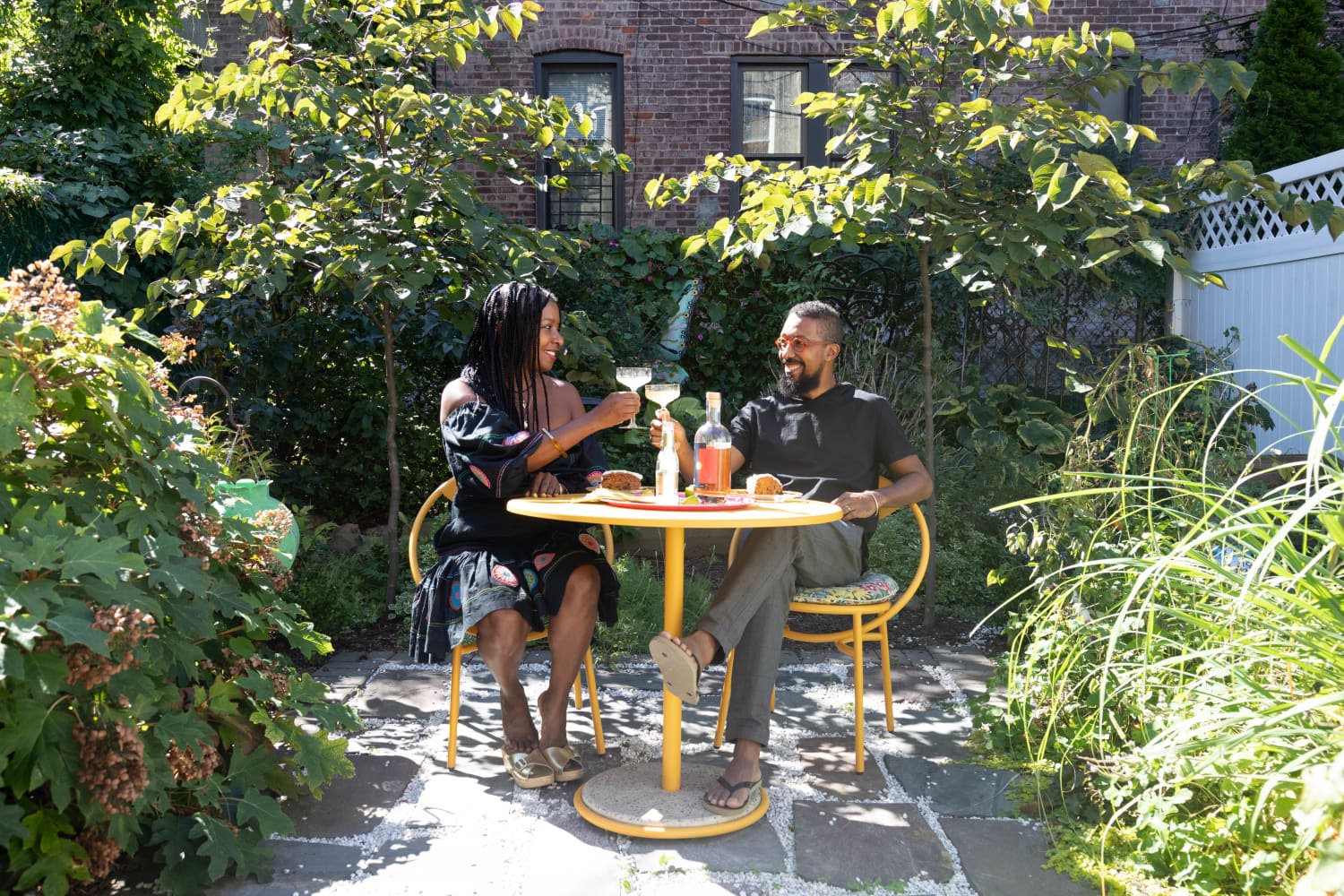 We independently select these products—if you buy from one of our links, we may earn a commission.
Name: Shelley V. Worrell and Janluk Stanislas
Location: Flatbush AKA Little Caribbean
Size: 2600 square feet
Type of Home: Brownstone
Years lived in: 12 Years, owned
Cultural entrepreneur Shelley V. Worrell, who was born and raised in Flatbush by parents who immigrated from Trinidad, might be best known for how she cultivates and encourages community. She's the founder of caribBEING, a "multidisciplinary venture dedicated to showcasing Caribbean culture + art + film in Greater New York City," and she and the team "amplify Caribbean culture and lifestyle, supporting businesses, creating community, and documenting as well as creating culture." She and her husband, Janluk Stanislas (a filmmaker and a co-founder of caribBEING), live in New York City's vibrant Little Caribbean neighborhood which was established in 2017… also by Shelley!
The Caribbean is a huge source of inspiration when it comes to decorating her 2600-square-foot Brownstone she's owned for 12 years. "It's really an extension of my personality and definitely an expression of culture and heritage," she explains of her home in their video house tour above. Her garden, one of her favorite spots, provides herbs, veggies, and beautiful bird songs. The dining room is the perfect backdrop to the dinner parties she enjoys throwing. But perhaps most of all, their home is both an energizing place for the couple to work from (along with her work in the Caribbean community, Shelley is also head of community partnerships for the U.S. Department of Commerce, Economic Development Administration, as well as sits on the boards of organizations like NYC & Company, Prospect Park Alliance, and more), but also as a place to retreat and recharge in.
Apartment Therapy Survey:
My Style: Caribbean x Chic = STUSH
Inspiration: Caribbean, Travel, Community, and Brooklyn
Favorite Element: I love and enjoy my garden for many months of the year. During the winter months, I plan out my annual and vegetable gardens while feeding the cardinals, blue jays, and others. I also use this time to plan edits I want to make come spring. Naturally, one of my favorite elements is the picture window overlooking my back garden where I can look out onto the beds and birdwatch. I also love taking naps on the couches and hosting dinner parties.
Biggest Challenge: My home was done on a budget for sure. It's literally a labor of love. My uncle replastered the entire house as well as stripped all of the moldings, something I could never afford to do otherwise. I would say the challenge was learning to live in an old home with its many imperfections, much like being an immigrant or daughter of.
Proudest DIY: What's NOT?!! The whole house is DIY. I never worked with a designer or architect so for the most part I designed everything with the loving assistance of my mother, Janluk, and Uncle Brian. The entry door, shutters, kitchen, spa bathroom, stripping, plastering and gardens were all DIY projects.
Biggest Indulgence: My biggest indulgence was buying the house. It has four bedrooms and we live in three stories and I purchased it as a single Black woman, daughter of immigrants from the Caribbean and have truly made it…
Is there something unique about your home or the way you use it? My most unique space is the staircase leading up to the bedrooms. Mostly because not only does it have a large Caribbean map, it also houses family passports of my parents, grandmothers, aunts, uncles, cousins, and I see it as a passage to my life here in the United States.
I'd say the most unique thing is I have a garden apartment that I rent on Airbnb. My father always dreamt of us having a house together and him living there, which I am happy to report we did. I've met so many friends via home sharing and something that once felt foreign now feels very familiar.
What are your favorite products you have bought for your home and why? I really love my couches because that's where I recharge my batteries, aka take naps. I also love my apothecary, aka self-care cabinet because each of the products are made by artisans I love. The DWR Wishbone chairs are super luxe and versatile. And the salvaged doors.
Finally, what's your absolute best home secret or decorating advice? Fill it with things you love.
Thanks Shelley and Janluk!
This submission's responses and photos were edited for length/size and clarity.