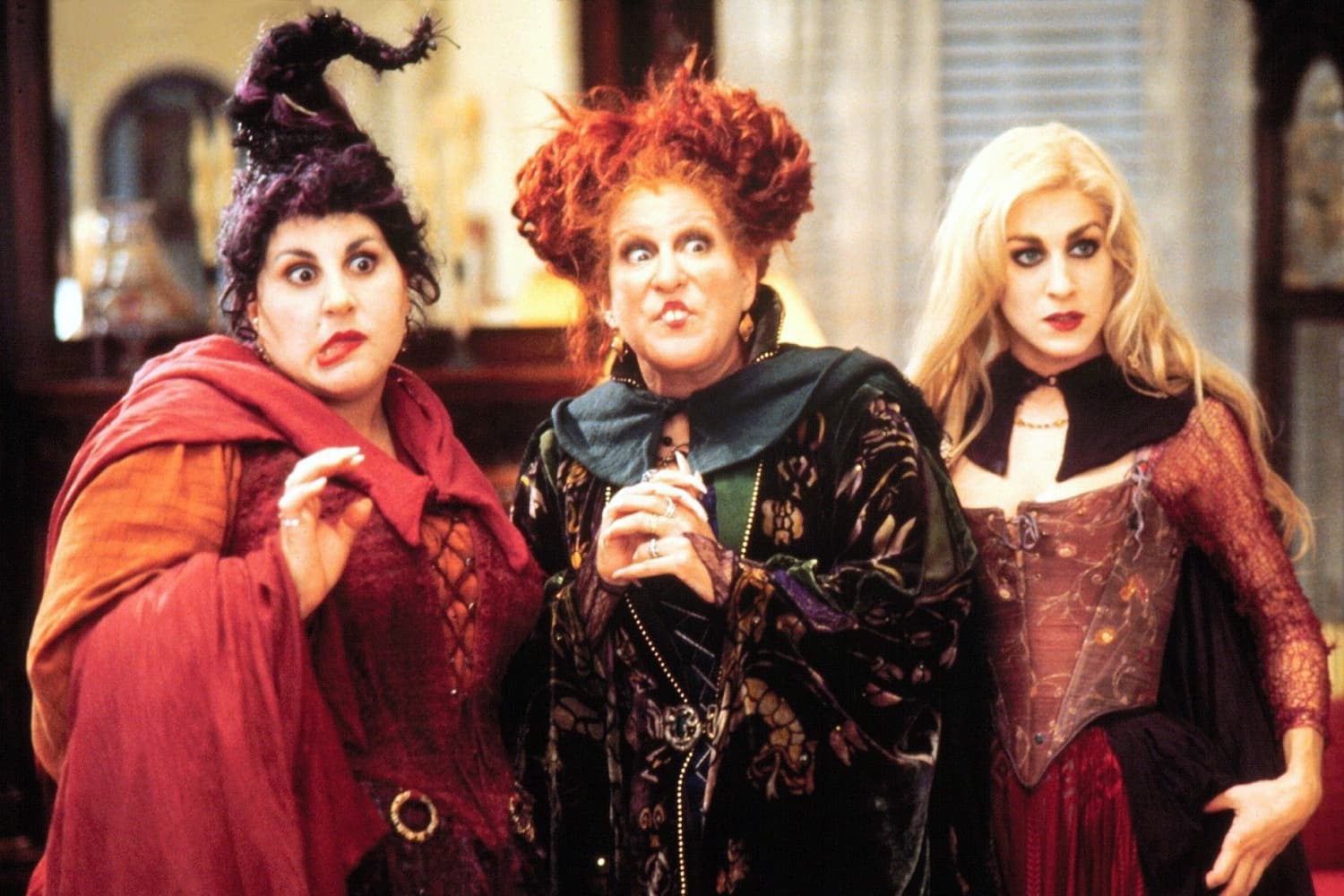 We independently select these products—if you buy from one of our links, we may earn a commission.
Halloween is quickly approaching. If you're one of the many people who love to spend this spooky time of year immersed in movies that give you chills and keep you up wondering what monsters might be under the bed, you're in luck. There are so many Halloween movies available to you at the click of a button.
From classic slasher movies on cable to original streaming horror flicks and family-friendly films ("Hocus Pocus" every night, anyone?), if you want to spend the entire week leading up to Halloween taking in as many scary movies as possible, you totally can. I mean, take a break for fresh air and candy a few times, but otherwise, watch Halloween movies until you can watch Halloween movies no more.
To help you on this endeavor, here's a comprehensive list of both movies playing on cable and the many, many options on your favorite streaming services. Enjoy, if you dare.
Sunday, Oct. 31
12 a.m.: A Nightmare on Elm Street (SYFY)
12:30 a.m.: Poltergeist (TBS)
1:28 a.m.: Halloween II (1981) (AMC)
1:30 a.m.: The Leopard Man (1943) (TCM)
2 a.m.: A Nightmare on Elm Street 2: Freddy's Revenge (SYFY)
2:45 a.m.: Let's Scare Jessica to Death (TCM)
3:28 a.m.: Halloween III: Season of the Witch (AMC)
4 a.m.: A Nightmare on Elm Street 3: Dream Warriors (SYFY)
4:30 a.m.: Carnival of Souls (TCM)
5:28 a.m.: Halloween 4: The Return of Michael Myers (AMC)
7 a.m.: Miss Peregrine's Home for Peculiar Children (Freeform)
7:27 a.m.: Halloween 5: The Revenge of Michael Myers (AMC)
9:00 a.m.: Harry Potter and the Deathly Hallows: Part 1 (SYFY)
9:27 a.m.: Halloween (2007) (AMC)
10 a.m.: Goosebumps (Freeform)
11:30 a.m.: The Leopard Man (1943) (TCM)
11:55 a.m.: Halloween: Resurrection (AMC)
12:12 p.m.: Harry Potter and the Deathly Hallows: Part 2 (SYFY)
12:30 p.m.: Boo! A Madea Halloween (BET)
12:30 p.m.: Goosebumps 2: Haunted Halloween (Freeform)
12:45 p.m.: Mad Love (1935) (TCM)
1 p.m.: Godzilla: King of the Monsters (TBS)
1:55 p.m.: Halloween H20: 20 Years Later (AMC)
2 p.m.: Horror of Dracula (TCM)
2:35 p.m.: Hocus Pocus (Freeform)
2:45 p.m.: Insidious: Chapter 3 (TNT)
3 p.m.: Meet the Blacks (BET)
3:04 p.m.: Fantastic Beasts: The Crimes of Grindelwald (SYFY)
3:30 p.m.: The Meg (TBS)
3:30 p.m.: The Pit and the Pendulum (1961) (TCM)
3:53 p.m.: Halloween (1978) (AMC)
4:45 p.m.: Casper (1995) (Freeform)
4:45 p.m.: Insidious (TNT)
5 p.m.: Curse of the Demon (TCM)
5:53 p.m.: Halloween II (1981) (AMC)
6 p.m.: Harry Potter and the Deathly Hallows: Part 1 (SYFY)
6 p.m.: Hotel Transylvania 2 (TBS)
7:15 p.m.: Maleficent (Freeform)
8 p.m.: Acrimony (BET)
8 p.m.: Psycho (1960) (TCM)
9:12 p.m.: Harry Potter and the Deathly Hallows: Part 2 (SYFY)
9:20 p.m.: Hocus Pocus (Freeform)
10:15 p.m.: Hotel Transylvania 2 (TBS)
11:30 p.m.: Boo! A Madea Halloween (BET)
11:30 p.m.: Ghostbusters (1984) (Freeform)