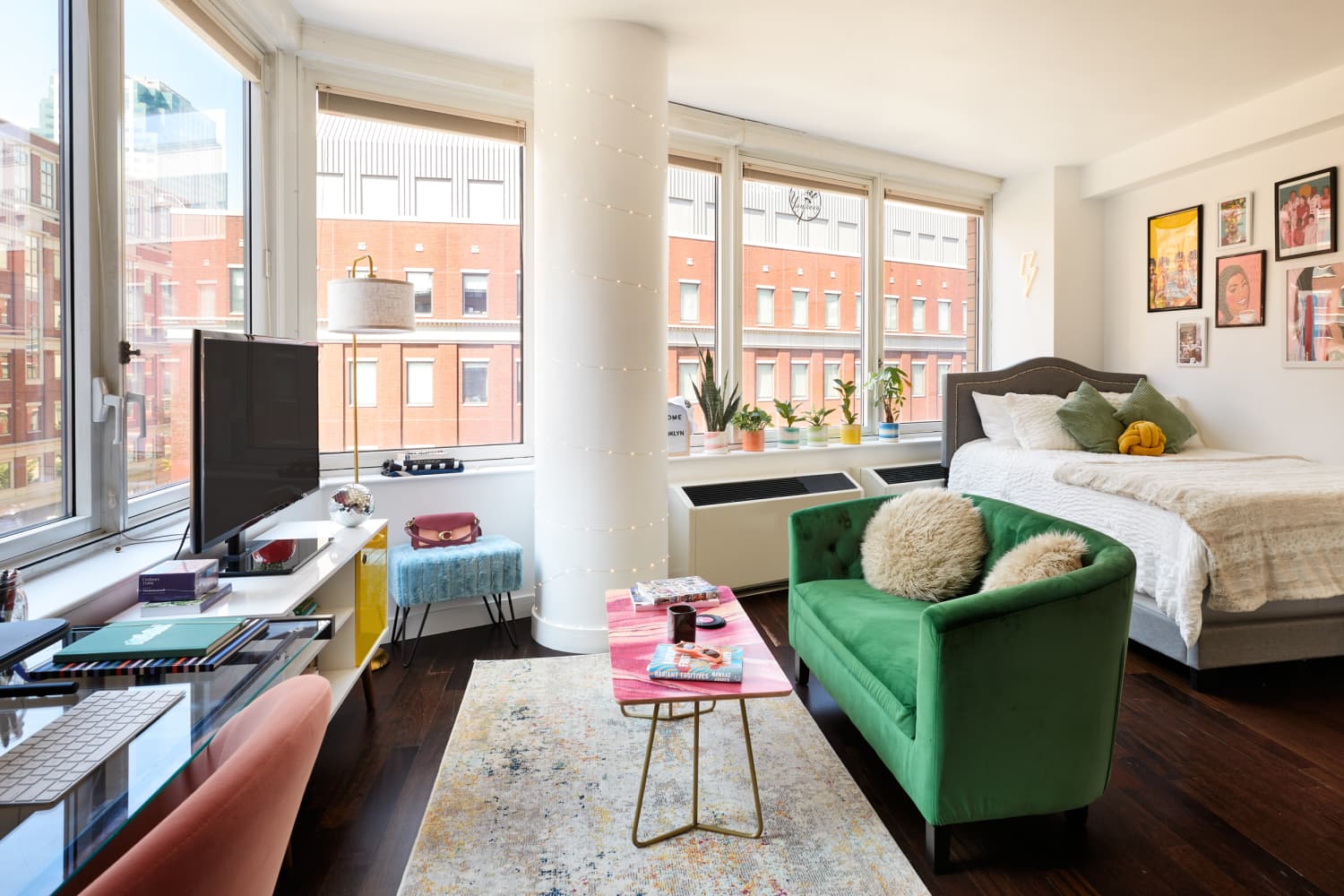 We independently select these products—if you buy from one of our links, we may earn a commission.
Name: Maleeha
Location: Downtown Brooklyn
Size: 400 square feet
Years lived in: 2 months, renting
"I was lucky enough to find this Downtown Brooklyn apartment through my cousin who knows the owner of this unit and was looking for a tenant," explains Maleeha, on how she found her bright 400-square-foot studio apartment. "I just moved this summer from Chicago after living there for 25 years. I've dreamt of living in New York City since I was a little girl, and I still can't believe that dream has come true."
Maleeha says she loves where her studio is located. "This neighborhood is so close to all my favorite neighborhoods in Brooklyn, such as Fort Greene, Cobble Hill, Park Slope, Dumbo, etc. – but it's also just one stop away on the express Q to Manhattan. I feel like I'm able to conveniently enjoy both boroughs by living here." But it's not just the location that makes her love this small studio apartment. "I had to make this apartment special and comfortable because I spend most of my time working there (I work remotely from home) and I love to unwind and relax after work with a good book and some mint tea… although sometimes a good book is replaced with a 'Sex and The City' marathon."
Apartment Therapy Survey:
Inspiration: Colorful NYC studios that I see featured on Apartment Therapy.
Favorite Element: The windows. I love being woken up by natural light.
Biggest Challenge: The layout is different from any other place I've lived in. There's a giant pillar in the middle and the entire studio is on a slant rather than rectangular. I was able to find a layout that works for me, but I had to make some sacrifices such as not being able to have a couch large enough to lay on. It's a small little love seat but I think anything bigger would have made the space too crowded.
Proudest DIY: I usually have a DIY in every apartment but this time I have none! I didn't love the finish of my coffee table, so I painted over it with clear gloss paint to make the finish a bit nicer, but I'm still not fully satisfied with it. I might just buy a new color of paint altogether and DIY it with a design.
Biggest Indulgence: My couch/loveseat which was only $370… I was on a tight budget with this place.
Is there something unique about your home or the way you use it? Since the loveseat is so small, I often scoot my bed in closer to the TV, adjust the pillows so that they're all over the bed rather than at the head, and try to make my bed into a huge couch to enjoy a cozy movie night on. Not the most unique thing… but again I had to sacrifice having a "real" couch in this small space so I have to get scrappy with my options!
What are your favorite products you have bought for your home and why? My tiny vacuum, my mop, and my Mr. Clean. I am super particular about floors and keeping them squeaky clean. Wood floors especially since they bring in a lot of dust. My apartment is a shoes-off apartment so the floor has to be clean enough for bare feet at all times.
Please describe any helpful, inspiring, brilliant, or just plain useful small space maximizing and/or organizing tips you have: This is so simple, but I don't think people do it as much as they should — use your ENTIRE closet space. For example — in my clothing closet I utilize the top shelf by storing bulky sweaters and scarves up there. In the middle are my clothes hanging, and since there's still so much floor space underneath the clothing rack, I bought four sets of plastic drawers to store under there. The tiny little corner where there is no plastic drawer, I've stacked miscellaneous items there. Always use every inch of your closet space in order to keep your main space less cluttered.
Finally, what's your absolute best home secret or decorating advice? Always have an element of nostalgia in your home. For example, I never grew out of the fairy lights phase. I've kept fairy lights or string lights in my bedrooms since I was 12 years old. Although they don't always make the most sense in an adult apartment, I've continued to incorporate them in all my apartments because they make me feel comfortable and cozy and happy. I have my current fairy lights hung on the pillar in my apartment which was taking up unnecessary space at first, but now it's a place to hang my lights! Something about being able to snuggle up in my apartment and watch old movies from my childhood with those fairy lights on makes my space feel so comforting and it's what makes the place home for me.
This house tour's responses were edited for length and clarity.