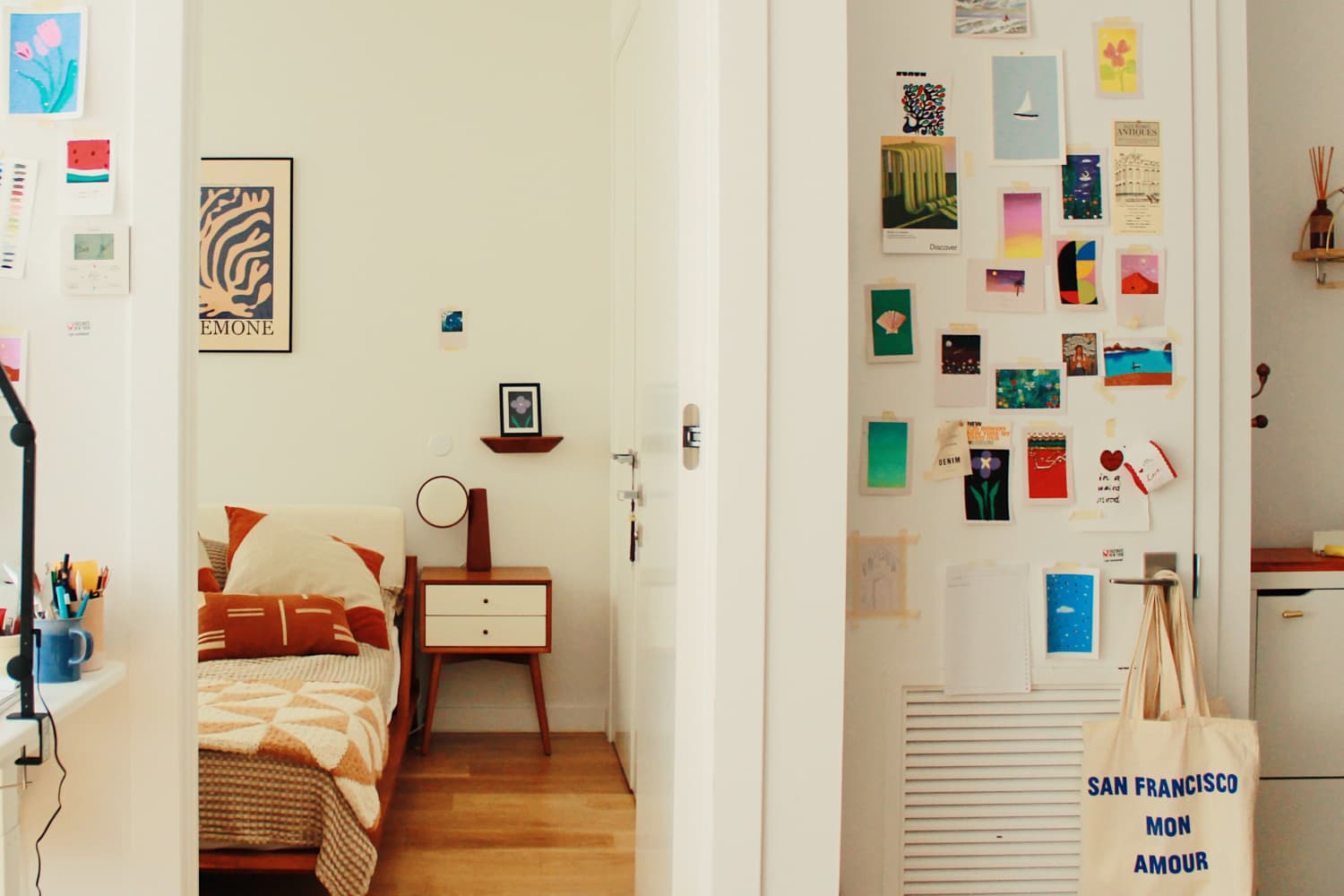 Whether you're a refined minimalist or an unapologetic maximalist, having a catch-all bowl or tray for keys and jewelry always comes in handy. Finding a smart spot for those little things that's both functional and stylish, though, can be a chore. If you don't have the floor space for a table, console, or a nightstand, you have to think outside the box a bit. Ariel Sun just may have cracked the code by taking advantage of an area that's right under your nose though, and it's surprisingly obvious but not obvious at the same time.
In a tour of her cute 620-square-foot Brooklyn apartment, Sun showed how she makes the most out of living in a smaller space with her husband. "The square footage makes it challenging, but it pushes us to be creative with space usage," she says. You know that empty space below a light switch that you sort of, well, just don't think to decorate, likely because it's kind of a tiny, awkward area? Well, that's exactly where Sun put a shelf for corralling little things, and it's such a good solution for so many reasons.
The first of many pros with this shelf (and eventually your catch-all dish) placement is that takes up zero floor space, particularly in a high traffic area like a doorway. In Sun's case, both she and her husband can still get in and out of the room without any problems, and they can still access the light switch, even though it's now within inches of where jewelry, scarves, and other accessories sit. Even better, you probably wouldn't hang art this low, so the blank wall space isn't sacrificed for something that could be more decorative.
If you need more convincing that this spot's a great place for stealthy storage, check out the little mirror on the edge of the slab-style shelf. Sun could pull up a spare stool to treat this area like a vanity for getting ready. In fact, by placing a simple, shallow shelf under a light switch, you can turn a pass-through zone into a fully functional design moment or nook. Just make sure you hang the shelf at a height that works with the seating you'll be bringing over to this spot when you want to use it. It's also best to not try to put anything too heavy on the shelf either.
Sun's biggest piece of advice for decorating a home is to have a clear vision. She and her partner set out to make their apartment a multi-functional space, and this smart shelf idea certainly plays a part in achieving that goal.