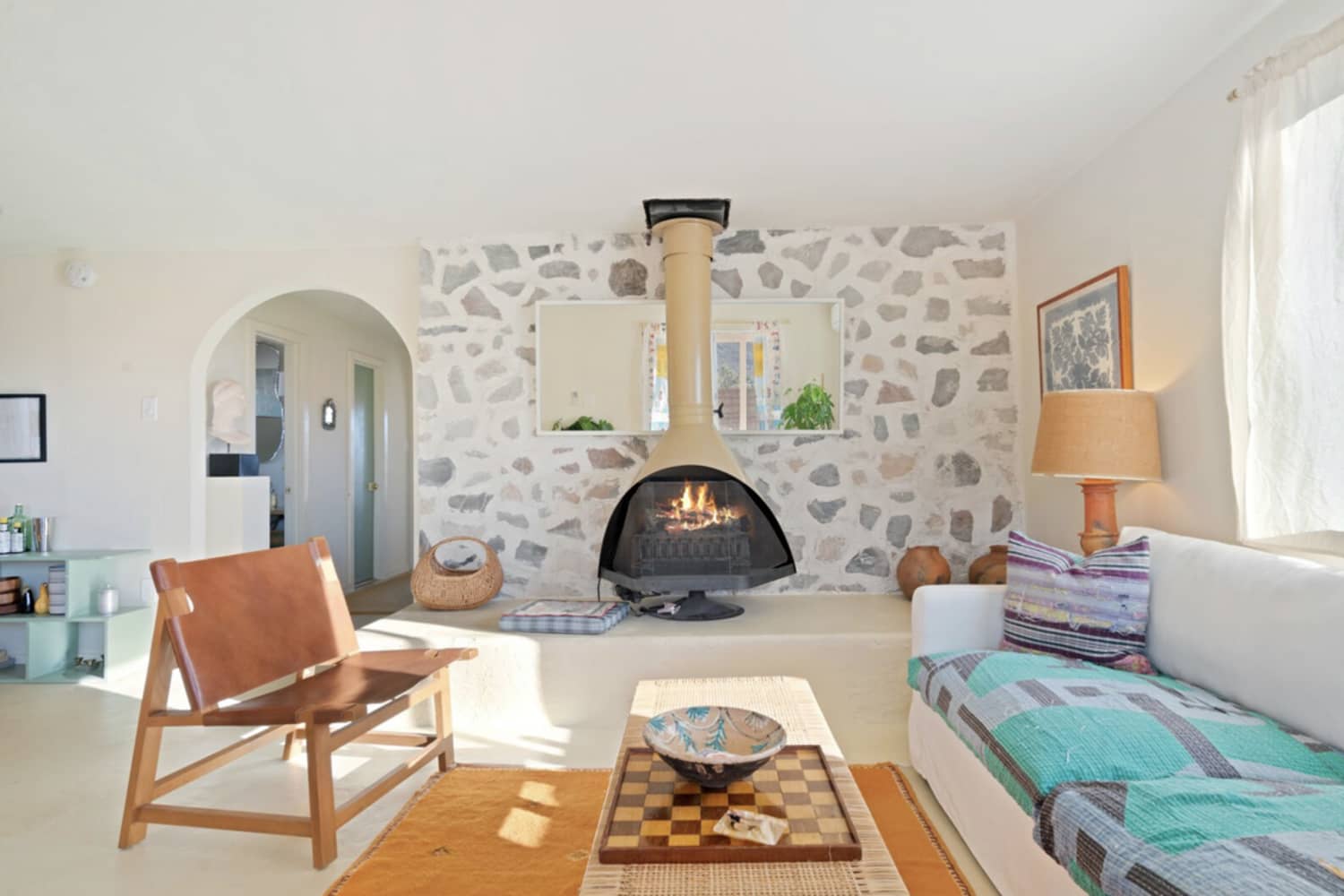 We independently select these products—if you buy from one of our links, we may earn a commission.
Name: Katie Lee, partner, Alex, two dogs, Mr. P and Yia Yia, and two cats, Ricky and Sharona
Location: Joshua Tree, California
Type of home: House
Size: 1,000 square feet
Years lived in: 3 years, owned
Tell us a little (or a lot) about your home and the people who live there: Alex and I both lived and worked in LA for years, me in fashion, him in the gallery and museum world. After we started dating, we began making furniture together and quickly realized we wanted more space, so in the span of two weeks we decided to drop everything and move to the desert. That ended up being the best move for both our mental and physical health. After about six months of living in Joshua Tree, we decided we wanted to buy a house and try our hand at designing and renovating the place ourselves.
Thanks to YouTube and a general need to be in high-stress situations, Alex and I thrived and finished two years later. Alex and I both tend to do anything and everything. We've working in fashion production, pattern making, museums, galleries, furniture showrooms, finance, and now interior design.
We tend to float around a lot, and so we really value our friends and family who ground us. Leaving LA was hard simply because we were leaving our friends behind, so we've filled the house with work by friends, and want to continue to collect works to display. We've tried to create a neutral color palette that emulates colors found in the surrounding desert to create a relaxing environment that allows the works to shine. Little beacons of the people we love.
We got to enjoy the house for a bit before it became clear we were going to have to move for work, so we decided to rent the place out so that friends, family, and strangers alike can relax and take in the desert through the eyes of two people who love it.
What is your favorite room and why? We love the kitchen simply because it's a space we spent a lot of time thinking about and building. The desert has limited food options (although the ones available are truly amazing, i.e. La Copine), so we had to learn how to cook — and how to cook every day. The stamina to cook every day takes time to build, but having a well-equipped kitchen definitely helps. With that in mind, we made sure to build out plenty of counter space and to keep the shelves stocked with every vinegar, spice, or hot sauce you could possibly need.
Describe your home's style in 5 words or less: California light and space, mid-century cabin
What's the last thing you bought (or found!) for your home? The last thing we bought for the house was the leather chair in the living room and the hand-stitched pillow on the rocking chair. The leather chair is from a local store called Acme 5 Lifestyle. And the pillow is from my favorite local vintage store Black Luck Vintage.
Any advice for creating a home you love? Look around you, and try and figure out what in your current environment you love and want to emulate. I've found that nature always gives you a solid color palette to start from, and any combination you create from that will work. From there, I like to shop local antique and vintage stores, and just go for what you are naturally attracted to — you will always end up in a home you love if you let yourself shine through the smaller objects.
This submission's responses and photos were edited for length/size and clarity.