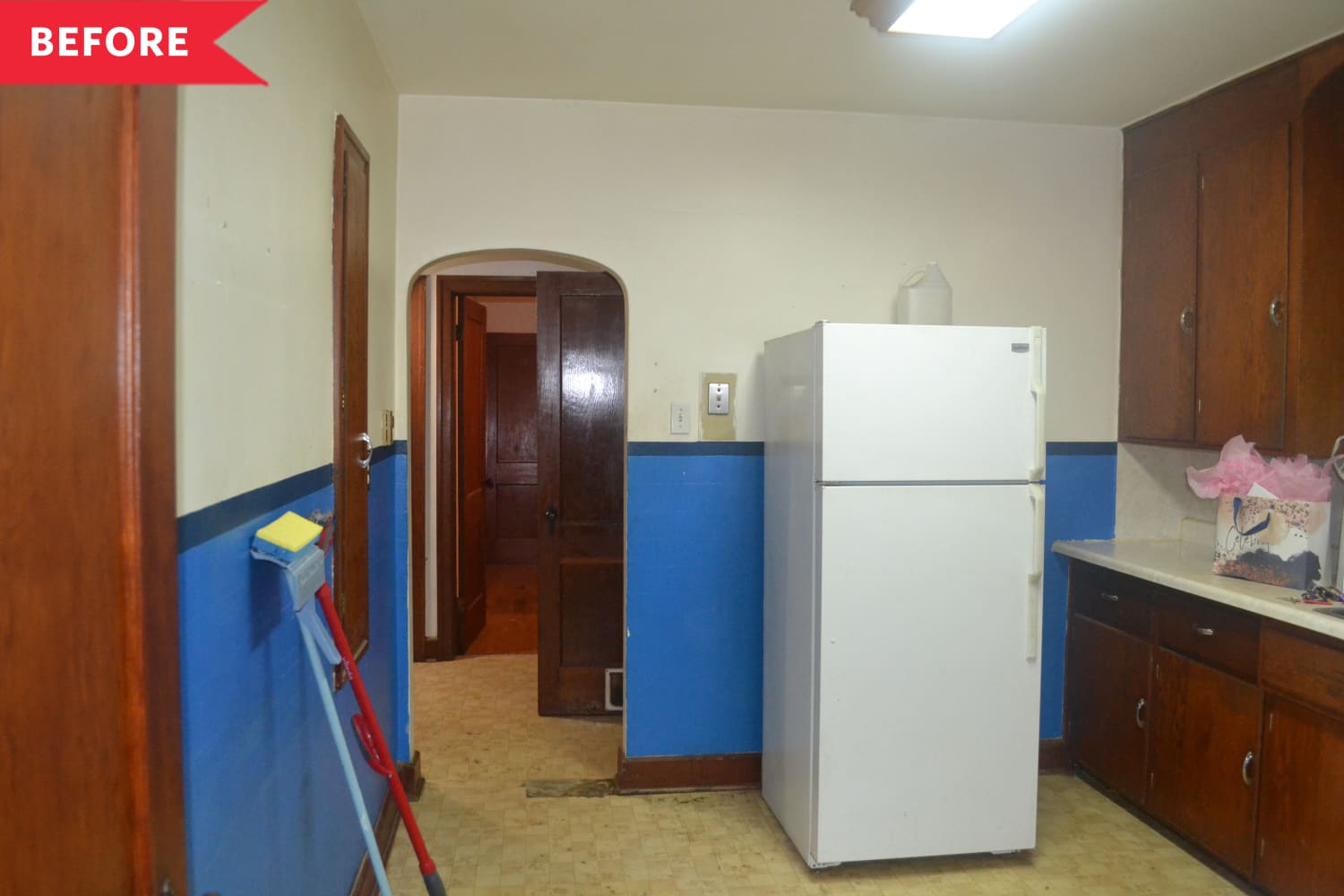 We independently select these products—if you buy from one of our links, we may earn a commission.
Major kitchen renovations are often expensive — it's tough to avoid a big price tag. But as you save up for a complete tile, flooring, appliance, and cabinet overhaul, there are small-scale, budget-friendly upgrades you can make to your cooking space to bring it closer to the finish line.
With the pandemic causing Mel to spend more time at home, she and her partner were using the kitchen for every meal. Breakfast, lunch, morning coffee breaks, afternoon tea breaks, and dinner were all at home, and little issues started piling up, including the dishes — as the space had no dishwasher before.
"It felt like we could never get a handle on them," Mel says. "The kitchen was a constant source of anxiety for me, and now I had to see it all day long."
So she and her parter decided to take the plunge and buy a portable dishwasher ($100 for the used appliance, and $140 for the install) and make a few small upgrades to make the space less of an eyesore and a headache. In total, the refresh cost $550 (not including a new refrigerator, which Mel bought used on Facebook Marketplace).
Mel used a stick-on backsplash and contact paper countertops saved from an old rental to give the space a more polished, finished look, though she's usually not a contact paper fan. "It's an affordable way to update a space, and I do like the way it looks in this room, but applying it is a nightmare," she says. "There are a lot of imperfections that would bother me if I wasn't able to sit a coffee maker on top of them."
If she were doing the project over again, she says she might opt for a pour-on countertop refinishing kit.
Three of Mel's favorite parts of her redo are her hanging fruit storage baskets, her new prep table, and her new dishwasher, of course. "Not just because I no longer have to do [dishes], but also because of the extra counter space we gained on top of the dishwasher, and on the section of counter that used to hold our drying rack," she says. "Those two to three inches of extra workspace have really changed the way we cook."
She says the updated floors (graphite-looking vinyl tile) have also changed her cleaning routine, as they're much easier to sweep and mop.
"Ultimately, though, the space just makes me happier now," Mel says. "I like cooking in there. I'm not just trying to get in and out."
Her advice to those needing a kitchen fix on a budget? "You can save a ton of money if you keep an open mind. A few hundred dollars can mean the difference between a space that causes you stress and a space that brings you joy."