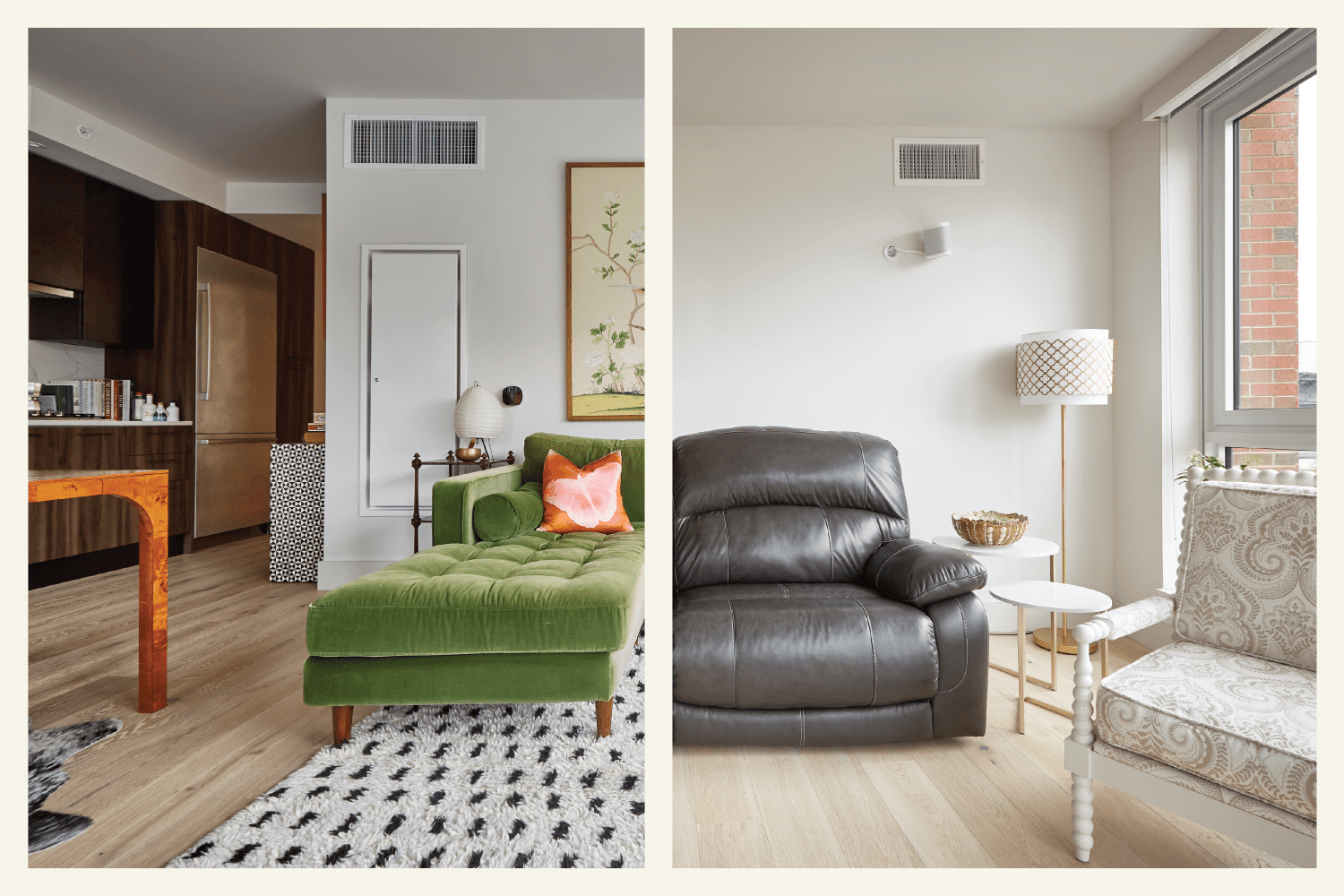 Months and months spent at home might mean you've gotten to know the habits of your neighbors pretty well. Maybe you've seen them heading out for an errand or taking their dog on a walk and wondered: What kind of place do they come home to?
If you live in an apartment building, it's very possible your upstairs or downstairs neighbor walks into a space that looks almost exactly like yours, just with different furniture and art hanging on the walls, right? How does someone with the exact same layout, the exact same square footage, and the exact same landlord off-white paint style their space?
Kate Huneke and Brittany Manning are two apartment dwellers living in similar units in a new build on New York City's Lower East Side. Their two-bedroom apartments share most of the same features: large windows, light oak floors, and large cylindrical columns in the living rooms and bedrooms.
Huneke, along with a roommate, and Manning, with her husband, started with near-identical blank canvases, but they've come up with different ways to work with the amenities and quirks of their rentals.
Walls of glass dictate the apartments' layouts.
Both apartments are graced with impressive floor-to-ceiling windows that sold the tenants on their spaces, but definitely impacted flow and furniture placement.
"I think the windows were probably the deciding factor for where most things go," Huneke says. "I think it looks unnatural to have furniture up against floor-to-ceiling windows… so, with bigger pieces of furniture, I try to have them up against the wall so they're not getting in the way of things."
To maximize views, each couch was placed facing the windows, with a mounted TV on the opposing wall.
Without using paint, Huneke successfully splashed her apartment's bright white walls with art and color. She chose a green chinoiserie diptych, a hand-me-down from her mom, to hang over the couch (and cover up built-in electrical panels on the wall).
Manning settled on a more minimal, traditional look with infusions of warmth in the form of gold accents, plants, and cut flowers.
Structural columns added a design challenge.
The living rooms and bedrooms in both apartments feature large structural columns. Along with the natural light let in from the windows, Manning was attracted to the look of the pillars when she first saw the space.
"The light is gorgeous in the building… and we absolutely fell in love with the layout," she says. Like plenty of others during the pandemic, she opted to stick a Peloton in a conspicuous place in her home. "We've just kind of accepted it into our decor at this point," Manning says of the bike, which sits next to the pillar in her living room.
Huneke, meanwhile, recognizes that the cylindrical features hindered her furniture placement slightly. "They just kind of get in the way a little bit," she says. "It doesn't look exactly how I would like it, but I figured it out." To remedy this, she placed a shag statement chair next to the column in the living room and a glass nightstand beside the one in the bedroom to keep the views out the window uninterrupted.
Dining tables anchor the main living spaces.
The renters placed their dining tables in the same spots, which created a zone that divided the open-concept kitchen from the living area. Huneke says her table, a burl wood piece, is one of her favorite design elements of the whole rental, and she uses it as a WFH spot. "Burl wood with leather always looks nice," Huneke says. "Textiles are important to me; I think they add a lot to the space."
Manning, too, says she wanted to add texture to the all-white apartment. "[The unit] definitely has a modern element to it, which is kind of the polar opposite of what I would say is what my preferred aesthetic would be, so immediately I wanted to bring things into the unit that would kind of warm them up, make them feel softer," she says. She hung a golden pendant light above her dining table for added glow, literally and figuratively.
The primary bedrooms come with a twist.
Like the living rooms, each main bedroom has floor-to-ceiling windows, as well as a pillar. The bedrooms also have a funky cutout in the wall, which each tenant decided to approach differently. The Mannings' opted to position their bed within the alcove facing the windows so they could look out to the trees.
"Same reason with my desk — having nature's beautiful backdrop feels special living in a metropolitan area," Manning says. To make the bed work within the alcove, they placed ultra-skinny nightstands on each side to fit in the small space.
Huneke's bed faces inward. "Having the bed against the wall would be the natural choice, but I tried to make it work with things I already owned," Huneke says. She wanted to squeeze a set of drawers into that small alcove on the left side of the room "to fit the dresser into a space that wouldn't look wonky, as it's tall rather than low and wide."
Freestanding shelving and storage completes each space.
If Manning could change one thing about the apartment, it'd be fixing the lack of shelves. "There are a couple of nooks and crannies in the apartment where maybe it would be nice to add in a little bit of shelving," she says.
Although the apartments have five closets apiece, they're lacking in built-in storage. As a solve, Manning and her husband have an etagere in the hallway where they display books and travel finds, while Huneke stores books on the windowsill and on a vertical book tower in her bedroom. Both renters pulled together each space with punchy decor and one-of-a-kind furnishings.
"Of course it'd be awesome to, you know, take down a wall or paint a wall, or just make structural and real aesthetic changes that can change the feeling of a place," Huneke admits. But that's not in a renter's playbook — and that's OK. Art, accessories, and smart layout choices can go a long way.
"If you're looking to personalize your space, I mean, there's no greater teacher than COVID," Manning says. "You want to surround yourself with things you enjoy looking at — because who knows when you're going to be stuck inside for a little while."