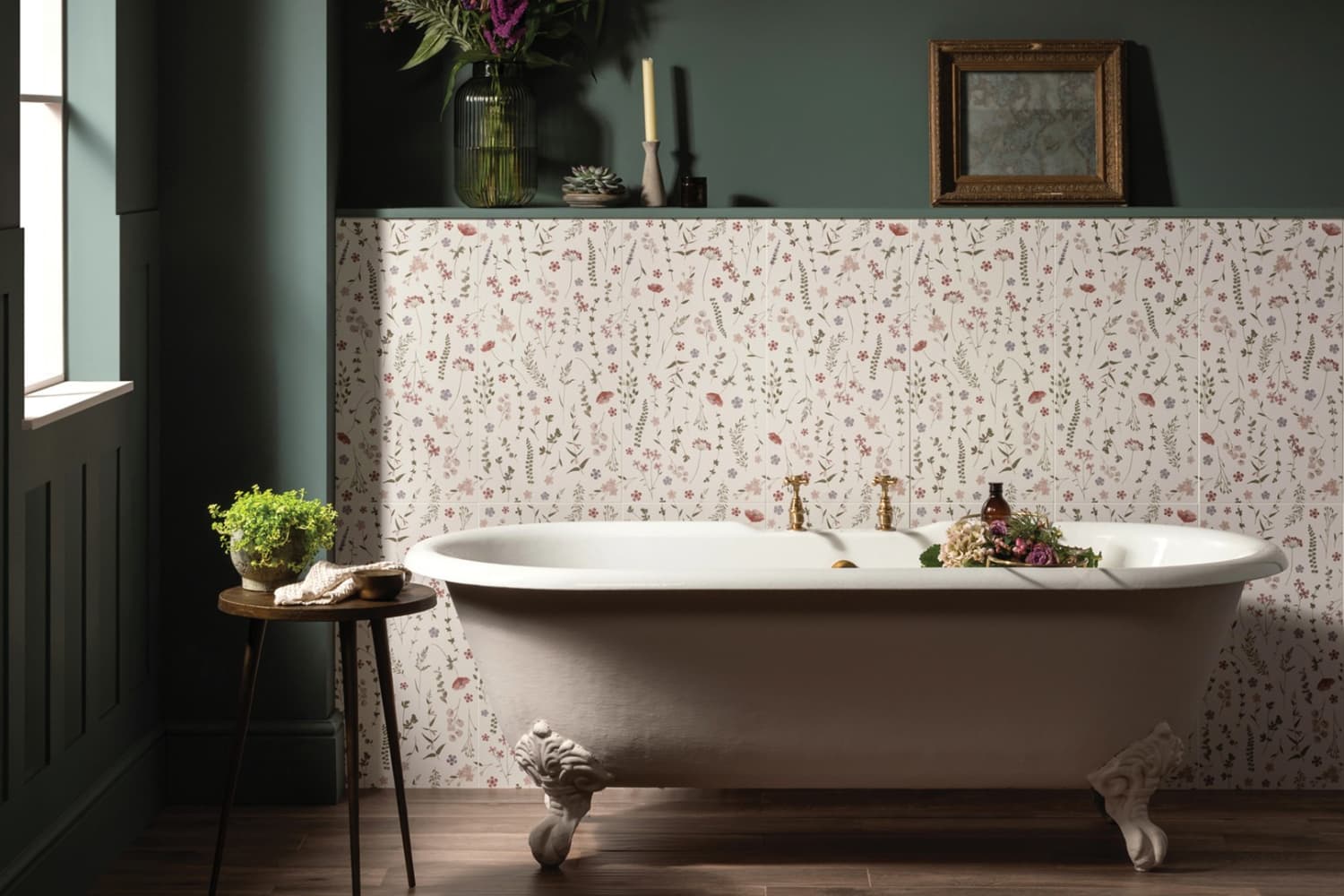 It's going to be officially autumn this week, but judging from current home trends, everyone is still thinking about spring. U.K. tile brand Original Style has announced that their 2022 Tile of the Year is Wildflower Rose, a charming floral pattern that will make you feel like you're having long walks and picnics in the British countryside. It's described as "oozing with sophistication and natural beauty," and embodies the spirit of cottagecore.
"We spent many weeks of sketching and painting an abundance of wildflower varieties before working closely with our skilled production teams in order to bring these gorgeous tiles to life," said Original Style's Jane Addis.
The large format tile's botanical detail makes it a statement, though it doesn't feel overpowering, thanks to its subtle shade of pink. And, as you can see in the photo above, it looks good with both old and new furnishings, able to blend well with a neon sign and a vintage bathtub.
As for color pairing? Rob Green of COAT Paints gave some helpful advice: "To complement Original Style's Tile of the Year we've chosen Adulting — a deep teal green which plays well with the foliage in Wildflower Rose, delivering a sophisticated look with grey undertones–and Ciao Sofia — a grubby muted pink, soft yet stylish, it plays well with Wildflower Rose to provide an elegant feel."
If your kitchen or bathroom isn't already teeming with houseplants and mushrooms, 2022's Tile of the Year just might be for you. "…This tile will no doubt bring a special, nurturing touch to your interior décor and we hope it brings as much joy to others as creating it has to us," Original Style added.
You can learn more about Wildflower Rose here.