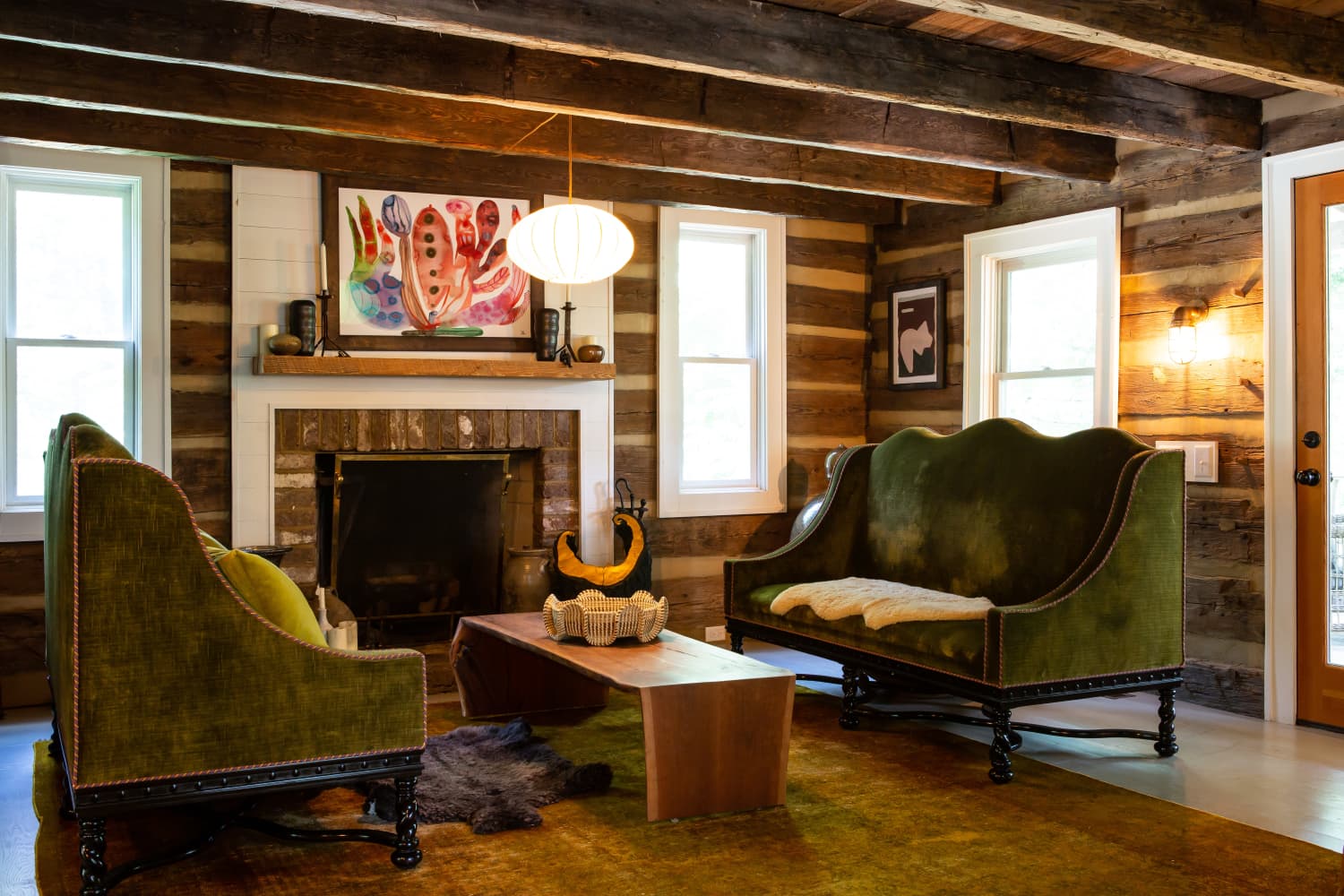 We independently select these products—if you buy from one of our links, we may earn a commission.
Name: Connie Matisse, Alex Matisse, Lucia Matisse (4), Vita Matisse (6), Kitty Nacho Amy
Location: Henderson County, North Carolina
Type of Home: Cabin
Size: 1300 square feet
Years lived in: 1.5 years, owned
Popular pottery company East Fork is known for designing, manufacturing, and selling earthy, sturdy ceramic dishware that looks as good on a table as it does on open kitchen shelving. Connie and Alex Matisse, along with John Vigeland, founded the company, and for awhile Connie and Alex had been renting a house just outside of Asheville, where the company is based. When it looked like a quarantine was going to happen, the couple and their two kids, Lucia and Vita, headed to the woods. Specifically, to this cabin about 40 minutes south of town.
"The original cabin was built in the mid-1800s in South Carolina and moved up north where it was eventually purchased by our genius friends, Helen and Josh Nissenboim, of the creative agency Fuzzco, and remodeled so artfully," says Connie. "We can't take credit for really anything but the stuff inside and the landscaping." Connie explains of the cabin, which the couple purchased from their friends last year.
"Alex, my husband, had a vision for the outdoor spaces and worked with a native plant specialist to surround the property with rhododendron and ferns and blueberries and wildflowers. I can't wait to watch them all grow in and cocoon us year after year."
Apartment Therapy Survey:
My Style: Objects, aesthetics, color, texture, beauty, pleasure are a guiding force in my life and always have been, but I never really have developed language to describe my personal style outside, perhaps, of it being deeply personal. I'm called to fill my home with objects rich in meaning and nostalgia, and only if I feel viscerally drawn to them. The things in my home that are most special to me are the things I saw and had an almost animal desire to be near to, to hold, to smell, to sit on, to wrap myself in. Very Venusian over here.
Inspiration: I never know how to answer questions about style inspiration because while I'm undoubtedly influenced by other things I see the people doing, I don't track that consciously or go to places, people, publications, or what have you for inspiration. I don't have any language for design or shelter, really, and I can't point to designers or movements and speak fluently about anything. I guess right now if I had to put an inspiration mood board together it'd read something like: Baby Spice, big snakes, teen angst, the Virgin Mary, psychedelics, the woods, the desert, the ocean, my husband's pottery, my grandma and grandpa's little Tiffany's blue kitchen in the house we grew up in under the 405 freeway and their big laughs, sopapillas and buñuelos, fried hot dog wrapped in corn tortillas, nopales and homemade pizzas, and the 11-foot tall opuntia cactus outside their window in full fuchsia bloom.
Favorite Element: The path through the woods down the Hungry River.
Biggest Challenge: The house looks big from the outside but it ain't, it's tiny, and the kids take up about 1/3 of it. I miss my big-ass bed and one day I'd love to add on to the house so Alex and I aren't sleeping on top of each other anymore. All in time, I hope. Right now I just wish the satellite internet would let me stream TikToks.
Proudest DIY: Alex rented a tractor and drastically changed the landscape of the property, moving dirt around until we had a spot for a garden, a place to park a car, a flat spot to have picnics, and a level patio. All glory and honor to him, though. He did an amazing job!
Biggest Indulgence: These high-backed, Baroque-style couches in the living room were the biggest splurge I've ever in my life made. The room was so small and I felt needed impactful furniture and it was early in quarantine and I'd committed to not buying a single new article of clothing the whole year (I made it six months). So I saw these on 1stDibs, grabbed a measuring tape, and made an offer. Honestly they're not very comfortable at all but looking at them fills me with a sense of calm and scratches an aesthetic itch at the back of my skull.
Is there something unique about your home or the way you use it? We live in the woods! I spend a lot of time outside, lying on my back, letting my eyes go fuzzy looking at the stars, and listening to the cicadas and the frogs and the crickets. I'd known for a long time that work and social life obligations and doing stuff in the evenings was keeping me from slowing down enough to start tuning in and attending to my actual needs for solitude, healing, quiet, loneliness. My home has helped me retreat into myself in a way I — and my daughters — so desperately needed.
Please describe any helpful, inspiring, brilliant, or just plain useful small space maximizing and/or organizing tips you have: I have no useful tips! I feel like I spend a lot of time trying to organize my space and it's just an absolute shit show three days later! I think I'm ready to accept the fact that I have a 4- and 6-year-old and I like stuff and I'm never going to have my drawers be as sparse as I've dreamt of them being.
Finally, what's your absolute best home secret or decorating advice? My decorating advice is the same as my everything advice — everyone's gotta really get to know yourself. Like really, really know yourself. What makes you feel safe? What threatens your safety? Where in your body do you feel yourself making decisions from? Who are you influenced by and how do those people hold power in your life? Building a home is such a deeply personal experience and what works for one person isn't going to work for another. Know you so you can do you.
This house tour's responses were edited for length and clarity.