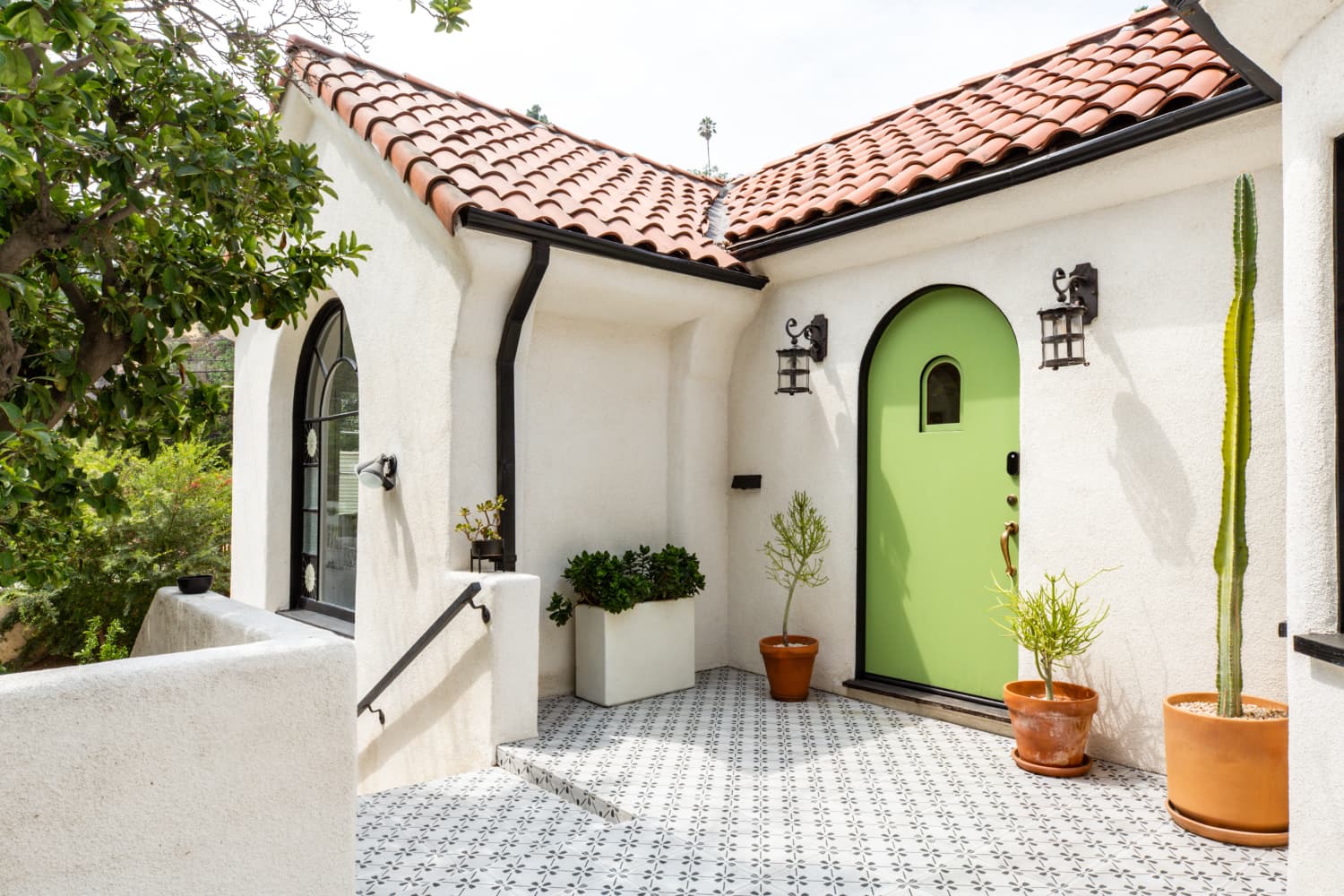 We independently select these products—if you buy from one of our links, we may earn a commission.
Name: Peter Quinn, Caitlin Dawson, Crosby and Gordy the dogs, and Tazo the cat.
Location: Mount Washington, Los Angeles, California
Size: 1074 square feet
Type of Home: House
Years lived in: 3 years, owned
Originally from Belfast in Northern Ireland, Peter Quinn, a video director and motion graphics artist, and Caitlin Dawson, a communications specialist and ceramicist, lived in Canada for six years before moving down to Los Angeles. "Once our Green Cards were approved, we started house hunting in Mount Washington, our favorite LA neighborhood," explains the couple. "This was actually the first house we saw and we fell in love with it immediately. We've always had a thing for Spanish-style architecture, and homes with some history and original features. (In Belfast, we lived in a cottage that was built in the 1880s!). As we were leaving the open house, I remember the realtor saying the homebuying journey was 'a process.' I thought — not this time! This is the one!"
Along with the architectural history of the house, the couple also loves the home's creative history. "We joke sometimes that we bought the house because of the beautiful big arched window in the living room — but we're only half joking. It turns out, the stained glass portions were handcrafted by the home's previous owner, who lived here for many years before us. He did such a beautiful job," explains the couple.
"Mount Washington is a special neighborhood — it has a similar feel to Laurel Canyon, but with the convenience of being close to some of our other favorite neighborhoods, like Highland Park and Eagle Rock. It has such a rich creative history, and many of our neighbors are now friends. A few months after we moved in, our neighbor gave us a box of stuff he said 'belonged to the house.' He got it from the previous owner, and we had no idea what was inside. When we sat down and opened the box, we found decades' worth of photos, art, books, and ephemera from the couple who owned the house in the '40s and '50s: Manuel Rivera Regalado, a Mexican/American artist, and his wife, Barbara, a greeting card designer."
"In addition to working as a scene painter for motion pictures, Manuel painted portraits on Olvera Street, and frequently exhibited his work around Highland Park (there were obituary clippings in the box, which gave us the background information). There was even an exquisite stamp with an insignia, his name, and his (now our) address. I guess Mount Washington has always been a Mecca for creatively inclined folks! The previous owner must have recognized the importance of keeping this little piece of the home's history. We framed some of these pieces and hung them on the wall, and the rest is stored under the benches Peter built into the nook."
Apartment Therapy Survey:
My Style: Warm and eclectic. A little bit bohemian and Southwestern, a little bit California Modern, with some mid-century elements. In general, we go for a neutral palette with pops of color, usually with green and orange accents.
Inspiration: The house itself — it's a Spanish-style home, built in 1929, and we wanted to stay true to that. The desert, Laurel Canyon in the '70s (especially Joni Mitchell's house on Lookout Mountain), the California landscape, New Mexico.
Favorite Element: The big arched window in the living room, with its handmade stained glass flowers.
Biggest Challenge: Our tiny backyard was covered in AstroTurf when we first moved in, and it just felt kind of unloved and sad. Last summer, we decided to brighten it up with white tiles, white stones, and a pergola, handmade by Peter. The whole idea was to keep it low-cost, uncomplicated, and bright. Our new bougainvillea are struggling a bit (after people telling us they would take over the whole yard!), but it's now a lovely space to have coffee in the morning, or drinks in the evening with friends. We feel like we gained a whole new "room."
Proudest DIY: For the first few years, we had a table and two chairs in the nook, but it was a bit of a redundant, uninviting space. Peter made a built-in bench to wrap around the window area, incorporating storage with fold-up seats. In our little house, it's important to take every opportunity to gain a few extra cubic feet. It's now a whole new space we actually want to spend time in, and one of the best work-from-home spots in the house.
Biggest Indulgence: The Cafe appliances in the kitchen. We drooled over these for a while, but initially wrote them off as being too expensive. One day, after being cautious with the rest of the kitchen reno project, we decided to splash out. It was absolutely worth it. They're amazing appliances and a joy to see every time you walk into the kitchen.
What are your favorite products you have bought for your home and why? It might sound a bit unromantic, but our Nest thermostat and lock system — you can control them from anywhere, which is super handy, especially if you have a tendency to lose keys, or forget to lock up (guilty on both charges).
Also, I'm a hobby ceramicist, and while the house is full of my own creations (often early pieces, or seconds that I can't sell — sorry, Peter), I also love owning work from my favorite small-batch potters. Our handmade plates and bowls by bX ceramics, an amazing local ceramicist, were definitely worth the investment.
Please describe any helpful, inspiring, brilliant, or just plain useful small space maximizing and/or organizing tips you have: The newly created space under the nook bench stores all our miscellaneous things, like documents and invoices. It's also just a nice space for art materials. We've also tried to reduce branding around the house, so we decanted bathroom products into brand-less glass pumps and put spices in mason jars. It limits visual clutter, and you can buy in bulk and reduce waste.
Finally, what's your absolute best home secret or decorating advice? Don't rush — take your time selecting pieces you really love.
You don't need to spend much money — very few pieces in our house were splurge-y. We have three pets, so we can't be too precious about soft furnishings. It's how you put it all together! For instance, the IKEA mirror got a face-lift using dried flowers from old bouquets. It's an ever-changing arrangement, depending on what we have available.
We also found that changing up handles can be an inexpensive, simple way to make furniture more personalized. We had our eye on kitchen cupboard handles that were $50 each. Peter trawled through Etsy for something similar, and found almost identical pulls that made a lot more sense. So if you're on a budget, you can almost definitely find cheaper versions of things you like.
Polish up old hardware — you never knew what beauties are hiding under years of grime! As our little house is almost 100 years old, some things like hinges and handles had been painted over or tarnished over the years. The glass door handles and brass fixtures were coated with paint and dirt. Once we cleaned them with vinegar and baking soda, they got a whole new lease of life. Some of the glass door handles actually had a beautiful lavender tone, which only appeared after a good cleaning.
Thanks Peter and Caitlin!
This house tour's responses were edited for length and clarity.