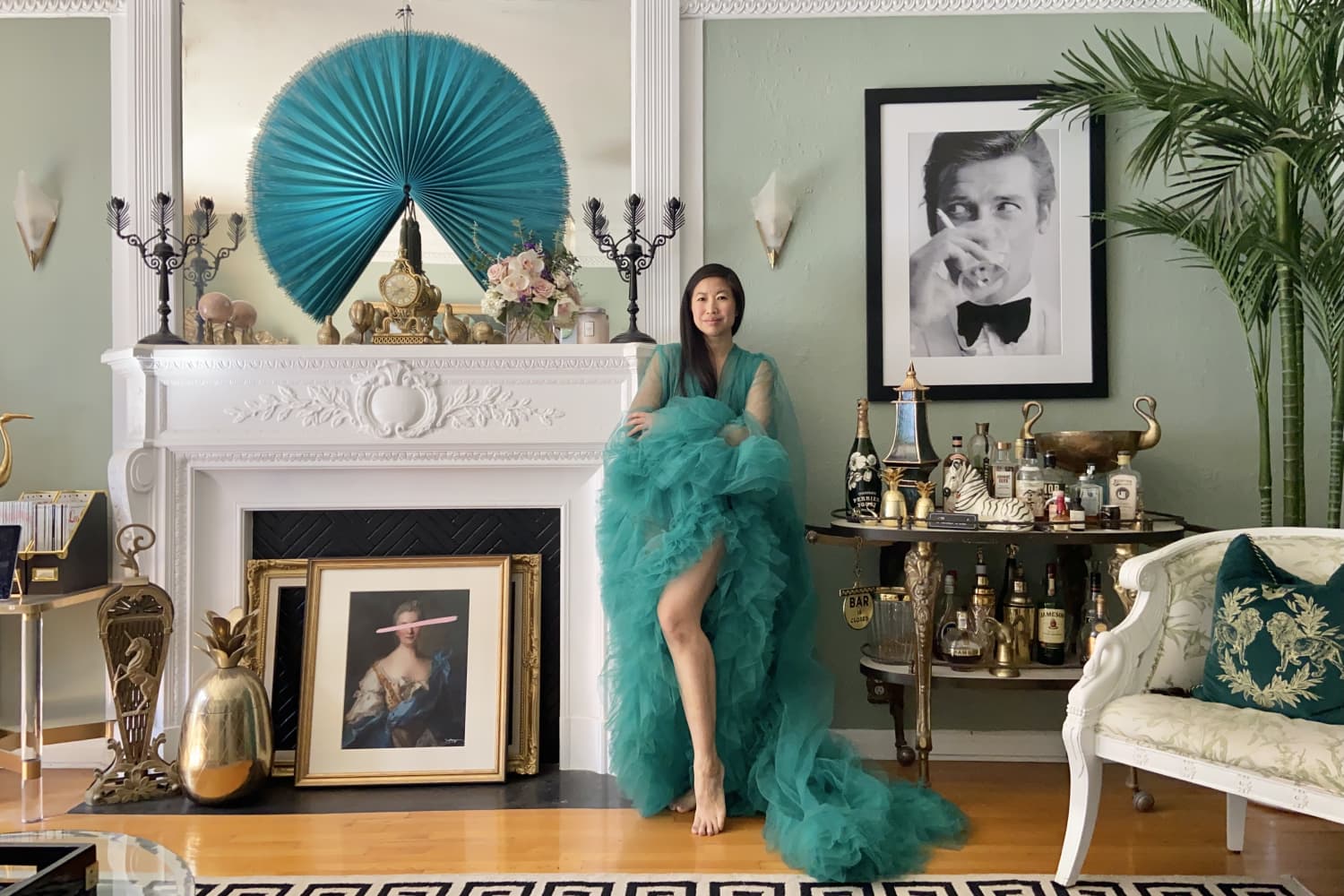 We independently select these products—if you buy from one of our links, we may earn a commission.
Name: Natalie Wong
Location: Koreatown — Los Angeles, California
Size: 1,800 square feet
Type of Home: Condo
Years lived in: 5 years, owned
Natalie Wong, a digital event producer for a major entertainment studio, recently repainted every room in her home, a large condo in Los Angeles' Koreatown neighborhood. It's a space she's totally transformed into a Hollywood Regency-inspired style thanks to color and a knack for finding sweet vintage and thrifted pieces. Her personal motto? "Secondhand first." Natalie, who blogs about DIYs on her website, Ktown Chateau, also hosts an IGTV series called "Secondhand Roadshow," where she interviews other decorating and design enthusiasts about their favorite vintage and secondhand finds. Her passion and love for vintage and history is evident, and her home's architecture reflects that love, too.
"I was in the market to buy a home and instantly fell in love with my apartment's vintage details," she writes. "It has tall 10-foot ceilings and original hardwood floors and crown molding. The building is actually a designated historic cultural monument designed in the French Normandy style. It has the most adorably manicured courtyard and looks like a miniature Disneyland castle from the outside. I even own the unit with the turret. I'm located in the Koreatown neighborhood of Los Angeles on the same block as other historic buildings, and there's constantly filming in my area. It's walkable to dozens of shops, restaurants, karaoke studios, and bars. Anthony Bourdain actually filmed an episode of his show "Parts Unknown" in Koreatown, and commented on how the 1992 LA riots took place just two blocks from here. This part of Los Angeles has been through so many changes over the years, and it's still continuing to evolve."
Apartment Therapy Survey:
My Style: Curated maximalism
Inspiration: Because my home was built in the '30s, I'm heavily inspired by the Hollywood Regency era. Almost every piece of furniture or decor piece that I own or bought is secondhand or vintage.
Favorite Element: The living room. It was love at first sight.
Biggest Challenge: I initially had analysis paralysis and was overwhelmed with the amount of choices you have when you're trying to decorate and furnish a three-bedroom home for just yourself. It was totally a good problem to have, and once I identified a decor style I was happy with, I became very focused to achieve that specific look and everything just started falling into place. It just took a little bit of time and patience.
Proudest DIY: I created a trompe l'oeil effect with the flooring on my upstairs balcony by painting over the tile and stenciling it with a geometric pattern. I did that over the course of a hot summer weekend in LA during wildfire season.
Biggest Indulgence: I bought the floor model of a round mirrored dining table from a high-end furniture shop in LA. Even though it was heavily discounted, it still cost me close to $3,000 after sales taxes and delivery fees.
Subconsciously, I think I was so resentful of the cost, I never liked it in my space. I ended up selling it for 20 percent of what I paid, and I regret ever buying it in the first place. In its place, I found a vintage dining table for $200 from a local reseller. This is why I highly encourage people to always buy secondhand or vintage. Vintage will always have a better resale value, and it's sustainable.
Is there something unique about your home or the way you use it? I had to remove a hallway closet and add a wall upstairs to create a third bedroom. This extra space is now my "cloffice," or closet office. Like most people have done during the pandemic, it's become a multi-use space: closet, office, guest room, and yoga studio.
What are your favorite products you have bought for your home and why? My favorite vintage finds include the brass coffee table in my primary bedroom that I bought from a set designer off of Facebook Marketplace, and the Dorothy Draper-inspired dressers from an antique store in San Diego that I had a friend refinish. And of course, the palm chandelier hanging above my bed that I bought for $5.
I actually believe that every secondhand or vintage item that I bring into my home is a "favorite." I only curate and collect pieces that I know I will love in my space.
Please describe any helpful, inspiring, brilliant, or just plain useful small space maximizing and/or organizing tips you have: To stay organized, I have a one in, one out policy. If I bring something home, I have to donate or sell something else. This includes clothing and shoes.
Finally, what's your absolute best home secret or decorating advice? Your home is not truly yours until you're incorporating unique items that you can't buy from a mass retailer. Avoid looking like a showroom or a page out of a catalog. The easiest way to make your house a home is decorating with vintage pieces, including family heirlooms, and souvenirs from your travels. Also, do NOT buy furniture sets!
This house tour's responses were edited for length and clarity.