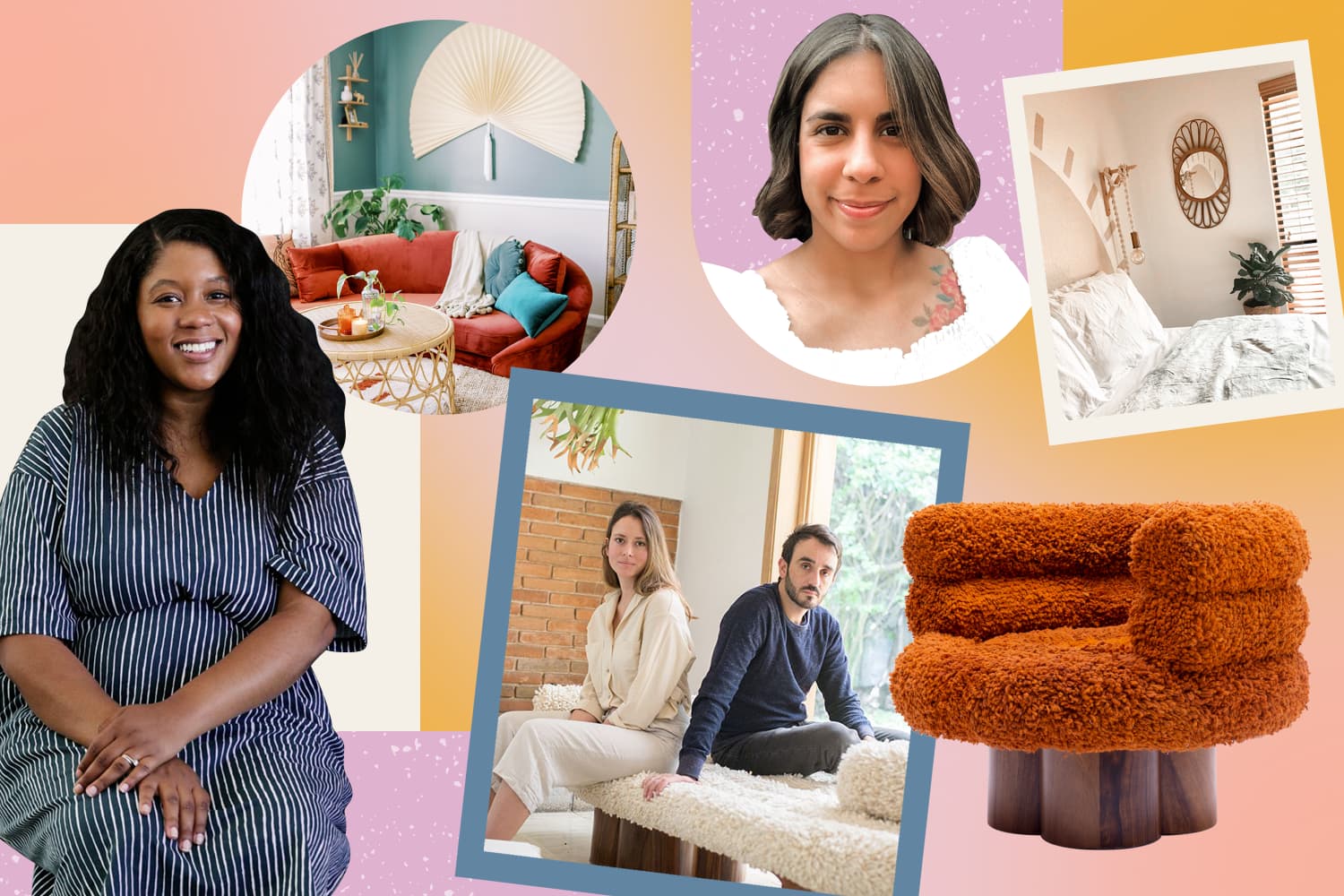 We independently select these products—if you buy from one of our links, we may earn a commission.
The influence Latinx designers, decorators, interior stylists, architects, bloggers, and artists have had on the design world is indelible. Take a closer look at the industry though, and it's painfully obvious that Latinx creators don't always have a seat at the table to experience how work gets commissioned, seen, and valued. Fortunately, talented and tireless trailblazers from within the community are working to change that, one project or product at a time. In honor of Hispanic and Latinx Heritage Month, I interviewed three Latinx designers on the changes they'd like to see come to the design world and how they're leaving their mark on design.
Estefanía de Ros and Gustavo Quintana-Kennedy, architects and designers of Agnes Studio
It's no surprise that Guatemala City-based architects and designers Estefanía de Ros and Gustavo Quintana-Kennedy ended up in the design world. Both very creative from a young age, Quintana-Kennedy has always loved drawing and tinkering with objects, while de Ros loved taking pictures and building things. When they met and started dating, they also started creatively collaborating. Trained as an architect, Quintana-Kennedy had already held various jobs in different design disciplines, and de Ros herself was earning her undergraduate degree in interior design. "This led to a common interest of designing and creating together just for the sheer fun and love of it," Quintana-Kennedy says.
Once together, the duo got their start in the design world organically. In 2012, a friend asked them to design a coffee shop. Shortly after that, they entered and won two product design competitions. "That experience made us realize that this was something that we were passionate about, something where we really enjoyed the process and the result," de Ros says.
A couple of years later and with a few collaborations and projects under their belt, they were invited to pitch an idea for a grant focused on women's empowerment in Indigenous communities in the rural areas of Guatemala. "It was something that was very close to our hearts, and we proposed 'Simbiótica,' a project that connected designers and artists with local artisans and enabled them to work symbiotically, with an emphasis on mutual learning and growth," de Ros says. "For this project, we traveled to various artisan communities throughout Guatemala to learn about their craft and develop products in collaboration with the artisans. This was an eye-opening experience, which gave us a newfound appreciation for traditional craftsmanship methods and sparked our interest in innovating by developing new ways of using traditional techniques and materials in contemporary design."
In light of that experience, de Ros and Quintana-Kennedy decided to shift their scope from interior design and consultation to product design by founding Agnes Studio in 2017. "It was challenging to find a balance between the creative and the dreamer side, our passion, and the more grounded and rational business part in a cohesive way, learning all the logistics of the business," de Ros says. Now the pair is back in hybrid mode, designing a house and focusing on their ceramic work at the moment.
"We find inspiration in many things: in the people we collaborate with, in the making of things, the process, the materials, and how we can push the boundaries and create something new that evokes an idea or an emotion," de Ros says. Quintana-Kennedy adds that they also look to nature and their immediate surroundings, as well as the places they've visited. "We find inspiration in the legacy of humanity and what past civilizations have built," he says. "And we find inspiration in creating hypothetical scenarios, alternate realities, and other worlds, where we can imagine the design and create with a 'what if' mindset."
As their sources of inspiration and own work continue to evolve, de Ros and Quintana-Kennedy hope the design industry will follow suit. "We believe the whole system has to change — or at least be reformed in very specific points that go from education and opportunities — to address and change in the correct direction: themes like inclusiveness, inequality, the impact on our environment," de Ros says.
That being said, both designers are hopeful for the future. In fact, Quintana-Kennedy points out that, throughout the course of history, designers and artists generally have been at the forefront of adopting or generating new ideas, inclusiveness, and progress. "We believe design and art can be a tool for dialogue, a tool to generate empathy, to communicate that we need to be more empathic of each other," he says. "The attention that design generates has been growing steadily, and it can be used to move these voices and needs into the mainstream consciousness, but we also have to acknowledge our past, our errors, and work toward making amends to create a more inclusive world and industry. In our specific case, as Latin designers, we live firsthand the struggle that certain communities — especially indigenous communities — have when they are seen with less value than other artists or designers, and also collectively as communities where their ownership of their cultural heritage is not respected, instead of being honored with the value they have."
Jessica Meléndez, founder of Sitos
When Jessica Meléndez was in college for fashion design, one of her professors invited her to work for him at a children's clothing company in her home country of Colombia. The store was called "La Hormiguita," which translates to "the little ant" in English. "I guess the name comes from my region (Santander) being popular for its fried ants snacks," Meléndez says. "I was able to design different collections for girls between 2 and 10 years old, and it was one of the most fun job experiences I've ever had."
That initial gig was followed by a few other design-focused jobs in the U.S., from working as a visual merchandiser to helping launch a clothing rental startup in Seattle. It didn't take long for Meléndez to want to start her own project. Currently based in Austin, Texas, Meléndez is now the proud owner of Sitos, a brand dedicated to all things macramé, including plant holders, wall hangings, kits, tie-dye textiles, and even rattan phone holders.
"Having my own business is very rewarding but definitely has its big challenges that I'm sure every entrepreneur has faced, like not having a steady income month after month, seasonal lows and highs in sales, not being able to afford health insurance in this country (this is a big one for me right now), and doing it all, from customer service, social media, advertising, photography, inventory planning — the list goes on and on," she says. "This is all part of the deal when signing up to be your own boss, but I wouldn't change it for anything because it's also the best thing that's ever happened to me."
To build Sitos into what it is today, Meléndez had unusual mentors along the way. A true 21st-century entrepreneur, she relied on Google and YouTube to turn her handicraft into her livelihood. "I basically started my business without knowing a thing about online sales and have been figuring things out along the way, mostly on my own," she says. "I guess that's how it goes for most introverts like myself — reaching out to people is a scary thing."
At the moment, Meléndez sells her wares on Etsy and Amazon Handmade, and she's focused on expanding her lighting product offerings as well as taking on bigger bespoke projects, which help push her boundaries as a designer. "I love when I get to make custom pieces for homes or commercial spaces," she says. "One of my favorite projects was a huge screen wall I did in macramé for a communal space of an apartment building in west Seattle." She's also in the process of creating a custom macramé pendant lamp that will be showcased in a makeover video shoot on YouTube next month, which feels like a full circle moment, considering how she got her start.
Ultimately, Meléndez hopes that anyone who wants to pursue a career in design can do so. "My biggest wish is to see everyone represented and representing the design industry, no matter their social status, race, skin color, gender, or sexual orientation," she says. "Creativity is for everyone, and we all win when a new artist comes along; we all get to enjoy and appreciate their creations. I hope to start seeing more Latinx people in the home decor industry and to have more platforms like this to share our stories and art."
Meléndez also wants other Latinx designers to experience what she finds to be the most rewarding aspect of working in the design world. "To be able to create pieces that will be appreciated for other people and used to decorate their homes, that to me is mind blowing and makes the hardship of self-employment totally worth it," she says.
Abigail Marcelo Horace, principal interior designer at Casa Marcelo
Like many fans of "Extreme Makeover: Home Edition," the young Abigail Marcelo Horace took the show very seriously. Her fandom peaked in high school though, where she took her love of DIY to a new level by redoing her room — and then continuing to restyle it a few times each year. "I didn't realize it was a career," she says. Once she had that epiphany, she happily enrolled in the interior design program at the New York Institute of Technology.
While in school, Horace began interning and working her way up in the design world, later landing jobs as a senior interior designer at Dumais ID and the AD-famous firm Hendricks Churchill. "I've pushed myself from being somebody who didn't have any connections or any cushion to now owning my own business," Horace says. In fact, she launched her own firm, Casa Marcelo, in March 2020 just before COVID-19 changed the world.
A global pandemic wasn't enough to stop Casa Marcelo from thriving, probably because Horace hones in on anything she sets her sights on — and is currently loving the life of a solo designer. "My favorite, honestly, is working alone," she says. "It's a very freeing and liberating experience to be a designer and to just deal directly with the client and not have to go through a boss to go to a client. Being a boss, in general — I didn't know I would have this experience this soon and to be a leader. To see myself grow in that way has been really empowering for me."
Though based in Connecticut, the bulk of Horace's work happens in her native New York City; a favorite project of hers in Brooklyn even incorporated references to the Harlem Renaissance period. "I got pretty creative with that one," she says. "I feel really hopeful about the space and how it's going to come together; it was a lot more colorful than I usually am." Horace describes her own personal aesthetic as minimalistic and mid-century modern, but her design style fully adapts to her clients, who are her primary muses. "I really don't look at anything else outside of my clients," she says. "My clients inspire me. Whatever they're into, I try to really get to know my clients and understand what they're about. I find it a good challenge to interpret what they want and make them happy at the end of a project."
Having her own business also makes it easier for Horace to be her full, authentic self. "In my career, there've been a lot of challenges; there have always been," she says. "I'm a first generation American — my father's Dominican, and my mother's Panamanian — so I speak Spanish, but everyone says I look Black, which I don't even know what that means because there's such a huge variation of Latinos in our community. I felt like people always wanted me to be this star-studded minority candidate, and then I would have to code-switch in the office to perform in that way. Not being able to really express myself the way that I want to — English is my second language — was also hard. I've always been the only Black or Latina woman in every single firm that I've worked for."
To change that narrative, it's important to Horace to employ a very diverse group of people once she starts building out a full team for Casa Marcelo in the future. She believes that being the change she wants to see can and will set an example for others to follow. "I feel there's a lot of white American designers who can just be themselves and not even have to try that much," she says. "I want to see that for ourselves. I want to be able to have a variety of designers in our field."