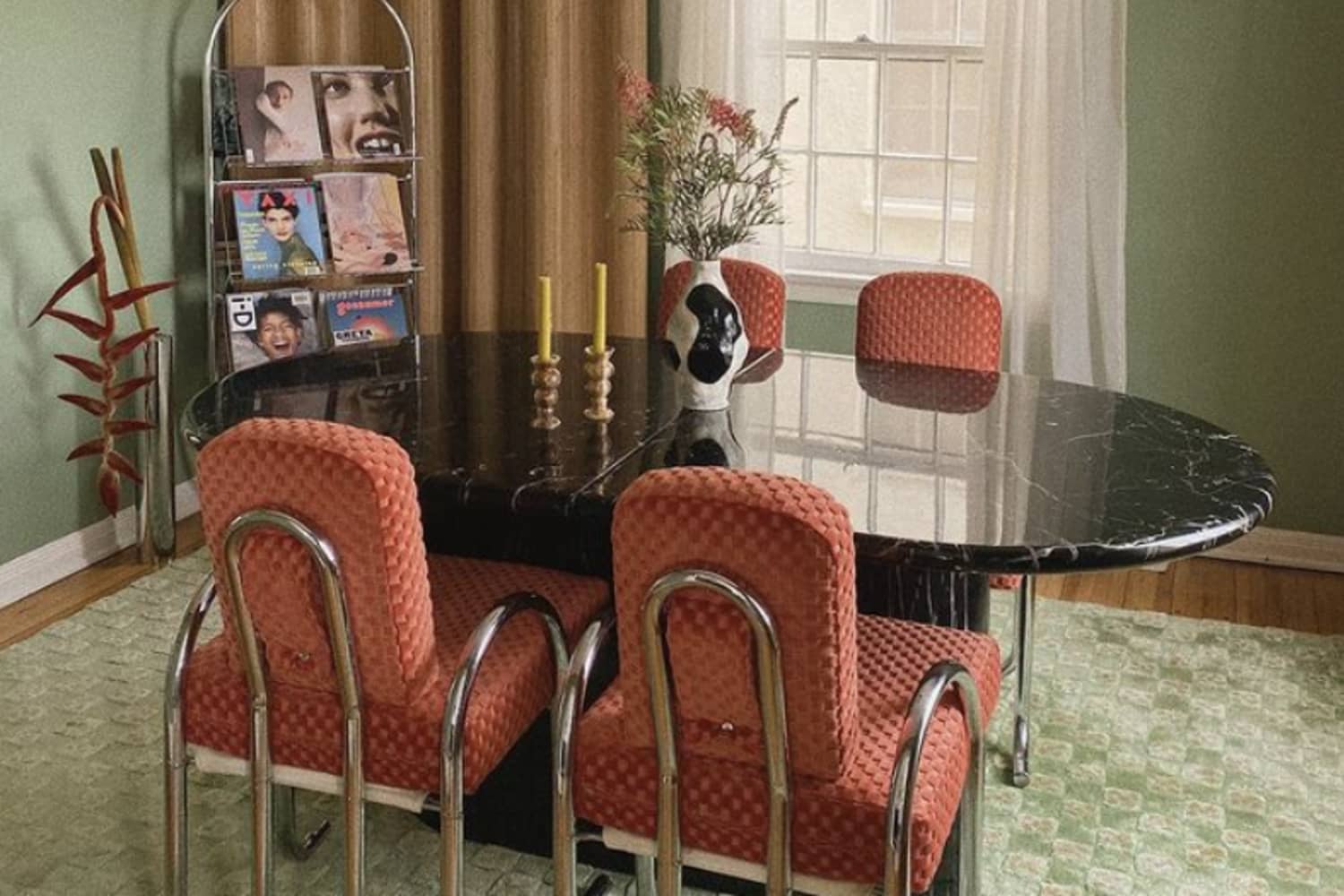 We independently select these products—if you buy from one of our links, we may earn a commission.
The latest "wave" of the wavy decor trend has officially landed, and it's come in the form of molded plywood room dividers. These unique, sculptural designs are popping up across social media and in design enthusiasts' homes alike, and they're basically elevating privacy screens to statement-making pieces of functional art.
Rather than using rigid panels of wood or pieces of cut metal that accordion open on hinges, these molded dividers typically use thin plywood, bamboo, or wood veneer pieces that are interlocked, side by side. This kind of construction allows you to manipulate the screen into different wave-like configurations.
Like many other trends that have come before, molded plywood screens aren't a totally new concept. Husband-and-wife mid-century design duo Charles and Ray Eames actually introduced an original molded plywood folding screen in 1946 that's still in production today and sold through Design Within Reach (which may be what's in your favorite high-design Instagrammer's home). Like many of today's contemporary room dividers, the Eames' design, too, could and still can be folded up and stowed away when not needed.
But this time around, the screens are probably in use 24/7, thanks to the pandemic. As a result, people are really working those ripples for decorative impact. In some cases, like in the green dining area of fashion influencer Alyssa Coscarelli (seen above), the screen is mostly decorative, adding a warm, organic touch.
Danish modern brand Artek makes a similar pine version of this "it" screen (their original 1936 Alvar Alto design was said to have inspired the Eames piece that came after it), but it'll set you back over $3,000. But if you, like me, are on a tight budget, don't worry. A handful of brands are now making the wavy screen look for less — and don't be surprised if you see more of these kinds of pieces well into 2022.
Wayfair's bamboo divider is an affordable alternative to the designer version. While made from solid wood, it's also very flexible, so it can be staged in a variety of different configurations. You can use it to carve out a dining nook from your living room if you have an open floor plan, or try it in your bedroom to create a makeshift home office in an empty corner.
Buy: Bamboo Divider, $309.99 from Wayfair
Large Roll Up Room Divider
Think of this Etsy vendor's bamboo screen like a tambour door; it'll roll up like a carpet, meaning it's easy to style in the exact shape you want — and move it from room to room (or stow it in a closet). This particular screen is one-sided with a felt backing, and is around 6 feet tall and 8 feet wide. You can also choose between four color choices — white, red, bronze, and "natural" — so you can find something that works with your particular space.
Buy: Large roll up room divider, $319.71 from Etsy
This bamboo wood divider is the most affordable one on the list, allowing you to tinker with the trend without blowing your budget. You can use it as a sculptural Zoom background during your work calls, or you can stage it in your bedroom corner as a classy changing area. Remember those? Let's bring them back.
Buy: vidaXL Room Divider, Starting at $87.99 from Walmart
Honey Bamboo Wave Room Divider
Everyone's favorite home improvement store stocks a version of the coveted wave divider online in dark brown, honey, natural, and white colorways. Depending on what your home decor looks like, you can easily make this panel feel '70s or '80s, bohemian or modern. It's just that versatile.
Buy: Honey Bamboo Wave 1-Panel Room Divider, Starting at $234.99 from The Home Depot