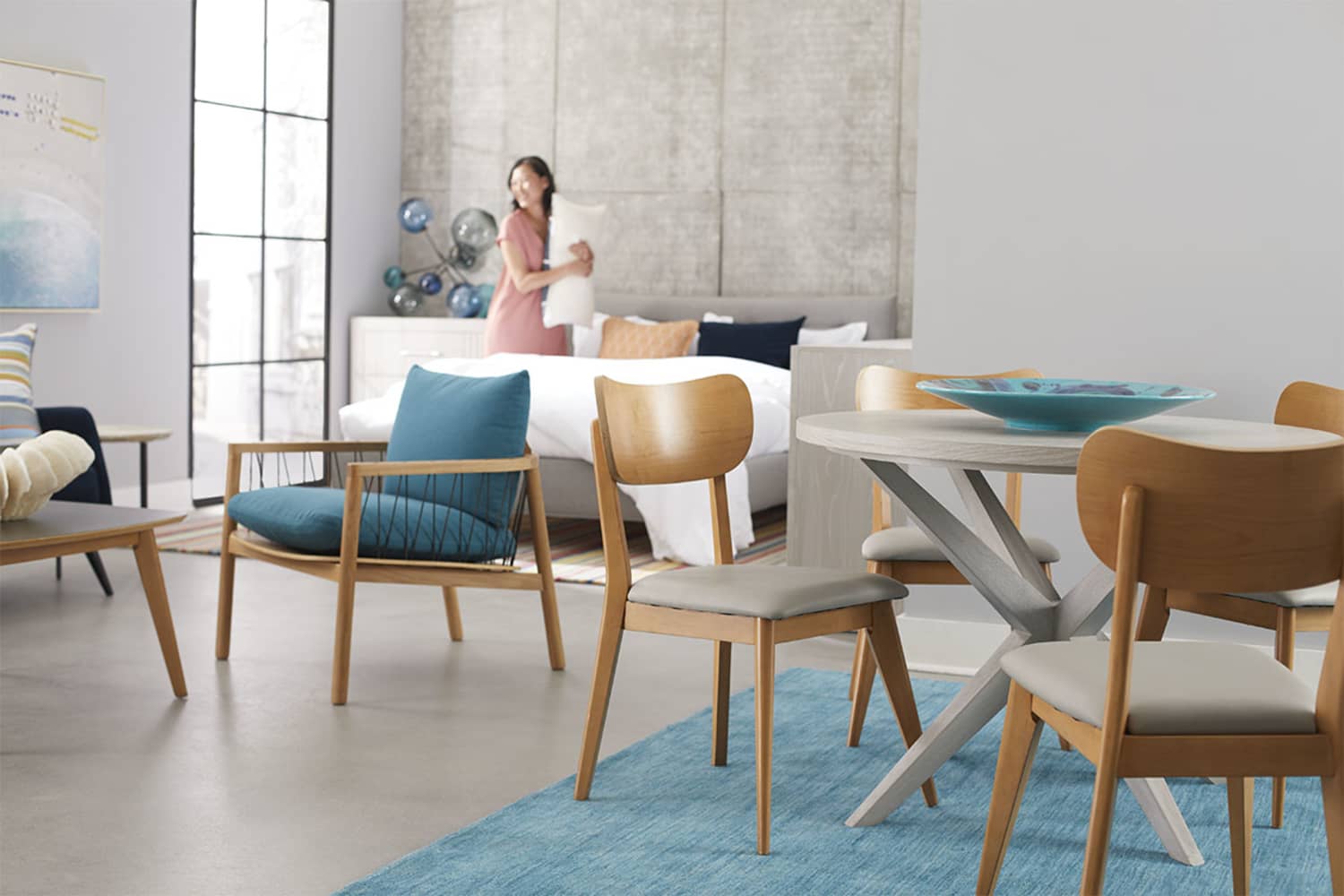 Making a space feel homey is relatively easy if you own your house or have roots in a long-term rental. But if you live a more flexible lifestyle — working nomadically, going to school, or just trying out new cities — you might need some help.
If you're living in a just-for-now space, it may not be the right time to decorate with forever furniture. But that doesn't mean you have to buy disposable pieces either! There's actually a smarter option: furniture rental. It's an affordable way to outfit your home with cozy vibes without all the commitment, and the people at CORT, who've been renting furniture for nearly 50 years, are experts at bringing that sense of belonging directly to you.
How do you know if renting furniture is right for you? See how CORT's focus on quality pieces and affordable rental packages supports all kinds of flexible living situations.
Exploring another city? There's no reason your temporary living situation shouldn't feel like home — and no reason you should book it to the nearest fast furniture store and spend a small fortune, just to sell your stuff online in a few months.
Not only does CORT take that stress and expense out of the equation with gorgeous sets for entire rooms — living room, bedroom, home office, and even kitchen, which they deliver, assemble, and take away when you're ready to move again — they also partner with several apartment communities to help answer the question, "furnished, unfurnished, or fully move-in-ready?" Giving you the option to move into your next place with the items you need already set up.
Plus there's the quality differentiator: You'll have access to high-end options without the full-price price-tags. Once your furniture base is in place, focus on the fun part of decorating it with your personal touches. Or if you really want to feel like you're snapping your fingers and making your home magically appear, CORT has all the stylish decor and houseware essentials you could ever want (and more).
Short-term rentals are a great solution if you're not exactly sure what's next. But you probably don't want to invest in all-new furniture if you don't know where you'll end up. CORT is a great way to make your temporary spot feel less-than-temporary while you pinpoint what's next in life.
However, if you do end up falling in love with your furniture, CORT gives you the option to buy it at a discount when your rental period is over. If you don't opt to buy your set, CORT will take it back — and after a certain number of rentals, they'll extend the life of the furniture (and prevent pieces from ending up in landfills) by selling it to someone else. Sustainability, convenience, and high-end design is our favorite kind of win-win-win.
Whether you're moving into your first off-campus apartment or going back to school, you don't need to settle for a twin-sized bed. But college is expensive enough — don't let furniture put a bigger dent in your pocketbook. CORT has packages tailored to students' needs and budgets, and their nationwide service reaches almost 5,000 cities and towns across the U.S.
And if you're just looking for a good deal on furniture purchases, their furniture outlets are also great places to pick up gently used pieces at huge discounts — like up to 70%-off new retail price discounts.
Maybe your job has you on assignment in a different city, or maybe you're freelancing your way through Europe: Either way, you can create a cozy, stylish home base without even the thought of shipping your furniture. In addition to their U.S. showrooms, CORT has operations in the UK and a Global Network of partners that extend their reach to more than 85 countries worldwide.
Of course, you don't have to fit exactly into any of these lifestyles to benefit from renting furniture. The whole point is that it's flexible, and a quality provider like CORT works with you to make your right-now space feel lived in.