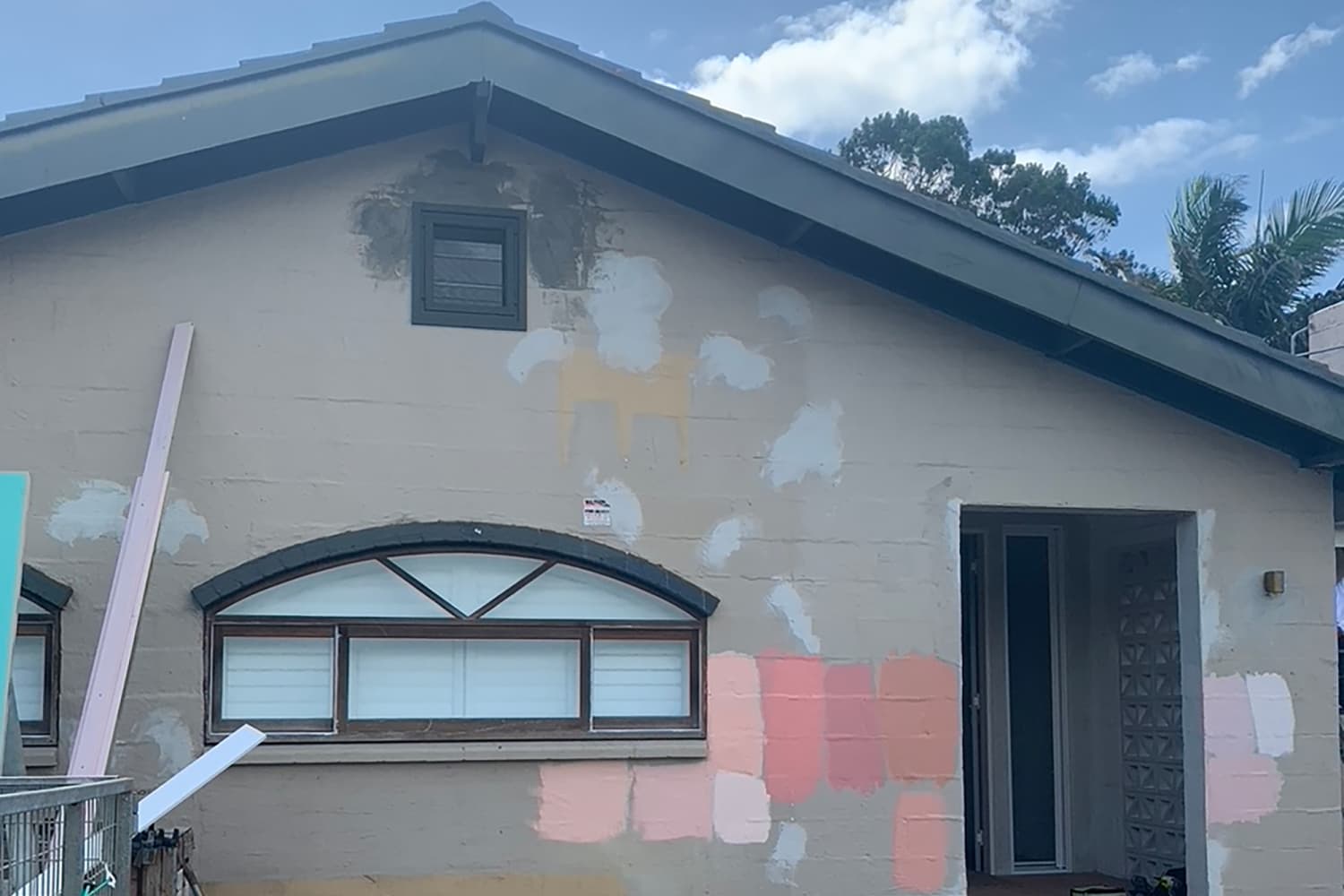 We independently select these products—if you buy from one of our links, we may earn a commission.
September is Transformation Month at Apartment Therapy! That means we're sharing stories about home transformations — from big renovations to tiny tweaks — all month. Head over here to see them all!
Name: Catherine, Michael, and children, Harriet and Nelson, and two miniature schnauzers Tank and Obi (named after Obi-Wan Kenobi as my daughter is a big "Star Wars" fan)
Location: A suburb of Byron Bay, Australia
Size: 2100 square feet
Type of Home: House
Years lived in: 2 years, owned
We had been looking for a long time for a house near the beach that we could renovate and we came across this one online. We could see that it had lots of potential! We love that it was built in the 1970s and had a great beach house vibe with cool arch windows at the front. We love that we are at the end of a lane with a track straight to the beach, which is perfect for the kids and walking the dogs on the dog beach.
This neighborhood used to be nothing but sand dunes and is now a gorgeous local community. It only has a pub, a bakery, a post office, and a little food store. We cook a lot in our kitchen and have weekly pizza nights where the kids and I make pizza dough together and pizza sauce from our tomato plant outside. I also have a pottery wheel so I spend a lot of time creating things with clay (not necessarily that well) but it's lots of fun and seriously meditative. And I've recently become passionate about plants and gardening so I'm often planting/watering/admiring something growing outside.
Apartment Therapy Survey:
My Style: Relaxed, warm, classic
Inspiration: The inspiration was a little bit Palm Springs, and a bit Scandinavian
Favorite Element: My favorite thing is the Mexican star tiles in our bathroom. I fell in love with these tiles and chose them before I chose anything else for the house.
Biggest Challenge: The house had a lot of surprises once we started the demo, which added to the budget and the timeframe. We discovered cement block internal walls (that we thought were timber), which were super expensive to demolish, plus one bathroom had four layers of tiles that had been added to the floor over the years. We had to roll with it and just try and save money on other items in the house.
Proudest DIY: I found a recycled piece of timber from a tree that is native to this area and cut it and sanded it, then added some cool solid brass brackets that I found in Sydney and created a great shelf to hold my handmade ceramics. It makes a warm feature in our kitchen.
Biggest Indulgence: The solid travertine sink in our bathroom. I wanted something different and I absolutely love it. The local stone mason custom-made it for us from a design that I did. It was pretty tricky to make and I think the stone mason grew a few gray hairs in the process.
Is there something unique about your home or the way you use it? We had a random high window at the front of the house so we decided to create a loft in my son Nelson's room so he can play up there with a view of the clouds. We also turned an ensuite bathroom into a walk-in pantry.
What are your favorite products you have bought for your home and why? I love our tapware from ABI as it's classic and sleek and looks good as it wears. I am also in love with our French linen bedlinen from Moss Living; it is the softest linen I have ever felt. I also love the store Smallable for lighting.
Please describe any helpful, inspiring, brilliant, or just plain useful small space maximizing and/or organizing tips you have:
Finally, what's your absolute best home secret or decorating advice?
This house tour's responses were edited for length and clarity.