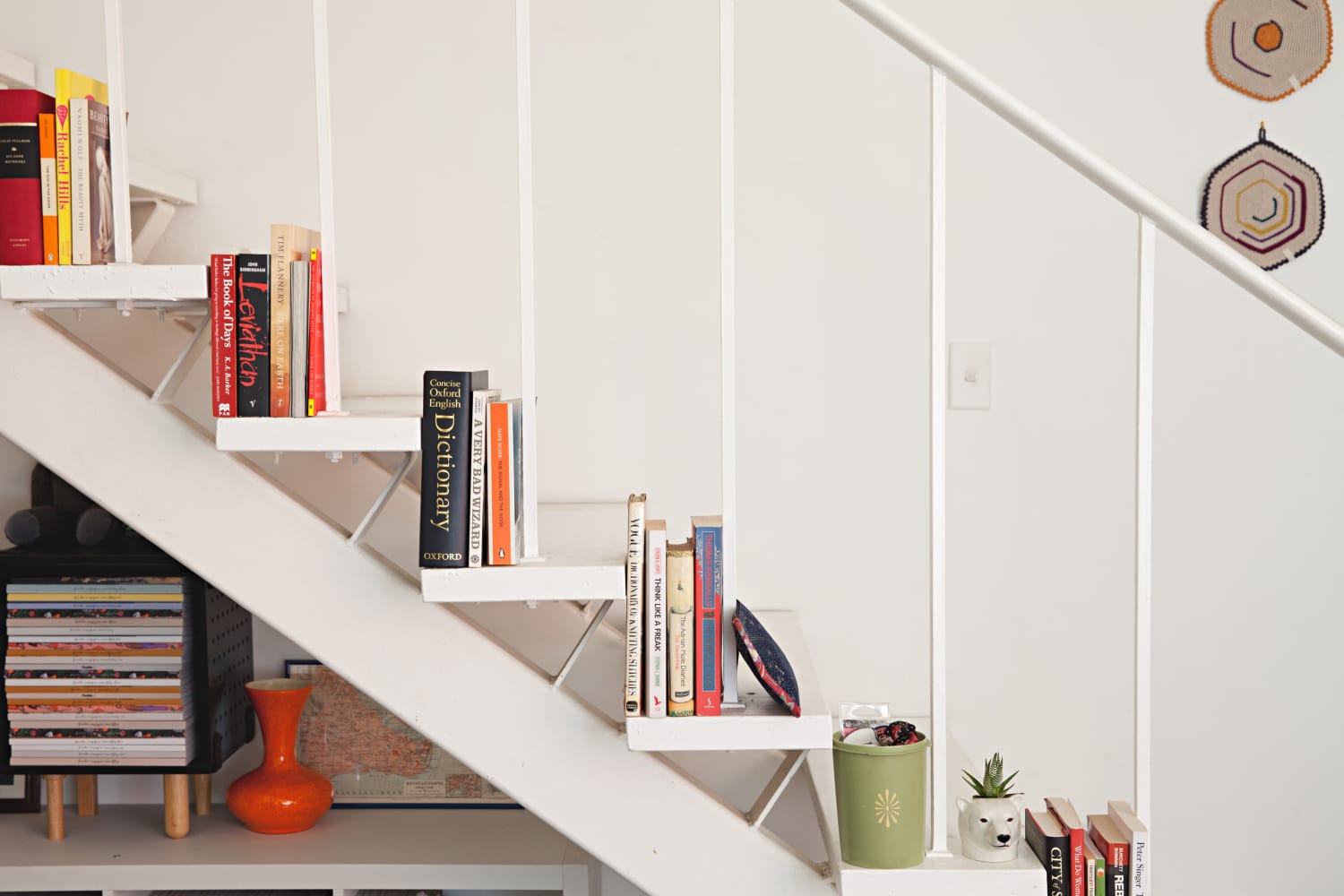 As people retrofitted their homes to serve as offices and digital studios in the past year, I've found myself being drawn to talk shows — not just for the celebrities but for the bookshelves that peeked out from behind their shoulders. I watched countless news shows, where there were always "expert" guests participating from home. I eagerly studied their literary backgrounds, putting the TV on pause to better see what they were reading and how their shelves were organized.
What I realized was that most of them seemed to be using the same organizing system I do: none.
As an avid reader with more than a thousand books, I have gotten a lot of questions from my friends about my lack of organization. "How do you ever find anything?" they'd ask. Each time, I explained that I can envision the books in my mind and can usually remember its general location on a shelf. Maybe it's because I spend so much time browsing through them.
For years, my dream was to build a "Beauty and the Beast"-style library, filled with glorious floor-to-ceiling bookshelves (no wonder Belle ultimately fell hard for the Beast), and finally provide a permanent home to all the books I had piled in cabinets, on tables, and on the floor. Locked down at home with time on my hands, I finally got around to it on a much smaller scale, with a couple of dream-come-true floor-to-ceiling bookcases that were begging to be filled in a way that would bring joy and maybe even order to my reading life.
I posted photos on Facebook and asked for suggestions on how to organize my new bookshelves, but was not prepared for the avalanche of responses and the raw passion behind them. So I considered dozens of opinions as to why I should organize by color, title, author, genre, books I've read, books I haven't read, favorite books… and dozens of opinions as to why I shouldn't, as well.
Although each method has its virtues — and if it works for you, that's really all that matters — I'm more convinced than ever that none of those are for me. Here's why I'm sticking with my no-system system.
When I add to my collection — which I do often — I'm able to place a new book anywhere on a shelf and move on. If I arranged my bookshelf by any category at all, there would be only one spot where each specific book belongs. If there was no room for it there, I would have to move some books to the next shelf, then move some books from that shelf to the next one, and on and on. This feels unsustainable, and the constant reorganizing is not how I'd like to spend my time. I'd rather be reading.
Books can be found in every room.
With bookshelves in almost every room of my house, it's hard to imagine an overall organizing system that would work. How do you alphabetize from one room to another? And do you arrange by genre, based on the room, so, for example, kitchen shelves only feature cookbooks? Because books open readers up to different worlds and all possibilities, I've found it so much more interesting to, say, have a book of short stories catch my eye while I'm eating dinner, and perhaps inspire me to write one of my own.
The emphasis is on the books.
When I tried organizing by a category, the emphasis naturally ended up on that category: Here are books about travel, here are books by Toni Morrison, here are books that start with the letter "A." I want to just look at my shelves and think, "Here are so many wonderful books."
Arranging books by color may look magical but if I did that, I would probably spend more time admiring the rainbow than thinking about the books themselves. It's easy to understand why arranging books by color became such a popular decorating trend — it's gorgeous — but, for me, it takes away from the natural beauty of the individual books. Although I would absolutely buy a coffee table book of photos of color-organized bookshelves, I can't imagine buying a random book because I need one with an orange or purple spine to complete a section.
Author Anthony Powell wrote a novel entitled, "Books Do Furnish a Room," and I agree. Books are, inherently, the warmest and most welcoming decor. On Pinterest, I've followed dozens of "home libraries" boards that showcase cozy rooms filled with books and comfy chairs. In those rooms, the books themselves are the focus — they don't need any embellishment to make an impact.
There's always something new to discover.
One of the great pleasures of unorganized shelves is looking for a specific book and finding a different one that appeals to me along the way — a moment of happenstance that occurs all the time and has led to fascinating, unexpected discoveries. I once was looking for a specific novel, and, as I was searching, I came upon a memoir about traveling solo that was so captivating, I ended up booking a trip I had never considered before. (Yes, I took the novel with me.) This would never have happened if my books were organized in any way, and the serendipity of it is a true delight and the main reason I love my no-system system. It's also why I set my Spotify playlists to shuffle.
Bookshelves reveal a lot about a person.
As someone who is more likely to hop on a plane tomorrow than plan a trip for next year, it would be hard for me to relate to any formal organizing system. It wouldn't feel authentic. It wouldn't feel like mine. So, as long as life remains unpredictable and mysterious and somewhat random, my bookshelves will, too.