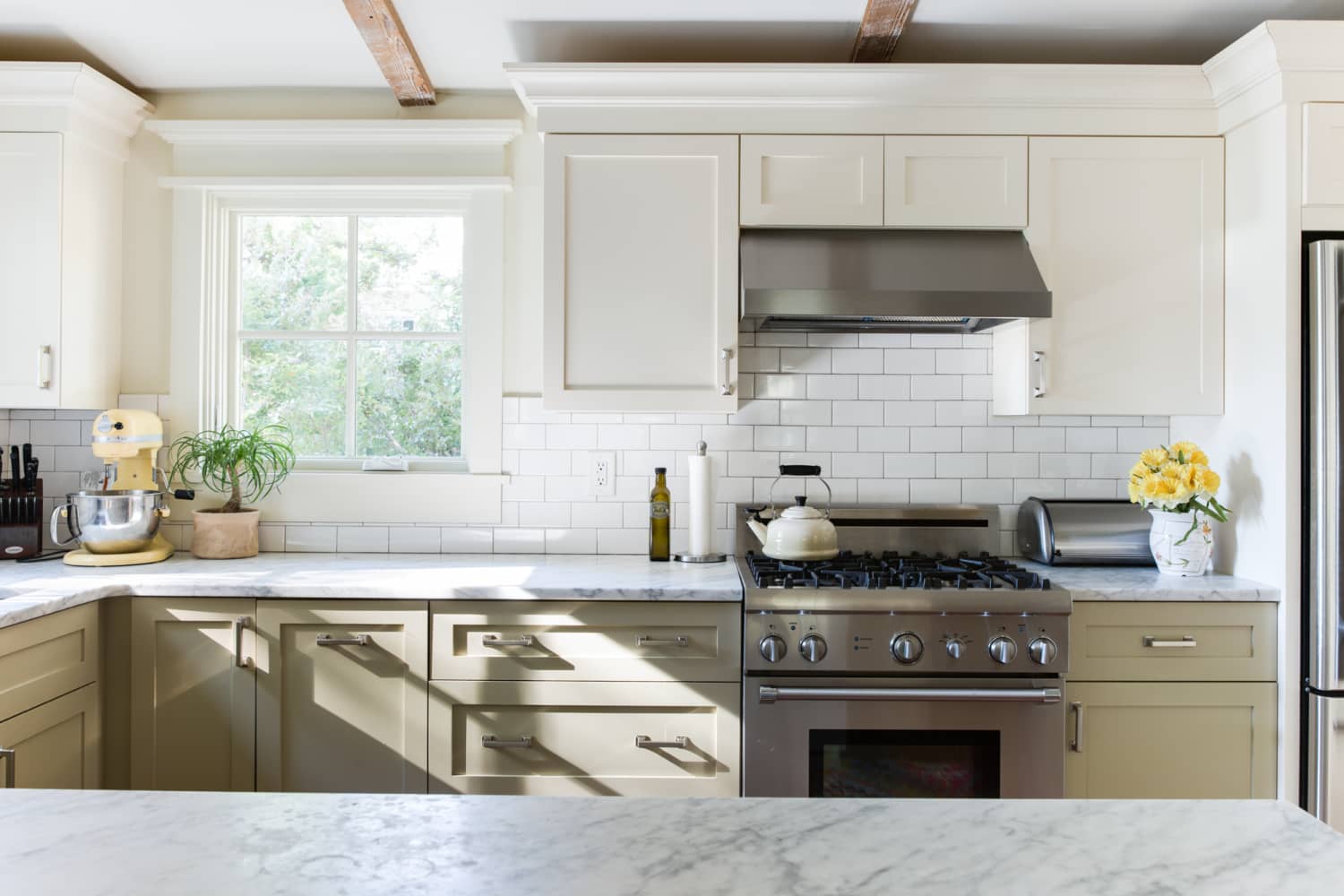 Painting kitchen cabinets has been one of the most executed DIYs over the last year. And it's not hard to see why: with everyone staying at home more, there's a desire to breathe new life into the most used spaces. And when it comes to easy ways to brighten up the kitchen, painting your cabinets is the way to go. However, with so many options out there, settling on a paint color can be extremely difficult — so let HGTV star and interior designer Breegan Jane make it easy for you.
Jane, host of HGTV's"The House My Wedding Bought," is a huge fan of tuxedo kitchens, which traditionally means a two-tone combo with a dark coat for lower cabinets and a light color up top. But when it comes to the lower cabinets, Jane is specific with what hue she recommends to bring comfort into the space: a charcoal gray with a hint of navy.
"Tuxedo kitchens are my jam right now, and I am encouraging a charcoal black with a hint of navy for your bottom lowers," Jane told Apartment Therapy. "I like things that read into warmer tones and a little away from cooler tones, you want it to have some warmth." By steering away from a traditional black and going for a warm gray mixed with a hint of dark blue, your cabinets will make the kitchen look and feel lighter, especially when paired with white uppers.
In addition to adding some warmth into your kitchen through your cabinets, Jane also recommends some easy ways to add color into your space without fear of it looking dated. "Get out a bowl of oranges, get some apples on the table. For me, I tend to use the natural elements in the kitchen, even florals, to pull color so my space doesn't date quickly," Jane explained. "A pile of colorful cookbooks can do a lot, but you can leave your countertop a neutral tone, and you can do a statement range."
But if you do plan to redo your lower cabinets anytime soon, consider the charcoal gray with a navy tint. A little warmth can go a long way.