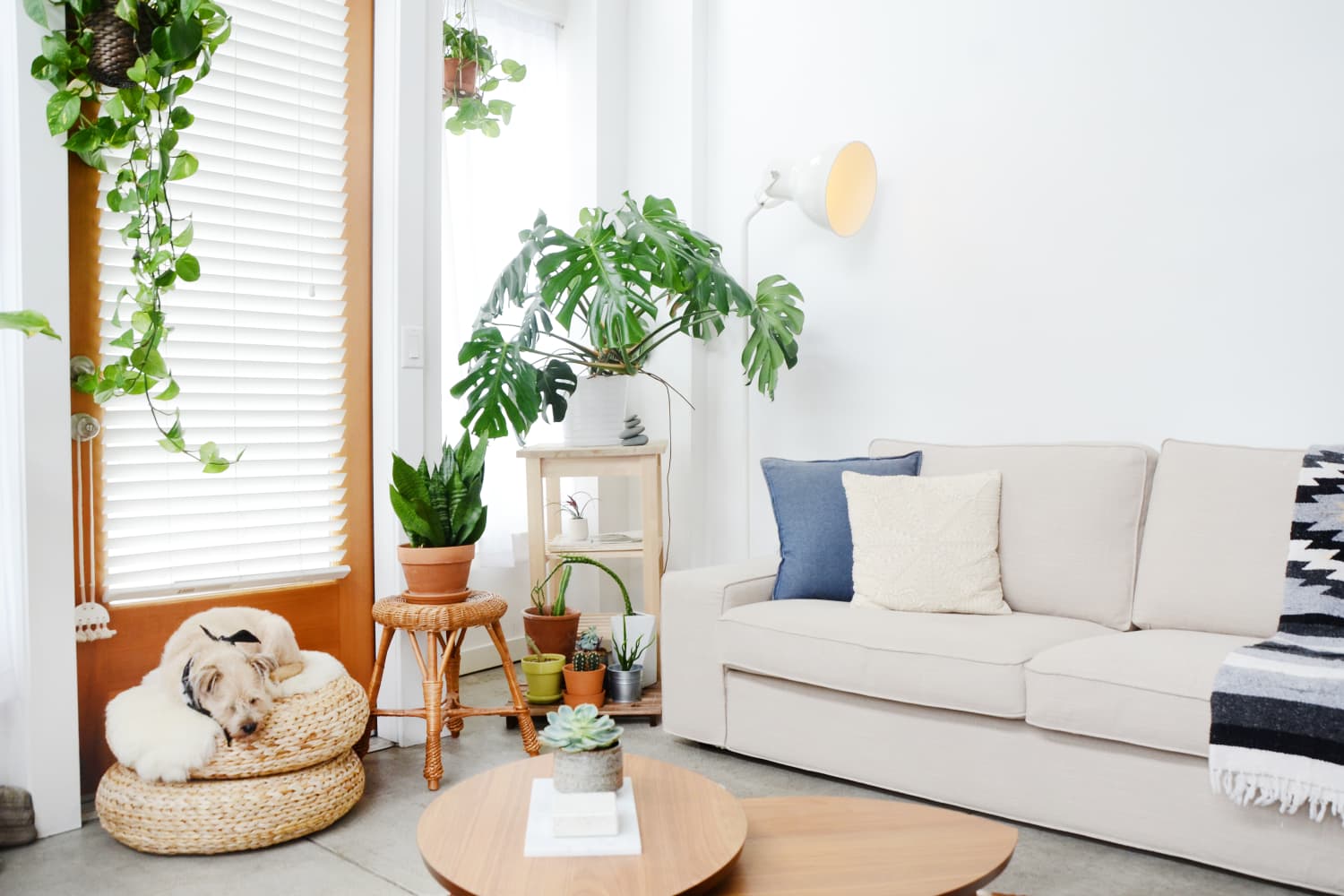 We independently select these products—if you buy from one of our links, we may earn a commission.
Sleeper sofas once conjured images of uncomfy hotel stays, childhood sleepovers at your grandparents' house, or that notorious Seinfeld episode with Elaine's borderline back-breaking Florida visit. Fast forward to today, though, and you'll have no trouble finding comfortable — even stylish — pullout sofa options (and yes, there are options).
True to their name, sleeper sofas really hit the best of both worlds: You have 24/7 seating, plus a built-in bed. They're perfect for everything from cozy movie nights with your partner to entertaining and accommodating guests. So it's not surprising that Interior Define Chief Merchant Christina Holland reports seeing a recent sleeper sofa surge, triggered by the pandemic. "Oftentimes what once was someone's extra bedroom has now been transformed into an office," she explains, citing the increased demand.
Whether you fall into that category or just want to explore more multi-use furniture, note that you have other choices, too — there are sofa beds, futons, and even daybeds, all of which tend to be used interchangeably with sleeper sofas. Before you bring one home, it's important to understand the differences between each, as well weigh the cost, comfort, size, and functionality (just like you would for a standard sofa).
What's the difference between a sleeper sofa and a sofa bed? Or even a sofa bed and a futon? They all function as similar sleeping/seating hybrids, but they're actually quite different. Here's the breakdown:
A sleeper sofa looks the most like a traditional couch, and it comes with a built-in mattress (ranging from Twin through King size). When it's folded out, the sofa's arms and back act like a headboard.
Pros: The next best thing from a guest bed, this is your most comfortable bet for long-term or frequent use. Sleeper sofas also have more variety in terms of style and silhouette.
Cons: Sleeper sofas weigh a lot and take up the most space. They're typically more expensive than standard sofas, too. Also, the sofa-to-bed transition (and vice versa) requires effort.
Although commonly confused with sleeper sofas, sofa beds don't have an internal mattress. Instead, the back of the sofa actually folds down to form a flat surface (similar to a futon), and the cushions become the mattress.
Pros: Better for smaller spaces, sofa beds run more compact — and usually more affordable — than sleeper sofas. They quickly shift from seating to sleeping modes, too.
Cons: Because of the smaller footprint, there's less comfortable sleeping space and guests have to lie down lengthwise. Finding sheets can also pose a problem, since some sofa beds have non-standard measurements.
Futons have (wrongfully) earned a bad rep as dorm-exclusive decor, but there are plenty of more mature finds on the market. Construction varies, but they normally feature a covered, bendable mattress that sits on top of an adjustable bi-fold (or tri-fold) frame.
Pros: A futon is arguably the cheapest and most small-space-friendly solution that can accommodate one to two people. They're also incredibly lightweight and the easiest to unfold and clean — you can swap out futon covers if the original gets too dirty.
Cons: Unlike sleeper sofas and sofa beds, futons lack style options and the same sofa allure — there's no way of disguising that it's essentially one large upholstered cushion. They're usually more disposable, and not the most comfortable for sitting and sleeping.
Mainly designed for lounging, daybeds — as the name implies — look more bed than sofa. There's no pull-out mattress component like a sleeper sofa, but you can opt for a similarly sized trundle bed.
Pros: A good budget-friendly option, daybeds reign supreme in both versatility and aesthetics. They're easy to move around and reconfigure within your home, plus you'll have no trouble finding chic choices to match your interior style.
Cons: The smallest of all the options and comparable to a Twin-sized bed, a daybed can fit just one person and lacks any convertible components.
What to Consider Before Buying a Sleeper Sofa
Think about your lifestyle and whether a sleeper sofa, sofa bed, futon, or even daybed would best fit your needs. Do you entertain or host often but don't have a guest bedroom? It all comes down to how frequently the sleeping function would, realistically, be used. And if you answered, "truthfully, not that often," you might be better off with a really deep regular sofa — if you have the space, that is.
Because of the inner mattress, sleeper sofas can get very heavy (read: a real carrying-up-stairs nightmare). According to Chris Stout-Hazard, co-founder of made-to-order furniture brand Roger + Chris, they also have more inner working parts and stress points, meaning moving them around down the line can potentially instigate internal damage. Basically, try to map out the sleeper sofa's permanent home in advance.
In terms of sizing, you have a few decisions to weigh (and keep in mind when you're measuring):
On the bright side, there's really a practical option for any budget. Ranked in order by price, you'll likely find sleeper sofas to be the most expensive, followed by sofa beds, with daybeds and futons on the lower end. It pays to splurge on a durable sleeper sofa, though, especially if it's doubling as your primary everyday couch. "From a functional perspective, it's worth the investment because it provides so much latitude around people's ever-changing lives, and you can potentially get all of the aesthetic components of what you would really want in a normal sofa," adds Holland.
Keep these budgeting tips top of mind as you browse, too:
Choosing a Sleeper Sofa Style
Nowadays, you can find sleeper equivalents of most sofa styles, whether you're after the trendy mid-century modern look or even a smaller Twin-sized loveseat. Ultimately, it's all about striking a balance between your lifestyle and aesthetic. Choose wisely, though, since it's a splurgier piece you'll probably want to have (and love) for the long term. To help get you started, here's a crash course on some common sleeper sofa styles:
Selecting a Sleeper Sofa Fabric
Sleeper sofa wear and tear is inevitable, since it's a true double-duty workhorse. "Someone could drool on it, who knows!" jokes Stout-Hazard. Speaking of, they're admittedly tougher to spot clean — if there's a huge spill or stain on any non-removable cushions, it's game over. Finding a forgiving fabric is crucial. Here's how some common upholsteries stack up:
Measuring Your Sofa and Entryways
The golden rule of thumb when measuring? "Make sure the depth and width of the sofa is smaller than your doorway so you can get it in," says Holland. (And yes, measure every doorway in its path.) Sleeper sofas do get a bit trickier, since you obviously have the mattress component to factor in. Not to worry, though — follow these tips and tricks:
If you happen to measure incorrectly (we're all human!), go ahead and call the couch doctor.
Checking the Sleeper Sofa's Construction
When it comes to sleeper sofas and their counterparts, quality matters — arguably more so than for standard sofas because they're for both sitting and sleeping. Having a basic understanding of the components that comprise a well-built sofa will help you invest in a piece that can withstand daily use. Note the major checkpoints to review before you buy:
Natural wood is the most solid and sturdy material — look for iterations that have been kiln-dried to prevent cracking and avoid excess moisture, especially kiln-dried hardwood. "It's a hardwood, so from a longevity perspective, it holds up longer," Holland explains. Plywood, an engineered wood, is also a common sleeper sofa material, but not always the most durable. In that same vein, MDF (medium-density fiberboard) and particleboard are some of the least reliable types of frames and more likely to fall apart.
The components that keep the frame together are also significant. A sofa solely attached by dowels or glue won't be as sturdy as one with a mix of the two and/or screws.
3. Sleeper Sofa Mechanism
Every sleeper sofa has this — it basically refers to all the big metal beams that support and surround the mattress. A sleeper mechanism also plays a structural role: It takes on the suspension work and helps hold the sofa's frame. "If you don't use a good one, you're weakening the sofa," notes Stout-Hazard.
Other mechanism priorities? Look for locking features, which keep the pull-out mattress — you guessed it — locked in place, adds Interior Define's Holland. And if you have a chance to check out a sleeper sofa in person, "make sure that the lifting of the sleeper in and out is smooth," she says. If you can't try before you buy, tap into furniture sites with in-depth product videos online.
When settling on a fabric, durability and ability to withstand daily wear is essential. The Martindale rub test is a good indicator of fabric quality, notes Article's Hunt. In the test, a machine is used to simulate natural wear by repeatedly rubbing fabric with excessive force to see at what point it starts to break down. The higher the rub count, the more durable the fabric. "You'll want something that can withstand 25,000 rubs or more," says Hunt.
There's both the cushion and fill of the sofa itself, plus the mattress, to consider. Know your options so you can prioritize the most pleasant sleeping and sitting experiences:
A sleeper sofa mattress will be "thinner than what you have on your main bed, but it's the same construction methodology," says Stout-Hazard. Look for one that's at least five inches thick. As for filling, "a good quality sleeper sofa will have either a coil spring or memory foam mattress," he adds. There's no right or wrong choice; here's how they differ:
When the bed's not in use, you're sitting directly on top of the mechanism portion inside, so sleeper sofa comfort is absolutely paramount. That's where fill comes in. Do you prefer firm? Sinkable? Both? Some sofas feature a mix of two fills, one for the backing and the other for the cushions. Here are some common fill types:
Buyer's tip: Whether browsing online or IRL, see if you can ask the brand questions on everything from construction to weight constraints to gauge the sofa's durability. "A good way to ask is to say, 'Is this suitable for an Airbnb setting?'" advises Stout-Hazard. At the very least, read customer reviews, especially if you can't test out the sleeper sofa.
Best Places to Shop for Sleeper Sofas
Ready to bring a sleeper sofa (or sofa bed or futon) home? Here are some of our favorite spots to shop:
If You're Looking for a Deal
If You're Looking for What's Current
If You're Looking for Customization
If You're Looking for the Classics