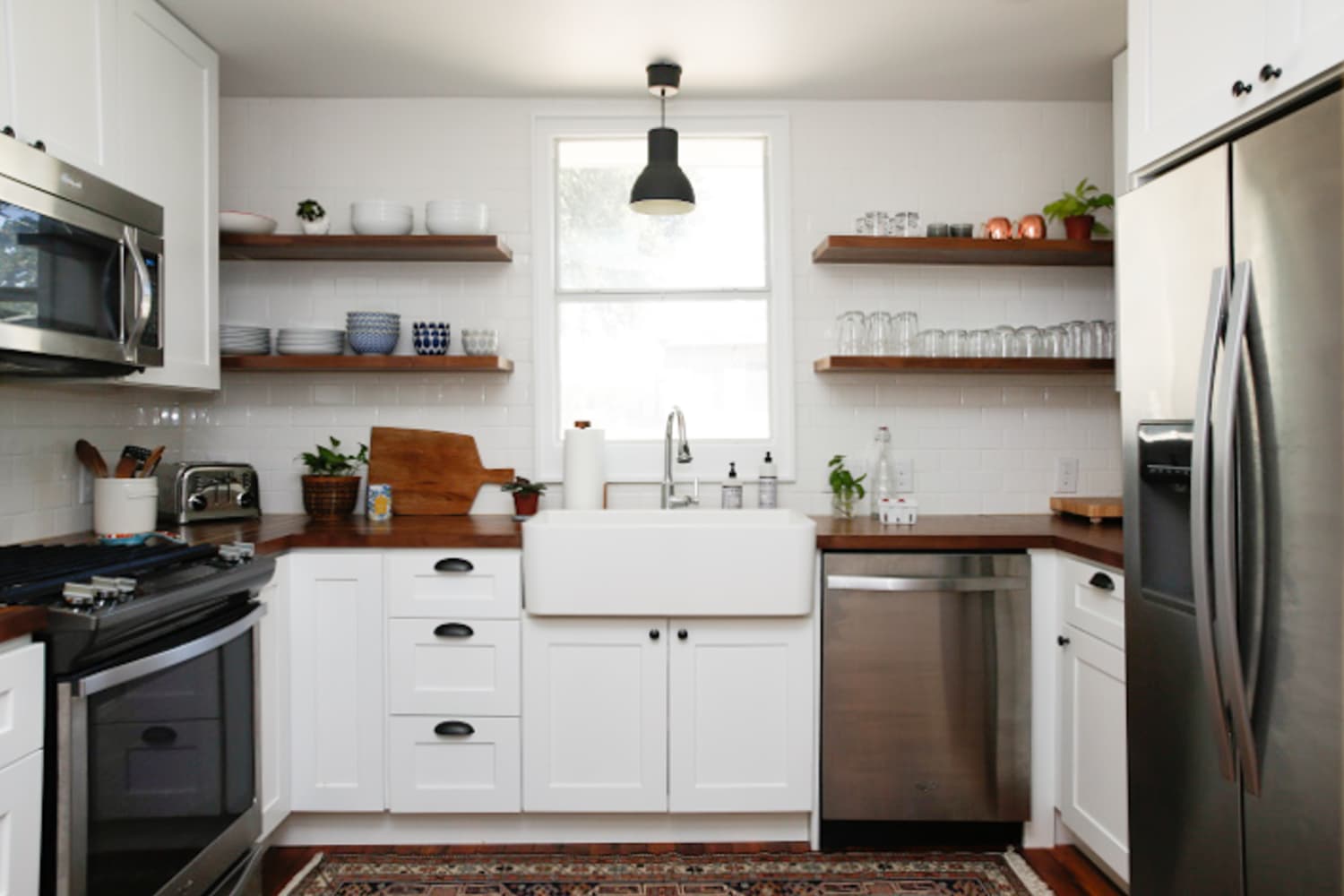 Home design is cyclical, and every so often, the coziest, simplest styles resurface because they're comforting, both visually and physically, not to mention relatively easy to implement — even on a budget. Remember the explosion of hygge, the Danish design principle of coziness, a few years ago? It rocked our homes, bringing with it chunky knitted blankets, candlelit surfaces, and neutrals galore. Now we're seeing yet another simple style revival, but this time around, its the spartan decor of Shaker interiors.
Often called the "original minimalists," the Shakers were a group of highly religious people whose belief system was founded in England back in the 18th century before they immigrated to the United States to flee persecution for their ecstatic, "shaking" form of worship. Once they touched down in America, they brought with them their practical design principles, which were based upon creating only what was needed and building those essentials to withstand the test of time. Celibate yet communal and progressive-minded for their times, the Shakers put their time and energy into labor and the work of creating heaven on earth as brothers and sisters (versus raising families and accumulating wealth or status in a hierarchical sense). Craftsmanship and attention to detail were seen as ways to worship God, and the Shakers became known for producing high-quality furniture and household goods in their pursuit of holiness.
Defined by its light neutral palette, unadorned shapes, and quality wood, Shaker style has the ability to transcend time because of its simplicity. "I love traditional, classic things, but I'm definitely a modernist," says designer Robert McKinley of Studio Robert Mckinley. "What Shaker design has always done for me is combine them in a way that uses very clean, useful lines that are not decadent or overly designed. It's very simple and timeless. There's almost an austerity to it, but because of the materials, it's still extremely warm."
Shaker-Style Design by Definition
If you're a fan of the warm minimalist style popular as of late, Shaker design doesn't stray too far from that aesthetic. Here's what defines a Shaker-style home:
Though Shakers were always small in number, the world has maintained a fascination with how their lifestyle and beliefs shaped the way they designed and decorated their homes. Their residences, called "dwelling houses," were pared down, simplistic, and typically divided into two halves, with males on one side and females on the other. Inside, everything was crafted to serve a purpose, and Shakers believed that daily activities, whether big or small, deserved special consideration and mindfulness. Extremely innovative as a people, the Shakers were credited with the invention of things we take for granted today, like the circular saw and the clothespin. Despite having large, communal homes, they were also all about smart, space-saving design, like ladder-back chairs for example, which could be hung on wooden peg rails while the floors were cleaned.
"Besides trying to keep everything off the floor, Shakers also believed that you didn't need to put everything in boxes and that you shouldn't have too many things," says Tom Roberts, the co-founder of Homestedt, a design group located in Upstate New York. "Everything that you need should be close at hand, and that's why they had their things hanging on Shaker pegs. You can see everything you need to use, and it's also very beautiful."
Shakers took great pride in their craftsmanship, Roberts explains, using beautiful, solid wood and other natural materials to create everything from their furniture to their cleaning products. Just like the pieces Shakers made, where form and function were entwined, their unique sense of design had a decidedly modern sensibility, too. Shaker style isn't loud or imposing, and therefore, Shaker-style pieces can be the perfect foundation for layering in more personal design elements from this day and age.
On Inviting Light Into a Space
In a Shaker home, nearly everything was painted white, from the exterior of the building to the interior walls, which were typically finished in a smooth, off-white plaster. Very minimal splashes of color could sometimes be used in the form of solid blue, yellow, or green touches. You might find woodwork, for example, in one of these subdued shades. The color white was said to symboliz purity for Shakers, and that's why it was used so liberally.
One of the most relatable things Shakers focused on in their homes was their attempt to bring the most light into each room as possible, just as many people do in their homes today. That being said, light wasn't about nurturing plant babies or simply perking up a dark space. Luminosity symbolized the presence of god, and the Shakers were known for using large windows, interior cutouts, and even skylights to flood all of their spaces with as much sun as possible.
Both Shaker and Scandinavian styles share a neutral, clean aesthetic. Other similarities exist between the two design styles, like an emphasis on minimalism and light as well as the desire to create open spaces with ample room to move around in. Despite a shared love of simple lines and a common lack of embellishments though, Shaker furniture is often crafted by hand in darker wood species and might reflect more of a timeless, traditional style. Scandinavian furniture, however, calls upon lighter woods, like birch, and tends to look even more contemporary in silhouette. It's also somewhat easier to pull off Scandi style on a tighter budget, since a lot of pieces today are mass-produced in MDF by companies like IKEA versus Shaker-inspired pieces, which tend to be made of solid wood and built by hand, if following original Shaker protocols.
Both styles also have different reasons for tapping into their shared muted, neutral palette, according to Anna Aberg, the second half of Homestedt. Whereas Shakers prioritized creating an environment full of light as a metaphor for heaven, she says Scandinavians utilize white and light colors as a means to get through the long, cold, and dark winters.
Shaker vs. Modern Farmhouse
Spaces crafted in either the Shaker or modern farmhouse style both prioritize the notion of an uncluttered home and typically are characterized by an abundance of large windows to provide tons of natural light. Both styles also rely heavily upon natural materials, namely varnished but unstained woods, which add a minimalist, rustic element to their interiors. Many modern farmhouse style homes even utilize Shaker style elements in their kitchens, particularly the Shakers' utilitarian style of cabinets that feature recessed panel doors with simple, clean inside and outside edges.
You also won't find the industrial accents often used in modern farmhouse interiors, from galvanized metal finishes and accessories to matte black accents and window frames, in Shaker-style interiors. Another dissimilarity? Modern farmhouse homes tend to include barn-like elements, including features like sliding doors on exposed tracks, shiplap walls, and wicker furniture. You may see some wicker boxes in Shaker spaces, but none of the other types of architectural elements listed are usually present.
How to Get the Shaker Look