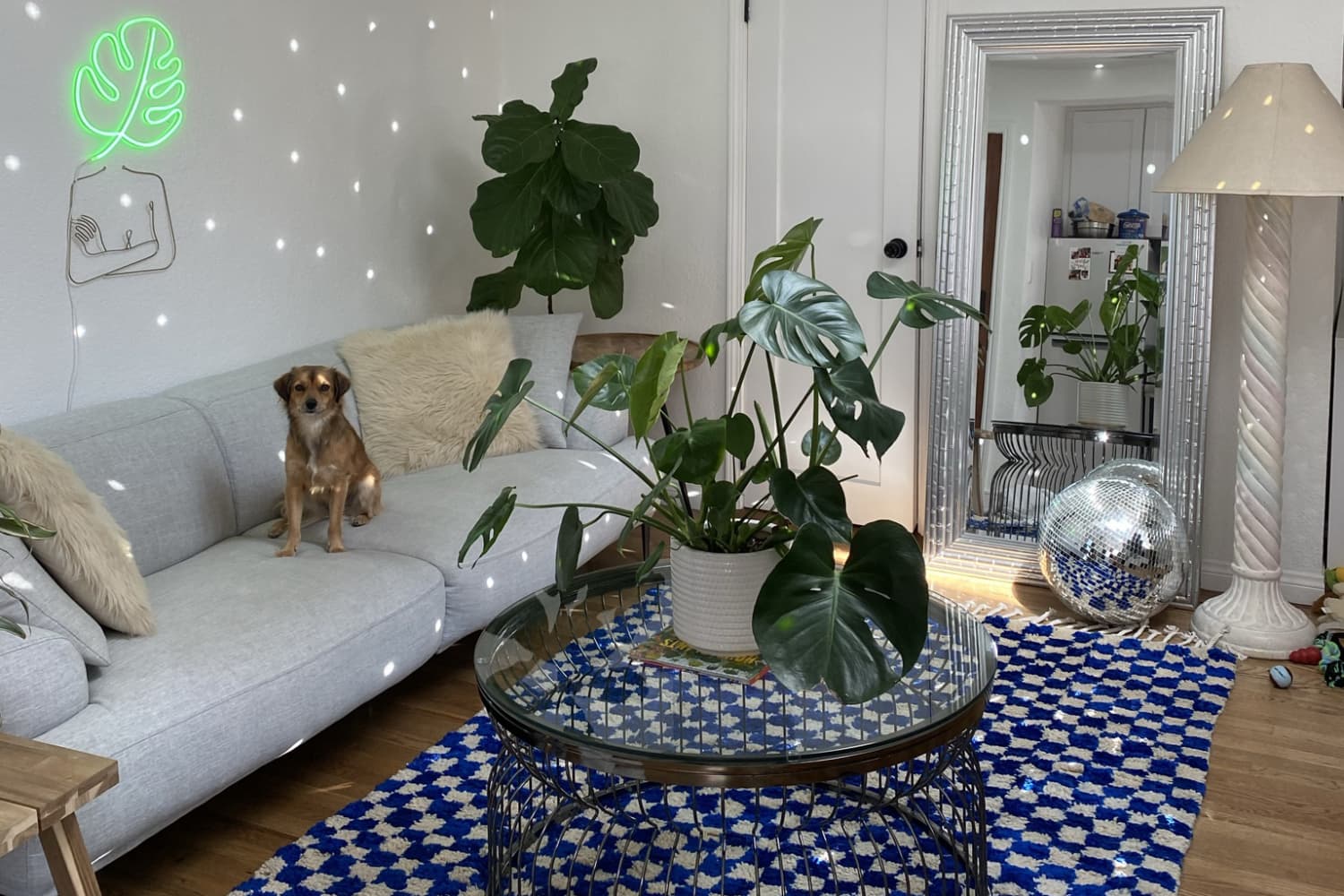 It's official: '80s design is back in full force, and there's one '80s essential that's popping up in house tours (and on Instagram) over and over again: the plaster floor lamp.
Frequently seen in taupe or cream-colored tones paired with pleated empire shades, these sturdy, sculptural, and often spiral-based lamps are on the rise in the home decor world. A spiral plaster lamp even made an appearance in Teen Vogue's June cover story (see below), so it's officially a white-hot trend.
Although relatively chunky and statement-making in a room, plaster lamps also come in tabletop sizes and are less of a commitment than, say, a fan-shaped chair, shell-shaped sofa, or tessellated coffee table. Maybe that's why this item is taking off — it delivers a lot of decorative bang for its buck, relative to other '80s staples. A few vintage sellers think a few other factors are at play behind this phenomenon, too.
Vintage expert Jess Bennett, who co-owns the curated vintage store Shop Rochele with her husband, agrees that plastered lamps are a statement piece on their own. Drawn to their porous finish, clean yet curvy lines, and the look of '80s Deco revival in general, she's sold many already and continues to source them for shoppers to keep up with demand. Fortunately right now, the market is flush with these pieces.
"Vintage is cyclical, [and] I think the rise in popularity of post-modern and '80s Deco home decor goes hand-in-hand with the availability of pieces starting to pop up in estate sales and shops, handed down from the past generation," Bennett says. "There is a lot available at a more reasonable price point compared to mid-century pieces from the few generations before."
Building upon that availability is the novel yet retro charm these pieces offer younger buyers, especially now free from their original decorative contexts. According to online vintage seller Lexy Weixel, "'80s decor is to 20-somethings/30-somethings as '90s/Y2K is to Gen Z," they say. "We love eras that were just out of reach to us growing up."
Pop culture plays a role, too, Bennett adds. Mid-century angles and wood tones were all the rage up when "Mad Men" was popular, but over the past few years, the neon glows, quilts, and shell shapes from nostalgic '80s hits like "Stranger Things," "Physical," and "Glow" have influenced living rooms beyond the TV screen.
Whatever the reason or reasons for the resurgence of these plaster lamps, you might need some styling advice if you like the look and manage to snag one secondhand. Here's how homeowners and renters on AT have been displaying these statement-making, '80s-style floor lamps in their spaces as of late.
Use one to fill an empty living room corner
Weixel's own home boasts two plaster-style lamps, one of which is the perfect way to fill an empty living room corner. They love this simple, vintage alternative to LED lighting. "I think people are starting to realize '80s style isn't just neons and absurd prints and that typical jazzercise style people tend to think of," Weixel says. "Don't get me wrong, I also love that style, but '80s can also bring this element of golds, neutrals, natural textures, and pastels. It's a really calm and centered but specific aesthetic."
Even though this particular lamp is fairly quiet in color, it's also commanding in size, making it the perfect thing to push into a corner without overdoing anything. Bonus points for putting it near your seating like Weixel did, too, which makes it handy for reading.
Team one up with a disco ball
Renter Lindsey Son found her spiral plaster lamp on Etsy, and she pairs it with three other throwback design staples: checkerboard, neon, and a disco ball. "My aesthetic and taste used to be more minimalistic, but then it's like I woke up one morning and said, 'That's boring,' and I am not boring," Son says. "So I started looking at vintage pieces on IG and Facebook Marketplace and found La Vida Vintage in LA posted this '80s rainbow plaster lamp! I had to make her mine."
With its subtle rainbow shading, this lamp is a fun twist on the standard cream-colored version. If you're more of a maximalist, keep your eyes peeled for one of these guys. The disco ball pairing only adds to the more-is-more, glam look here. Son calls her place a "funky fresh pop dream."
Change up the shade for extra style points
Meg Gustafon's entire home is a treasure trove for '80s Deco items, but she has two must-see sculptural lamps in her garage-turned-hangout space. In her house tour, Gustafon says she takes inspiration from '80s interior design books and music videos.
Gustafon's tabletop model also plays with variation in lamp shade styles. Consider pairing your plaster find with something that contrasts it, both in tone and shape as Gustafon did here. That'll keep the piece from feeling too '80s, if there even is such a thing right now!