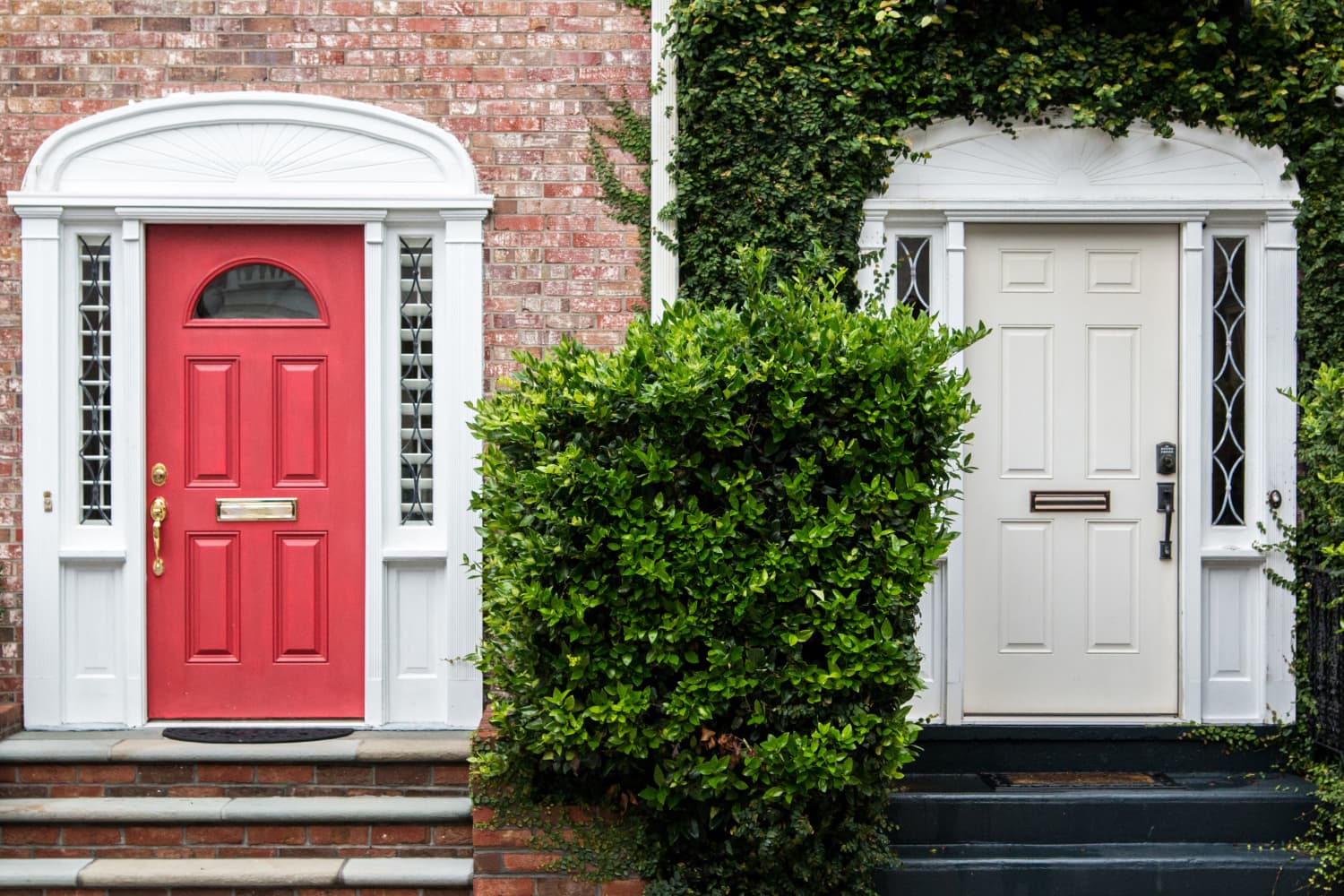 The feature that has the most dramatic effect on a home's curb appeal isn't the big tree in the yard or the plantings flanking the walkway. It's the front door — the first thing guests see upon arrival, and the first impression most people get of a property. So if your front door is a bit lackluster, painting it a bold color is one easy way to instantly boost its appearance.
According to Nicky Taveras, CEO of DNT Home Buyers, red is the perfect power color to paint your front door. This bold (yet classic!) color really pops — and painting your front door is also a low-risk way to spruce up your home's exterior.
"Just painting your front door red is much easier to repaint if you change your mind, as opposed to painting the entire front porch, for example," Taveras says. That's why painting your door a bold color like red isn't as bold of a move as it sounds.
But let's say you're firmly against the color red. You can still make a striking statement with your front door. In lieu of red, Taveras recommends yellow or blue. These colors will also add flair to the exterior of your home, and might be better suited to the rest of the home's color palette.
If you've been thinking about a more out-there shade, just keep in mind that trends can come and go faster than you think. Before you pull the trigger on an animal-print front door, for instance, just be sure that you'll want to keep it long enough to make it worth your while.
Whatever you do, don't go overboard with too many competing colors. It's important to factor in the color and style of your siding or brick, shutters, and other elements of the exterior when choosing a front door color.
"Avoid using too many different colors together on the exterior of your home," Taveras says. "Adding too many colors in the same relatively small space is more likely to increase shock factor than curb appeal."
And if you just can't get behind the idea of a front door in a bright primary color, you can never go wrong with classic neutral hues. Just steer clear of boring brown shades. Especially if you're planning to sell your home, a neutral color may be a better choice as it's less likely to offend.
"Personally, I'm not a huge fan of brown anything, which is a color that you see on most doors," says Taveras.
Instead, he prefers a gray front door.
"Gray is easy to look at, matches almost anything, and distinguishes itself from the usual brown, beige, or other earth tones without the shock factor of a bold color like red," he says.