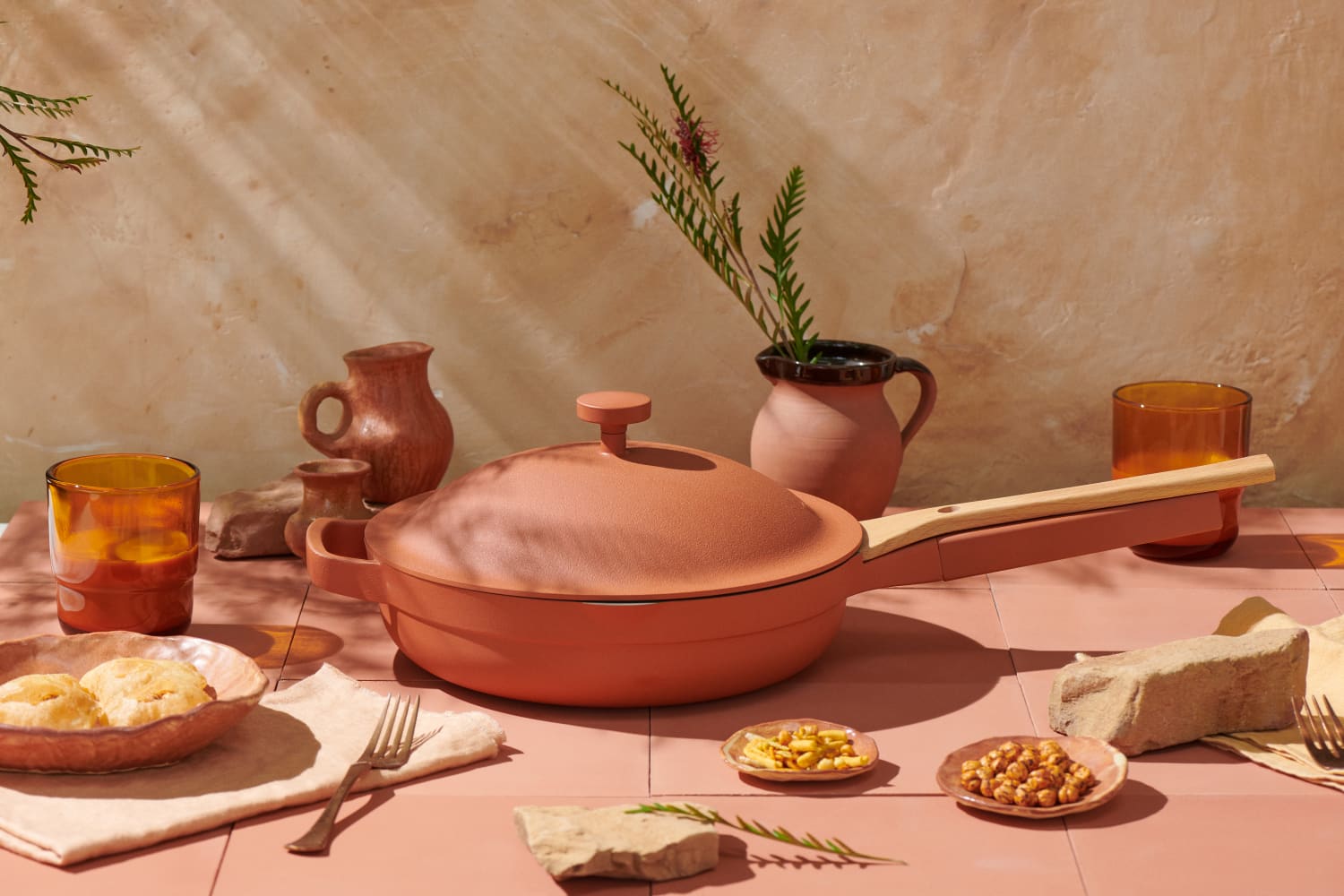 We independently select these products—if you buy from one of our links, we may earn a commission.
To say we're not alone in our love for The Always Pan from direct-to-consumer cookware brand Our Place is a little bit of an understatement. We've watched in awe as the yummy colors continue to sell out on the regular, with waitlists of up to 50,000! Yes, The Always Pan is that good, and it keeps getting better. Here's why: As part of their daily Labor Day deals, Our Place is offering huge savings on their newest color, the earthy, warm Terracotta. Normally priced at $145, it's just $115 today only.
Besides braising, searing, frying, steaming, straining, boiling, and serving, the Always Pan is also rightly renowned for just looking really gosh darn great on your stovetop. And, that's where the new Terracotta color comes in — just like the earthenware pots of the same name that help to bring fresh herbs and veggies to life each spring, this new version of The Always Pan evokes a fresh start with every meal you make. Its color was originally inspired by the terracotta pots that have been used as cooking vessels for thousands of years by some of the earliest civilizations, so it also reminds us of the ways home cooking connects us across traditions and through time.
Like every Always Pan, the new Terracotta version has a non-toxic nonstick ceramic coating, is compatible with all cooktops, and comes with a custom stainless steel steamer basket and a beechwood spatula that nests perfectly on the pan's handle. You can also add on a spruce steamer, which is larger than the included steel steamer basket. It's especially great for making perfect dumplings or steaming veggies, and we've found ourselves using it almost daily. The Always Pan is also dishwasher-safe, but it's just as easy to wipe clean with a sponge and soapy water since the nonstick coating is so effective.
If you're ready to see what all the hype is about, now's the perfect chance because Our Place sales don't happen very often. And you better act fast, because this one ends tonight!