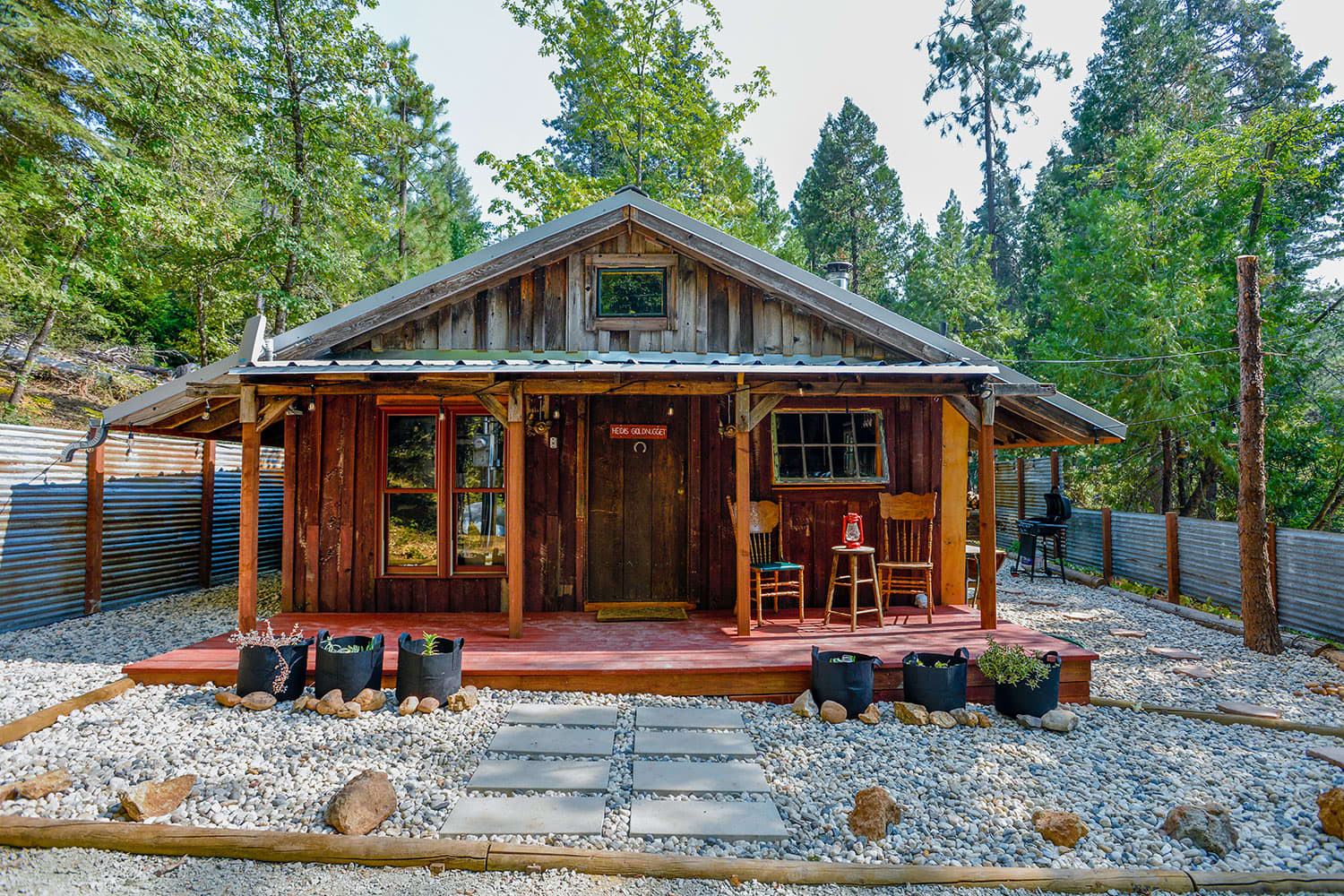 Name: Su Pang and partner, Stephanie
Location: California
Type of home: Cabin
Size: 320 square feet
Years lived in: 1 year, owned
Tell us a little (or a lot) about your home and the people who live there: My partner, Stephanie, and I purchased this 320-square-foot fixer-upper cabin in an old mining town in California, to serve as a vacation home. I'm a visual designer and wanted to create a gold country vibe while adding personal touches of old Hungary. (Some of the furnishings were shipped from Budapest.) I identity as a modernist with a fondness for vintage designs and admiration for hand-crafted goods. Small spaces are my specialty [Apartment Therapy toured Su's other small home years ago], and my identity definitely shines through my work. The fine detail is the most fun part of decorating a space. I tend to spend more time thinking about sourcing from nature or upcycling and how it functions as well as interacts in a space.
Over a year later after nonstop work, "Heidi's Goldnugget" is complete. We named it after Stephanie's great aunt, incorporating the history of gold mining in the town.
What is your favorite room and why? My favorite room is the bathroom. I had fun designing the space as I wanted to give it an equal sense of warmness as compared to rest of the cabin. Bathrooms are usually on the colder side. I built the small medicine cabinet from an existing old shelf and a vintage mirror purchased off eBay. The vintage sink was upcycled with touches of gold hardware. The art on the walls used to hang in an old Budapest apartment. On the shelf sits items from nature and a piece of antler found on the property. It feels like the smallest museum in the woods.
Describe your home's style in 5 words or less: 1972 cabin in mining town
What's the last thing you bought (or found!) for your home? The last things I purchased for the cabin are board games! I have games like Monopoly, Scrabble, Chinese checkers, Jengo, and more plus some jigsaw puzzles for those cozy evenings.
Any advice for creating a home you love? My advice is to steer clear from IKEA or newly produced furniture. Designing a home with quality vintage furniture is more soulful and adds a personal identity to your space!
This submission's responses and photos were edited for length/size and clarity.