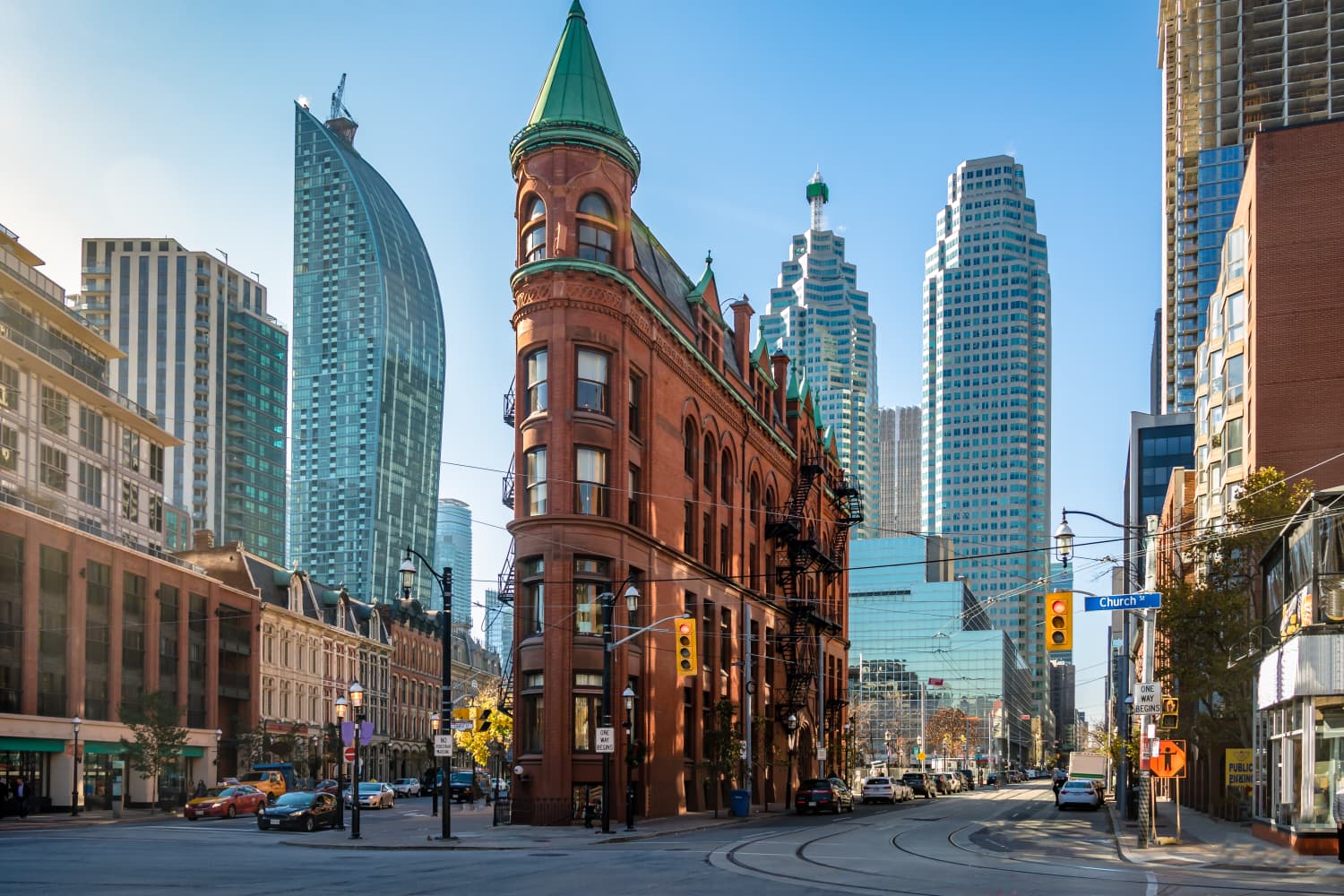 Every year, tens of thousands of people travel from all over the world to settle down in Toronto. The city is a multicultural destination, and its "street meat" (which you can feast on for mere pocket change) is practically unrivaled.
While Toronto's real estate prices aren't exactly budget-friendly, the city is home to 140 neighborhoods (and counting!), and not all will siphon your savings. Here are five areas that offer the energy of Toronto without the million-dollar price tag.
If you're familiar with Toronto's cultural hot spots, you'll know that The Danforth is the city's Greektown. Though the east side of The Danforth has historically been known for its aging population, affordable real estate prices are coaxing more young families to settle in the neighborhood as of late. And though they come for the affordable real estate, they stay for the delicious food. East Greektown is lined with restaurants, bakeries, bars, and grocers that tout loads of authentic, tasty eats and drinks.
Guildwood is situated along one of Toronto's most Instagrammable attractions, the Scarborough Bluffs. The Bluffs offer scenic views of Lake Ontario and access to walking trails, parks, and one of the most popular beaches in all of Toronto, Bluffers Park. Guildwood is also full of amenities, many of which can be found at the Guildwood Village Shopping Centre, as well as plenty of educational options, making it a great place for families to settle down. For students and young professionals, the area is served by the Guildwood GO station and is a short commute to the University of Toronto Scarborough campus.
Price- and location-wise, Harwood is one of the best neighborhoods in Toronto for first-time buyers and young professionals, particularly those who want to stay close to the downtown core. Harwood is downtown accessible (under an hour by transit), and the area contains the trendy Stockyards District, the Stock Yards Village shopping center, and rows of townhouses that are much more affordable than anything you would find nearer to downtown. And it's right next door to the Junction, which Time Out dubbed Toronto's Coolest Neighborhood.
Keelesdale–Eglinton West
Though Keelesdale–Eglinton West is removed from downtown Toronto, it's less than an hour away by public transportation and just as bustling — minus the street traffic. Along Eglinton Avenue West, you'll find four blocks of eclectic shops known as the Eglinton Hill BIA. The Eglinton Hill BIA dates back to 1997 and is the go-to locale for street festivals and sidewalk sales. It's also lined with some of the best Caribbean, Portuguese, and Italian eats the city has to offer.
Mimico is a scenic waterfront neighborhood located in the west-end of Toronto that provides an unencumbered view of the Toronto skyline and a lively lineup of festivals, events, and concerts throughout the year. In July and August, live entertainment comes to Mimico through the Friday Night Summer Music Series. In the fall, Mimico hosts a magical pumpkin parade. Then in December, the Etobicoke-Lakeshore Christmas Parade lights up the neighborhood. Because of Mimico's proximity to Lake Ontario and downtown Toronto, real estate prices are on the high end, but they still fall short of the Toronto mil, and you can find affordable rental buildings along the Lakeshore.