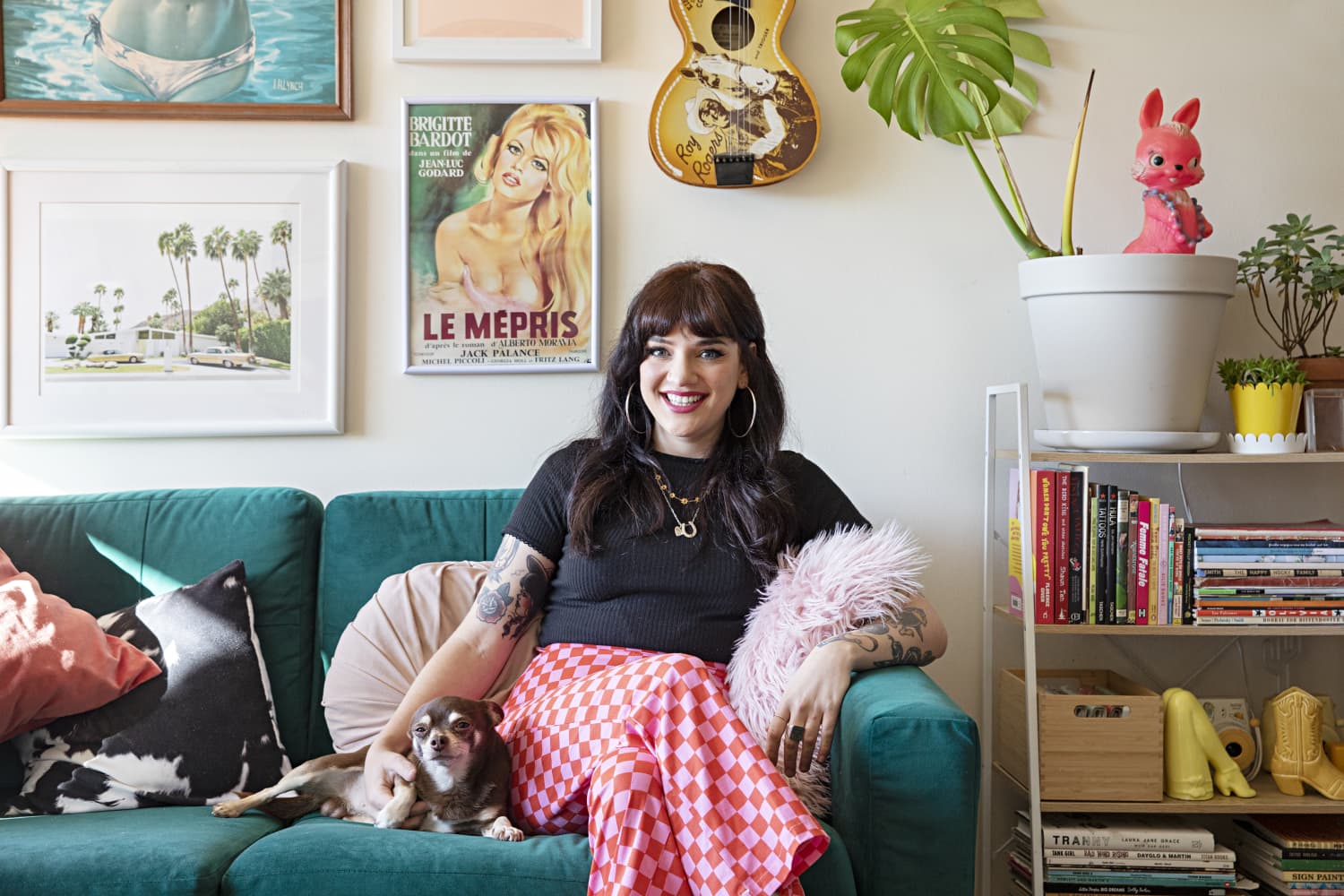 We independently select these products—if you buy from one of our links, we may earn a commission.
Name: Ginger Taylor, and Toast and Cocopops, my chihuahuas
Location: Thornbury, Australia
Type of Home: Two-bedroom apartment
Years lived in: 1 year, renting
Full-time freelance illustrator and mural artist Ginger Taylor made the move to the Melbourne area from Sydney at the beginning of 2020. "I had a breakup and basically packed my car moved overnight," Ginger explains. "It was a weird time to do so because it was the beginning of Covid and I left all my friends and family behind in Sydney. I thought 'I have a lot of friends in Melbourne it'll be great,' but little did I know we were to go into lockdown for seven months. I have never lived alone so I was nervous of how it would go. Thankfully I LOVE it."
Ginger says her job — where she creates digital and analog design skills to graphic design, typography, logos, custom illustrations, products, murals, and more — is her favorite part of her life. Three times a week her assistant and shop manager, Georgia, comes to work in the apartment. But she shares her two-bedroom apartment full time with two very cute chihuahuas, Toast and Cocopops. "Toast is the spawn of Satan and also the sweetest baby you'll ever meet. Cocopops is a little old man Chi with a giant heart of gold," Ginger says. "I adopted Toast shortly after I moved in. We had a great time in lockdown. He loved having me around and I stayed busy by painting, decorating, cleaning, drawing, sculpting, playing dress up, cooking, etc. I never got bored; I actually found it incredible to be on my own and have a minute to create without the normal pressures of everyday life."
Apartment Therapy Survey:
My Style: I would say my style would be sit somewhere in-between 1960s-1970s with a dash of Americana, country music, neon signage, and old motels.
Inspiration: Old Hollywood and Palm Springs architecture, Jayne Mansfield's house, the Playboy mansion, 1970s decor, log cabins, and old motels. Particularly American ones.
Favorite Element: My Roy Rogers' guitar, neon pink rabbit lamp, and my tiny things collection.
Proudest DIY: I love the gold fringe wall in my studio. I ordered party photo backdrops off Amazon and layered them — it's perfect for renting because they just have an adhesive strip on the back. I wanted to have a wall that stood out for taking merch photos of my products. And now I want to do it to every wall!
Biggest Indulgence: I bought a [countertop] dishwasher cause I HATE doing the dishes. It's a bit more expensive to live alone so that would be my biggest indulgence. But I've had a fair share of roommate horror stories so I am happy to pay more haha.
Is there something unique about your home or the way you use it? I have my studio in the bigger bedroom instead of my bed. I just spend way more time in the studio and there's alotttttt of stationery/stock that goes behind my job. I also have my easel in my lounge room because I like to separate admin from painting. If I painted in my studio I would get distracted by emails, etc. With it in my lounge I can listen to TV, music, or a podcast and make endless cups of tea cause it's right next to the kitchen.
What are your favorite products you have bought for your home and why? My Google Home is my favorite — as someone with ADHD my mind is always pretty cluttered so having Google Home is incredible because I can research, play music, check the time, appointments, dates, etc. without having to get my phone out (which can create a WORLD of distractions.) I have a speaker in each room, too, so I can play music throughout the house and if I'm listening to a podcast I don't have to pause it every time I leave a room. Plus you can make it make goat noises, which is always entertaining. That and my cordless vacuum. ADHD chore-helpers, I call them.
Please describe any helpful, inspiring, brilliant, or just plain useful small space maximizing and/or organizing tips you have: Build up! I stack shelves on top of each other all the way to the roof so I can create a display without having to take up too much floor space. I also like thinking outside the box like hanging all my sunnies on a piece of string. My home might seem manic and overwhelming but if you look closely everything is VERY organized! I always know where everything is.
Finally, what's your absolute best home secret or decorating advice?
This house tour's responses were edited for length and clarity.