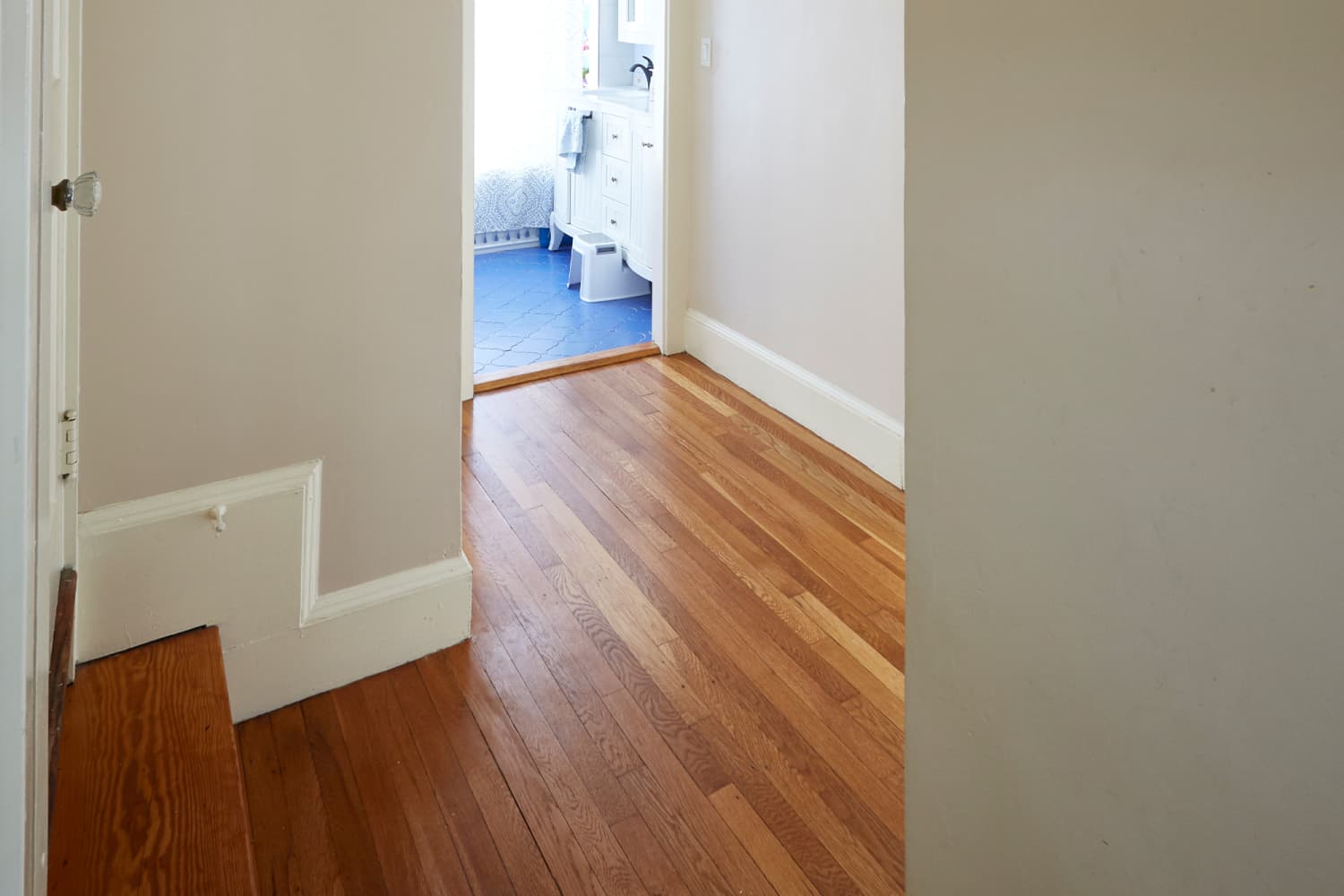 We independently select these products—if you buy from one of our links, we may earn a commission.
If you're lucky enough to have a friend like Erin Derby — photographer, fine artist, and design enthusiast — on speed dial, you just might end up with a home transformation. She overhauled the hallway of her good friend, Lisa, as a parting gift for a long weekend visit.
Originally, this hall area got zero decorative attention, despite serving as the connection point for most of the home, with no less than five different doorways off of it. "The hallway was a plain space that existed only as a space to pass through," says Derby. "The owner, Lisa, didn't even turn on the light in there because she didn't like the space lit up!" That's likely because the walls remained that blah shade of beige that tends to come with homes, and the floors, though handsome hardwood, were totally bare.
Derby wanted to tie the entire house together and turn the space into a design moment in its own right but spend as little as possible in the process. "Most people don't realize you can make even transitional areas of the home beautiful," says Derby. "Isn't it nice when even a hallway or laundry room can stand alone as an attractive space?"
She also saw an opportunity to go bold in the small space, particularly because the rest of the home's more reserved in style and neutral in palette. Naturally, that meant turning to color for the walls, specifically Benjamin Moore's Steep Cliff Gray, a saturated blueish charcoal that provides a nice contrast to the white moldings. "The painting happened in a day, and then there were a lot of hiccups in getting a light fixture to work without doing any rewiring or bringing in an electrician, " says Derby, who wanted to get rid of the hallway's recessed can.
Though it took multiple trips to the hardware store, Derby finally converted a HomeGoods linen lamp shade (oatmeal-colored versus white to warm the space up) into a chandelier-like pendant, rigging it to the ceiling. "I needed to leave room for air so it didn't overheat, hang it in a way that was visually appealing, and find a spot light bulb that was to code," says Derby. "Once that was all installed, the hallway was quite sophisticated looking with the lights on."
From that point on, Derby focused on artwork and textiles, two major markers she thinks every pass-through space needs in addition to good lighting and some color. Shopping around Lisa's house, she grabbed a few key furnishings for the space, first unrolling a faux sheepskin rug to add a bit of softness underfoot. Then, she hung a large framed print by Kim Knoll on one wall and a smaller piece she had made herself and gifted to Lisa in a brass West Elm frame on another.
All of these touches make the hallway feel like less of an afterthought, and while the decor still has the classic, neutral look shared with the rest of the home, the color adds an exclamation point to the area so it stands on its own decoratively. "I actually love that you actually want to be in the space now," says Derby. "It feels like a rich, sophisticated mini art gallery and is a pleasant transition from one room to another."
Since Derby used so many existing furnishings, it's tough to pinpoint the exact cost of the makeover, but it's not much more than a hundred or so bucks, if you don't count the art. Her best advice for a small space makeover like this one though? ​​Knocking the work out all in one weekend if you can. "I say this because we can all spend too much time dwelling and 'deciding,' and then things never get completed," says Derby. "Or they drag out and you lose steam or change your mind too much. A small space can be accomplished quickly, and then you get to enjoy the results immediately. Get 'er done!"