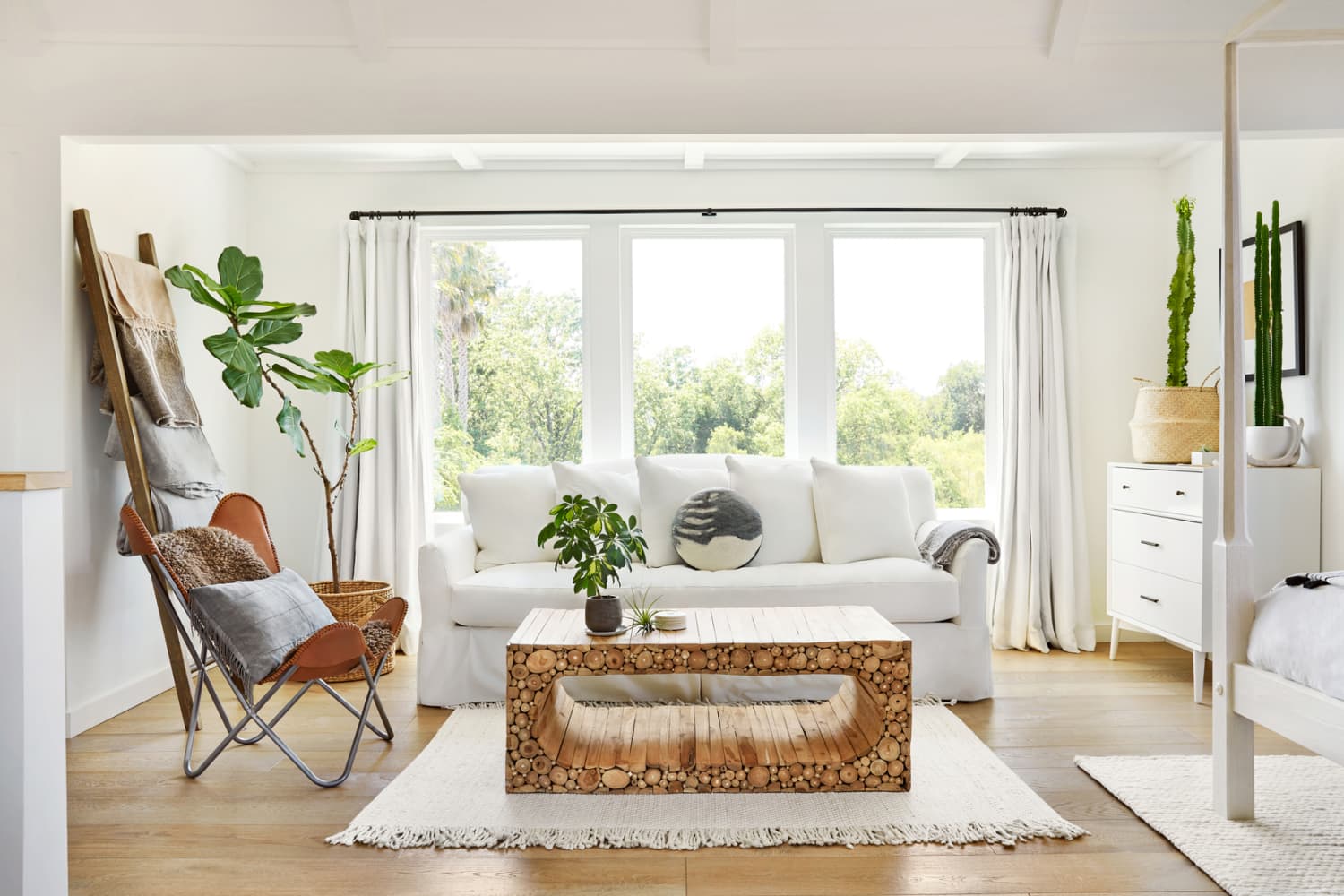 We independently select these products—if you buy from one of our links, we may earn a commission.
When Marie Kondo released her New York Times best-selling book, "The Life Changing Magic of Tidying Up," I was instantly hooked. Her approach to organizing and decluttering made my heart skip a beat with the delicious idea of surrounding myself with things that spark joy. My husband and I followed the KonMari method in 2018 and successfully decluttered our home — we haven't looked back since. I love knowing that I truly cherish the things I own, and I'm willing to be a ruthless curator of the items that come in and out of my home so I can have a space that reflects my heart and my values. As a bonus, it gives me peace of mind to know my home isn't filled with items I only half enjoy or don't need.
This type of curating doesn't come without challenges though. Consumerism seems to be lurking around every corner, especially on social media. According to Schwab's 2019 Modern Wealth survey, 49 percent of millennials say social media influenced them to spend money, and that's no surprise: Instagram is filled with influencers in cute outfits and gorgeous homes. (Sometimes, it's literally part of their jobs!) It's also impossible to avoid ads, and social media ad sales continue to rise, year after year.
Since applying the KonMari method to other aspects of my life, navigating my social media pages has become easier, too. I have a whole new relationship with shopping, and have turned my impulse buying into very intentional spending, which keeps my home, my closet and my wallet happy. Here are a few tips that have helped me make this a habit.
Home In On What Truly Brings You Joy
Take some time to reflect on the things that truly make you happy and what's really important. For me, that's happy hours with friends, date nights with my husband, and yes, things like my favorite pair of denim, or a collection of trendy sunglasses. An important step in the KonMari method is to visualize the kind of home you want to live in and how you want to live in it. In her book "Spark Joy," Kondo wrote, "When you imagine your ideal lifestyle, you are actually clarifying why you want to tidy and identifying the kind of life you want to live once you have finished."
For me, I imagined an organized closet full of clothes I love, a home that's comfortable and cozy, and a schedule that allows me to spend quality time with friends and family. Impulse buys that I only use once are not included in that list, and I've learned that I'd rather spend that money on a glass of wine when I'm out with friends, or on a dress I know I'll wear all the time. Knowing what brings me joy helps me make better decisions when it comes to spending, and it also keeps my home tidy and uncluttered — it's a win-win!
Take Stock of What You Already Have
How many times have you bought a new sweater, only to surprise yourself when you hang it up in your closet next to another sweater that's basically the same? I've learned that buying similar things, whether consciously or unconsciously, can lead to unnecessary spending and clutter. Knowing what I already own has been super helpful, especially when it comes to scrolling or browsing the aisles at my favorite stores. I've learned that just because I love something doesn't necessarily mean I need to own it, and pausing to ask myself, "Do I already have something similar?" can help keep my closet and home streamlined.
On the flip side, it's also helpful to know the items you are in need of! In this case, you can take advantage of social media and online shopping by reading reviews, asking questions and researching different products to be sure you make a purchase that you'll love. The notes section of my phone comes in handy, especially with clothing. I have a list of all my pieces in my closet, broken into sections like bottoms, tops, dresses, shoes etc. and a separate "to buy" list so I can reference what I already have, and what I need. The augmented reality feature provided by some retailers have made purchases for things like my home so much easier, since I am able to see what items will look like in my space before buying. I bought the rug in my living room after using AR and seeing it digitally in my space, and I've also held off on purchasing pieces that don't fit accordingly.
Only Purchase New Things That Spark Joy
I've found that if I want to surround myself with things I love, I really want to LOVE a piece before I buy it. I have made purchases where I've felt half-hearted about a piece of clothing, and to no one's surprise, I wear it once or twice but never more than that. Experts even recommend waiting a little bit before you make a purchase; the wait may feel painful, but it's worth it to find a piece you absolutely love. Lauren Silbert, the Vice President of personal finance at TheBalance.com, called it a "great test against the urge to splurge. […] I ask myself, 'would I still buy this, at this price, later or under different circumstances?' If the answer is no, then that's a sign this could be an impulse buy."
Being picky about what you buy is just another way of thinking about what sparks joy for you, Marie Kondo's litmus test for what you keep and what you discard. "When something sparks joy, you should feel a little thrill, as if the cells in your body are slowly rising," Kondo wrote in "Spark Joy." "When you hold something that doesn't bring you joy, however, you will notice that your body feels heavier." I keep this in mind as I browse online and in person. Of course, you can't hold something before you buy it online, but once the item has arrived, I take the time to be sure I really love it, and I don't hesitate to make a return if it doesn't.
Curate Your Social Media Feeds and Unfollow Accounts That Make You Feel Less-Than
It may be inspiring and fun to follow certain influencers on social media, but if there are any accounts that make you feel like you're not enough in any way, or like you need to buy certain things in order to feel happier, maybe consider unfollowing or muting those accounts for a while, or at the very least examining why that is. Studies have shown that frequent social media use can affect a person's self-esteem, and sometimes people may overspend for the sake of an attractive lifestyle (ever hear of doing it for the 'gram?).
Recently, I did an experiment where I muted as many influencer accounts as I could on my Instagram for two weeks to see how it made me feel. To be honest, I only missed a few accounts, but not seeing most of them eased anxiety I didn't even know I was feeling. Social media can be a great tool for connection, community, and inspiration, but the more time I spend away from it, the more I realize that staying up-to-date on trends or new releases don't matter as much. I've also found that when I'm not being prompted to buy things every time I open up Instagram, it lessens the need to spend and compare. It's literally out of sight and out of mind.
Have Gratitude For What You Have
I used to look around my home and look for things to fix. I was actively seeking out things that were wrong, or things that I could make better and I finally realized that this was completely draining not only my energy, but my wallet. Instead of seeing all the things that were missing, I chose to have gratitude for everything I already had. That made me realize I actually didn't need much more, and that I was happy with what I had. And when the time comes when I do see a need for something new, I know I can shop with intention and only bring in new things that spark joy.