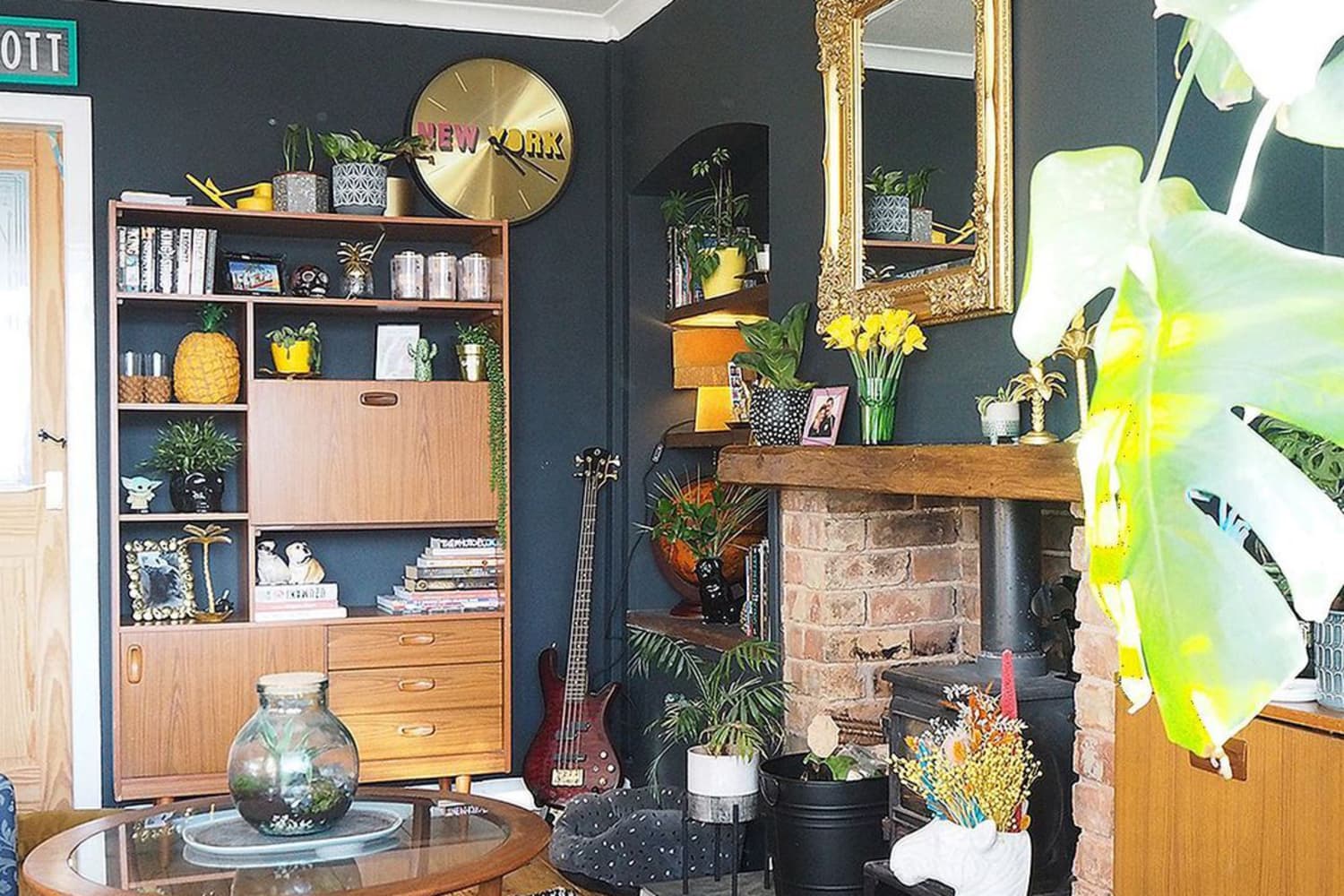 Name: Victoria Shipp, partner, and pug, Biskit
Location: Birmingham, United Kingdom
Type of home: House
Size: About 840 square feet
Years lived in: 8 months, owned
Tell us a little (or a lot) about your home and the people who live there: After living in a rented flat for seven years, I was dying to finally own a home of my own. I was lucky to have such a relaxed landlord who let me paint and decorate my previous home, but I was quickly running out of room and had so many ideas running through my head.
I live with my fiancé who, thankfully, is very easygoing and lets me crack on with my bold ideas and home decor choices. Luckily he has similar taste — or just loves me too much to say anything! We did have two gorgeous pug boys, but unfortunately lost one recently, so we're readjusting to being a family of three now. We're constantly fighting a never-ending battle of pug hair (if you know, you know!) and hiding dog toys. I feel my home is a perfect mix of dark interiors, bold colors, and a tropical kitsch paradise.
We recently made the move from the North of Birmingham, to the South, to a really up-and-coming area, which was recently voted by Conde Nast Traveller as one of the "coolest neighborhoods in the UK." As much as that has inflated house prices, I think we were lucky to secure our modest two-bedroom 1930s terrace on a leafy road. The house was a beige and boring home when we first moved in eight months ago. It was lacking any personality but also had some gorgeous features that made me fall in love with it. I am the most impatient person ever, so I quickly got to work bringing my ideas to life.
I know what I like, and I try not to be sucked into trends. I am very particular when it comes to patterns and designs, and also a very impulsive person. I make design decisions quickly, but I know my own mind, and I know what's going to be something I will always love and appreciate. I have always been drawn to dark colous (emo forever) and also contrasted with bold pattern and bright colors. I know my taste isn't for everyone, but my home decor is for me.
I am decorating on a budget and often upcycle items and have collected a lot of items from car boots, charity shops, vintage shops, and even furniture people have dumped. I love to give old furniture a new lease of life, and one of my favourite items in my home is a Schrieber sideboard I got for £20 from a charity shop.
I can remember where I got everything from, even if it was 10-plus years ago. I created mood boards for each room before I even moved in, and am constantly updating them as I have new ideas. I have pineapples in every room, I have plants everywhere, and I love that all aspects of my personality is spread across this house. I have tried to allow all rooms to flow but also introduce different colors into each room. We have a long way to go yet, but I'm very proud of what we've achieved so far. Although this isn't our "forever home," I am quietly confident that it will forever hold a piece of my heart…
What is your favorite room and why? My favorite room is definitely the living room. Although this room can be quite dark in the winter, I decided to go dark in here. Don't be afraid to go dark. It's only paint, and you can always re-paint it in the future if your ideas change! I feel the dark colors make all of the accessories pop, and I love the yellow accents in this room.
My curated gallery wall is pride of place above the green velvet sofa, and I have plenty of storage and places to display my never-ending collection of decorative items (or junk as my partner calls it!). I never envisioned having a log burner, but this fireplace has become the heart of the house. It's so cost-effective during winter, and gives this room a rustic feel. I also turned the cupboard under the stairs into a home office. Because of Covid, I found myself working from home germanely and needed a space to work. It's perfectly tucked away, but also in the heart of the home. I built the desk myself for under £20. This space could have become the 'Monica Cupboard,' but I utilized the space and now have the perfect cosy nook for home working.
Describe your home's style in 5 words or less: Eclectic kitsch dark tropical paradise.
What's the last thing you bought (or found!) for your home? This summer we've been slowly trying to refresh the garden. To be honest, we have no idea what we're doing when it comes to outside space, so this is a learning curve. We inherited a huge covered lean-to, which I've been trying to inject some personality into.
Any advice for creating a home you love? You do you! It's your home, you spend every day here, so make it your own sanctuary. You don't need to follow trends or do what everyone else is doing. Go wild with colours, buy that ugly piece of furniture, clash colours and prints, but just do what ever makes you happy and what you love.
This submission's responses and photos were edited for length/size and clarity.