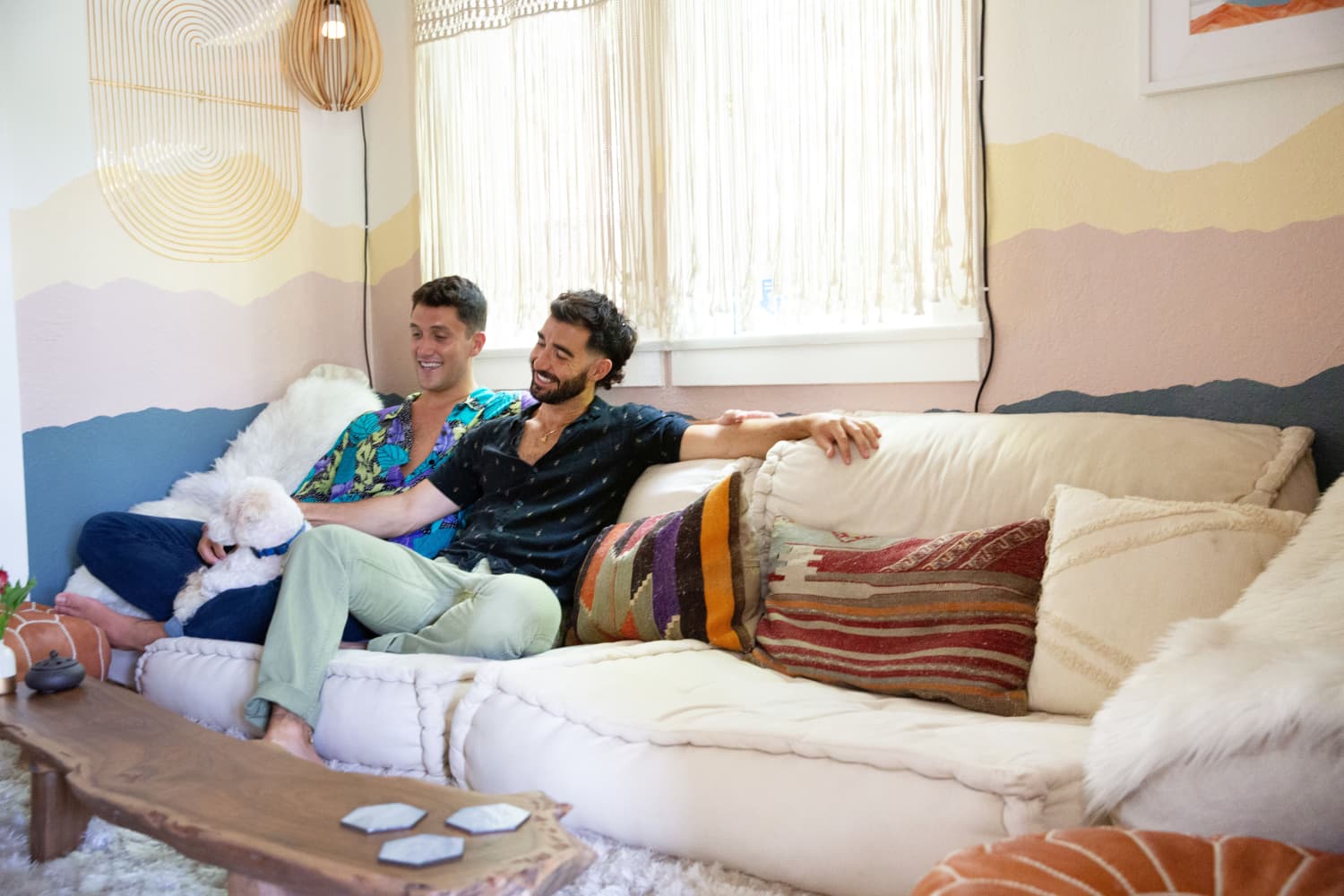 We independently select these products—if you buy from one of our links, we may earn a commission.
Name: Dave Coast, George Ramsay, and Stanley
Location: Venice Beach, California
Size: 850 square feet
Type of Home: Bungalow
Years lived in: 1.5 years, renting
It was the orange kitchen with open wood shelving that grabbed holistic nutritionist Dave Coast's attention when he found this apartment on Craigslist. "The Southwest feel and color said 'feed me,' and working as a full-time nutritionist, I knew I had to see it," Dave writes. "We instantly fell in love and the girl who was moving out and showing us the apartment, was actually just moving to the bungalow next door (as she started dating the guy who lived there!), so the place just had a great energy about it." Dave shares this "classic Venice bungalow" that was built in 1920 with his partner George, who is a breathwork facilitator, and their dog, Stanley.
"We moved in January 2020, right before the pandemic hit," Dave explains. "Since we hadn't really started decorating and designing the space yet, we had an open canvas to create a home that was optimized for lockdown life. It's a 1.5 bedroom, shaped in a U, with a massive main room, and railroad style bedrooms. After realizing we were going to be in lockdown for more than a few months, we created a fire pit area outside to socialize in a safe and socially distant way, while creating a cozy space inside for us (aka the cuddle puddle room)."
Apartment Therapy Survey:
Inspiration: A low-waste, comfy, and highly functional space with lots of nature.
Favorite Element: Our zero waste kitchen. With the help of a professional organizer and Amazon Home, we completed a zero waste kitchen makeover at the beginning of the pandemic. A year later, we created so little trash that we only throw out about 10L of trash every week (that's one very small bag). With the rest being composted or recycled. Besides the low waste function, I love the kitchen color; the orange says "feed me." And the open jars setup is very beautiful.
Biggest Challenge: The main room in the house was extremely challenging. The bungalow is U-shaped, and the main room serves as the in-between the bedrooms and kitchen, and is shaped like a long rectangle. It needed to work as an entryway, a dining room, and an office. With the help of an interior designer who we hired, she helped us layout the space in a way that would help us achieve our goals. We created a gallery wall for the entrance, used the corner by the kitchen as a dining area, and then painted the bookshelf on the opposite wall to create a different feel in that area, and transformed it into an office for the two of us, complete with standing desks.
Proudest DIY: George's grandfather was an architect in Salsbury, North Carolina and hand built this table. It was given to George, when his grandmother passed away. It has moved with him to four different cities. It was in rough shape when we moved in, and George sanded and refinished the table to bring it back to life.
Biggest Indulgence: Probably the projector for the cuddle puddle room. We didn't want to put a TV in there, since the room doubles as a meditation space for George to host breathwork clients, but with the projector we can watch TV shows and movies or even stream intergalactic space journeys on nights where we're just hanging out and drinking tea.
Is there something unique about your home or the way you use it? The half bedroom that appears before our actual bedroom, is for sure the funkiest space in the house. The previous tenant had used it as a guest room and the one before that an office, but we decided to turn it into a psychedelic cuddle puddle room inspired by the summer of love in San Francisco (and some of our favorite spaces at Burning Man). The room functions as a living room, TV space, office for breathwork clients, and Dave hosts tea ceremonies in there every morning. All the furniture is mobile, so we're also able to host ceremonies in there for friends interested in learning more about plant medicines. We also painted mountains along the walls to create the feeling of being outdoors.
Please describe any helpful, inspiring, brilliant, or just plain useful small space maximizing and/or organizing tips you have: Working with an interior designer to help layout the space was absolutely critical. Hiring a friend who is an artist to collaborate on the cuddle puddle room breathed new life into the project. Reaching out to creators on Etsy or Amazon Handmade to see if they can customize things (which they usually can). Getting really specific on how you want to use the space (and honestly waiting six months after moving in), before taking on huge projects was helpful. It gave us time to really understand how we needed to use the space vs. wanted to.
Finally, what's your absolute best home secret or decorating advice? Balance aesthetics with function. I believe our house does a good job of doing both.
This house tour's responses were edited for length and clarity.