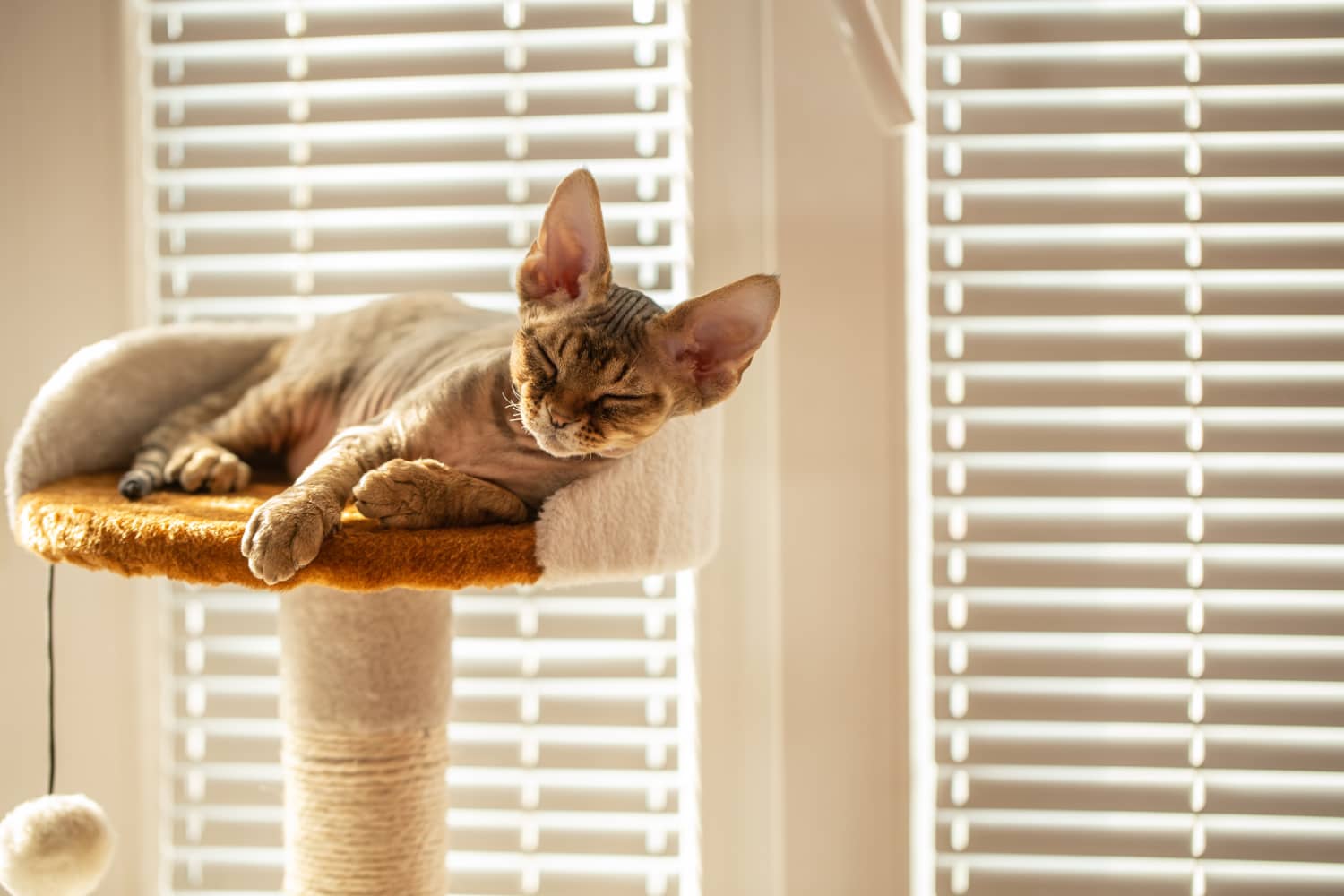 We independently select these products—if you buy from one of our links, we may earn a commission.
I've always been a cat gal. So when I adopted my social, slightly neurotic gray cat, Ollie, I was thrilled to bring him home to my spacious old school Chicago apartment, which I shared with a good friend from college. The place was pretty ancient and included all of the classic city staples you'd imagine — bright tiled bathroom, creaky floors, no dishwasher — but there was also plenty of space for my new fur baby to get those nightly zoomies out.
Fast-forward two years later, and I found myself making a move for work and transitioning into my first solo apartment, downsizing to a 600-square-foot apartment in the downtown district of a popular suburb. Even though this place is the perfect size for a single cat mama, space is still at a premium, especially when it comes to big, bulky pet supplies. I've taken this new chapter as a challenge to purge old, oversized items and create a home that not only incorporates my style but also maximizes every inch of square footage while still providing Ollie the entertainment and enrichment he deserves. For any cat owners looking to do the same, these must-have cat supplies made the cut in my new apartment and will earn their keep in yours, too.
Begone, hideous, carpeted cat tree, because I've found a chicer, cheaper version, and I can personally vouch for its amazingness. Not only is this mid-century-inspired model small, sitting perfectly level with my living room window, my fat, 13-pound cat also loves it for clawing and birdwatching.
Buy: 31″ Gorham Wooden Cat Tree, $83.45 from Wayfair
Perhaps one of the bulkiest items for a small apartment is a hard-shell pet carrier. Unless you have proper storage, finding a place to stash a crate can be a pain — and take up half of your closet. This duffle bag-esque alternative comes with a washable sherpa fleece base and easily folds down so that you can stash it away until your next vet visit. Talk about a win-win, for under $30 no less.
Fancy cat scratchers can be extremely pricey, so when I want to treat my kitty to a fresh toy, I dish out the $6 to keep replacing this basic scratcher pad. It either lives in the corner of my living room or can easily be stowed under the sofa or my bed when guests are over.
Buy: Basic Cat Scratcher, $5.99 from Target
This fluffy bed may be one of the best purchases I've made for my cat. He spends about 50 percent of his life on this thing, and it's made of a very trendy, comfy material! Pro tip: Choose a color that matches your furniture like I did; that way, it blends in better with its surroundings.
Buy: Awolf Marshmallow Pet Bed, $18.99 for a 20-inch size from Amazon
Anti-Slip Ceramic Cat Bowl
Consider Happy & Polly to be like an Anthropologie for pet supplies. They create colorful and unique toys, supplies, and cat scratchers. This petite ceramic bowl looks great in my kitchen, hardly takes up any space, and actually promotes cat posture and spine health while feeding with its elevated design.
Buy: Elevated Anti-Slip Ceramic Cat Bowl, $33.99 from Happy & Polly
Peach Shaped Cat Litter Mat
If you own a cat, you know how essential a sturdy litter-catching mat can be when placed at the base of the litter box. Rather than settling for a boring, standard style, this fruity design looks cute enough to be left out in the open. In my household, this is about the only thing that keeps me from vacuuming every hour of every day, so do yourself a favor and get one now.
For less than $20, this cat-sized hammock can be attached to your window to provide your feline friend with a comfy, space-saving "bed" to bask in the sun. Worried about your bigger cat taking this thing down? Even a delicate hammock like this one can hold up to 40 pounds! What are you waiting for?
Buy: Cat Window Hammock, $16.98 from Amazon
Earthtone Wand Mouse Teaser
This Earthtone cat teaser, available in a pack of three, is a personal favorite — not just for me but for Ollie, too. Its muted colors and little woven mouse make for a stylish, minimalist addition to your cat toy collection.
Buy: Wand Mouse Teaser Cat Toy, $12.97 $11.93 from Chewy