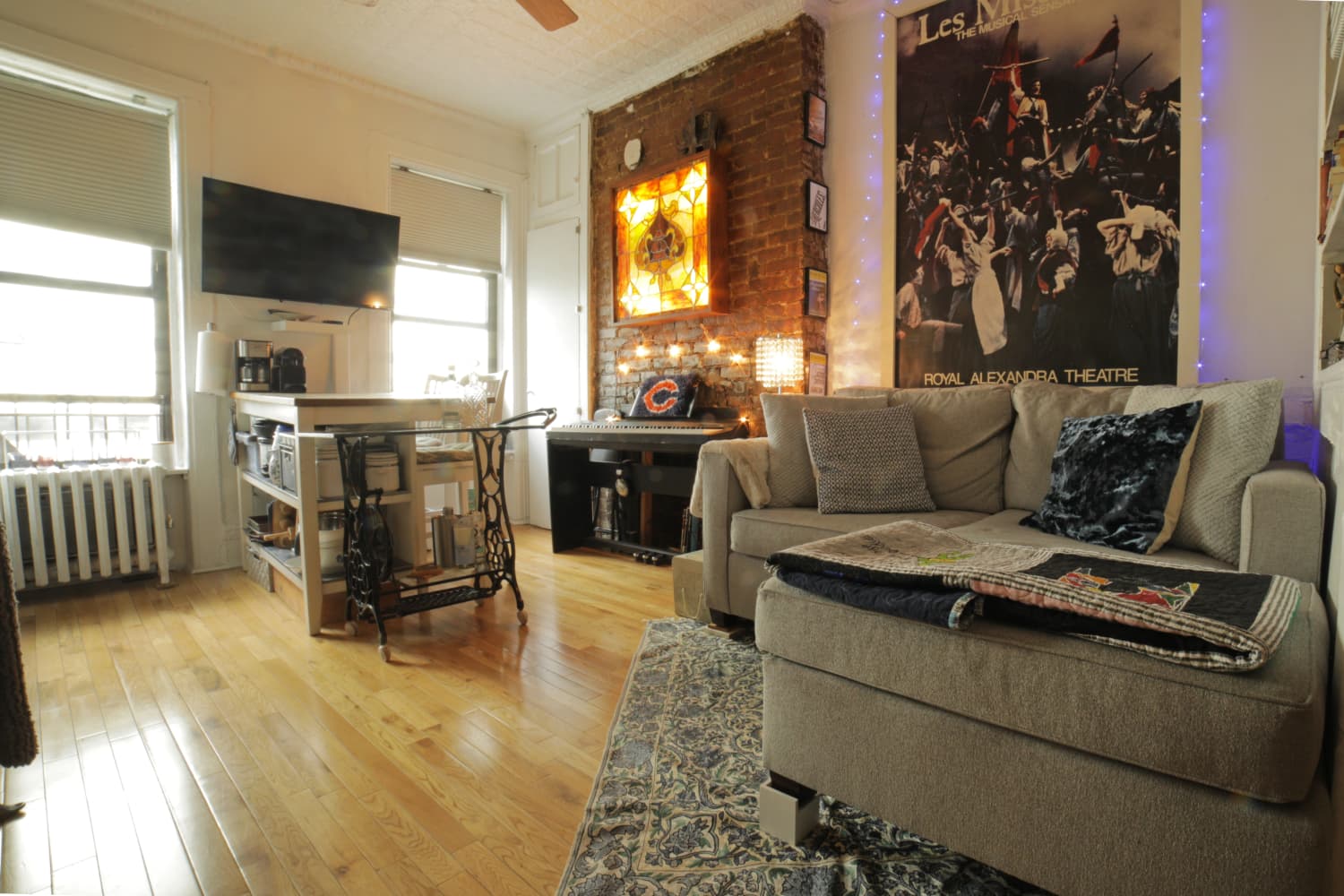 We independently select these products—if you buy from one of our links, we may earn a commission.
Name: Kirsten Lindberg
Location: Manhattan
Size: 219 square feet
Type of Home: Studio apartment
Years lived in: 6 years, renting
I see my home as a shining accomplishment of coziness. It's rent stabilized, and when I moved in, my landlord said, "Do anything you want to it… I'm not renovating it or painting it, and anything you do will probably make it better." I have put blood, sweat, and tears into this place, as well as creativity, joy, and wonder.
My friend Kathleen first told me about the apartment, and when we went to visit, it was rough. The floor angles sideways about one inch per foot. (See my bed and couch lifts!) There is very little storage. I had to build a loft for a bed. But she told me to take a deep breath and imagine what it could be, and I'm so glad that I did, because I have truly made it into a home. Well, me and my incredible dad, who just happens to be a handyman. I call him my HandyDad. Together, we added a backsplash over the oven, painted and hung cabinets I found on Craigslist, added a door to the pantry (previously just a curtain), built a loft, retiled the bathroom floor, added a sink to the basin of the toilet, as well as many other small fixes/additions here and there. Together, we made it great, and it feels like a true New York Apartment.
Kirsten's Terrifically Tiny 219 Square Foot NYC Studio | House Tours
I love the antique touches of my apartment, and they have influenced my style… my grandpa repurposed the old sewing table, which I made into a bar cart (he wouldn't love that… he was a teetotaler). Also, he took the stained glass piece out of the small town Victorian funeral home that he worked in as a mortician when he retired and sold the place, and then he made it into a wall hanging by backlighting it. I also have a cedar chest that is a family heirloom that my dad had refinished for me.
I rode out being sick with Covid in this place in March 2020. That was ROUGH — I felt like the walls were closing in on me. I'm an extrovert, so it was hard to be here alone. I have taught my elementary and high school music classes over Zoom over the past year from the kitchen table. My kitchen is also my living room, my bathroom (well, shower) and my gym. (Lots of yoga and HIIT classes get done in there!) I love to bake, but I admit that is challenging in this space. Still, I manage to do it every week or two.
Apartment Therapy Survey:
My Style: Antique, metallic, stained glass, but make it Midwestern cozy
Inspiration: Heirlooms from my family, Broadway
Favorite Element: My huge Les Mis poster, a high school graduation gift, will always inform the color scheme of my living room from now until the end of my days, as it's my favorite thing. (My dad built the frame for that, too. What can't he do? Nothing.) The tub was painted blue before I moved in, which works, since that's my favorite color. (And it works with the poster.) Oh, and my dad also build the incredibly custom side table. I guarantee there has never been another one in this exact shape.
Biggest Challenge: I love practicing the gift of hospitality, and that's hard to do here.
Proudest DIY: Oh, definitely the toilet sink. I saw that once in Japan, and when I moved here, I remembered it and wondered if we could put it in here, because it feels gross to only have one sink. It's never good to have to go to a different room to wash your hands after you use the toilet.
Biggest Indulgence: My West Elm couch. It was expensive, but I got the exact dimensions I needed for this tiny space.
Best Advice: If you live in a small apartment, spend your money on the couch. Get a good one. It's worth it; your bottom will thank you!
What's your best home secret? If you live in a small place, any collections you have need to be small. I want to recommend magnets. They are my favorite thing to get as a souvenir, because they are small, but you can still display them and remember your trips. I love my magnet collection! The other collection I have is ticket stubs, because I go to tons of concerts and plays (when there isn't a pandemic). I collected playbills for years, but they take up too much space! Ticket stubs are better. I have mine in two boxes, and I love to look through them every once in awhile.
This house tour's responses were edited for length and clarity.