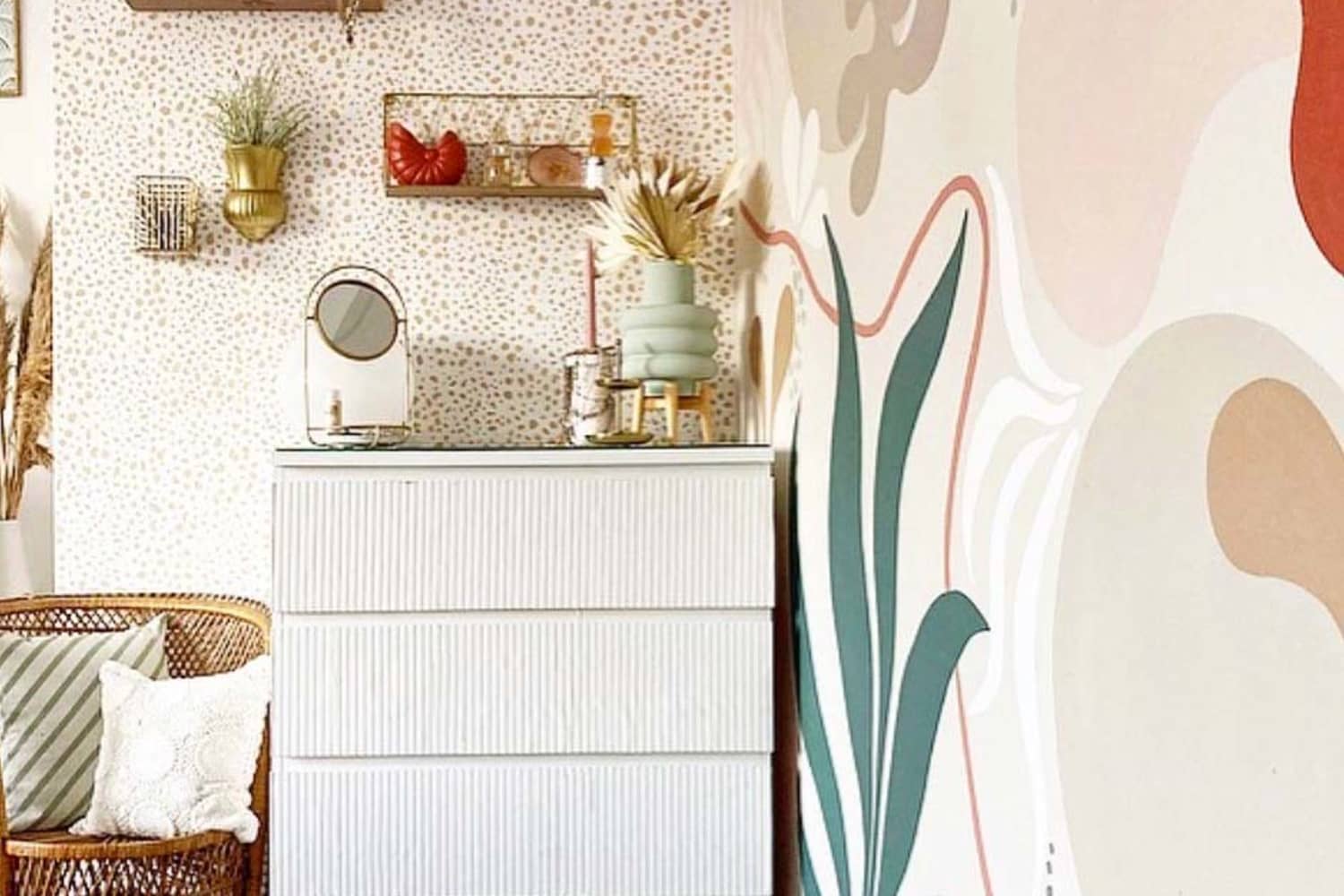 We independently select these products—if you buy from one of our links, we may earn a commission.
Name: Leanne Ward, husband, Ash, and two fur babies, pugs Jinxy and Hudson
Location: Derbyshire, United Kingdom
Type of home: 1930s Semi-detached
Size: About 860 square feet
Years lived in: 1.5 years, owned
Tell us a little (or a lot) about your home and the people who live there: This is our second home that my husband, Ash, and I share with our two little pug dogs, Jinx and Hudson. Buying our current house was a bit of a whirlwind process as we spotted it up for sale in the estate agent's window one Friday night, we went for a viewing Saturday, a second viewing Sunday, and put an offer in, which was accepted on the Monday! Surprisingly we were actually very happy in our first home but always craved something with character. This is hard to find in the town we live in, so we knew we needed to act fast to secure it.
We have now lived here just over a year and half with the majority of that time spent in lockdown due to COVID-19. Our jobs have meant we have spent a lot more time at home so it has given us the perfect opportunity to put our stamp on our new place. The original decor was left in good condition but just a little outdated and not to our taste. The situation we were in didn't really allow to start ripping things out, and we didn't have the budget to start fresh… this meant everything we did and are continuing to do has been on a very tight budget. Upcycling and online hacks have played a big part in finding ways to allow us to inject our personality without breaking the bank.
I have always been on the creative side. From as young an age as I can remember, I have loved art. I continued this through school and college and into employment working in the art studio for a ceramic printer. My personal style reflects this, too; I have always had a strong interest in fashion and enjoy keeping up to date on the latest fashion trends. I love experimenting with hair and makeup techniques, too, and myself and my husband both have a strong interest in tattoos. I really do think my home reflects my style. I find half my wardrobe is filled with a lot of natural textures and neutral colours while then the rest is an assortment of bright colour, pattern, and animal print! I love mixing these together and finding different combinations to create my own individual style.
Describe your home's style in 5 words or less: Styled-up tropical boho on a budget
What is your favorite room and why? My favorite room is the living room. It's the space we spend most of our time and the period features in there are what initially made us fall in love with the house. The picture rail, large bay windows, and statement fireplace are period details I really love. This room is decorated in my favorite colorway: pink and green, with the use of gold accessories and plants to create a tropical/deco feel.
What's the last thing you bought (or found!) for your home? The last thing I bought was a seven-foot-tall palm tree from Facebook Marketplace. It was an absolute bargain! It fits perfectly in my living room alongside my other giant plant (also from FB Marketplace) to create a tropical deco feel. I love searching selling sites and charity shops for unusual pieces. What is someone's trash is almost very certainly someone else's treasure!
Any advice for creating a home you love? My advice would be, don't be scared to try things! If you can't afford a new kitchen, why not paint it, use vinyl to cover old fashioned bathroom tiles, and upcycle unwanted furniture to give it a new lease of life? In our main bedroom, I have painted a mural rather than using expensive wallpaper. As I buy a lot of secondhand or budget furniture, I'm never too precious over it (not sure if that's a good thing or not), so I always think a lick of paint can never hurt! At the end of day it's only paint, if you don't like it, paint over it!
I'm also big lover of "shopping the home." I try and buy accessories, prints, and soft furnishings than can be used in more than one room — that way when I am ready for an update, I can swap items around to mix the space up! Throws, cushions, and prints are also a great way to switch up the colour scheme of a room without the commitment.
This submission's responses and photos were edited for length/size and clarity.