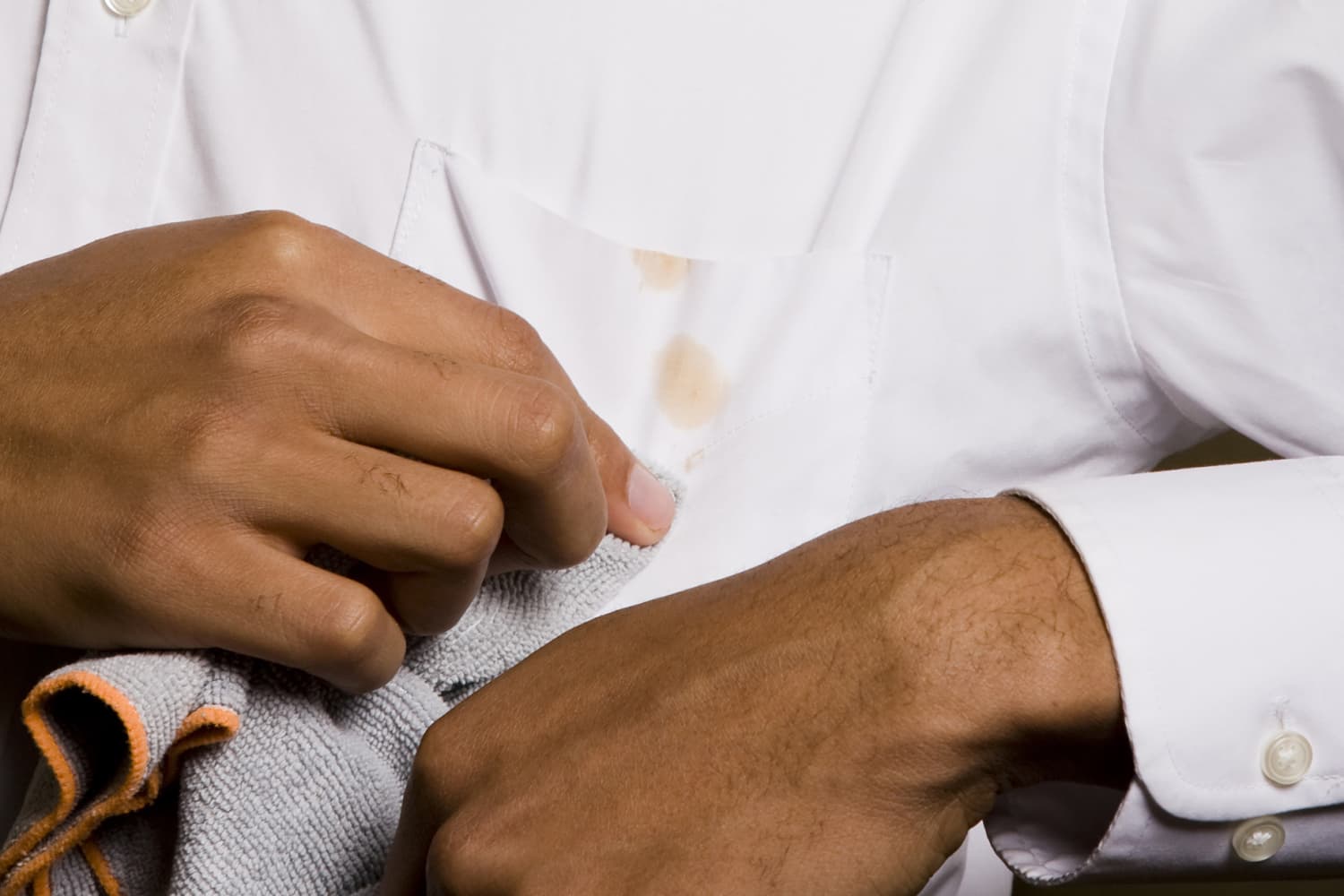 Growing up, a common joke in my house was that, almost immediately after my mom got a new shirt or dress, she would get a stain on it. Usually, that stain was something like mustard or grease, aka the types of hard-to-remove stains that can ruin a garment for good. As I got older and did more and more of my own laundry, though, I started to hear rumors that these types of stains could be removed as long as you approached them the right way.
I also have learned over the years that people are passionate about their go-to laundry tips and tricks; they don't just use them occasionally, they swear by them. In an effort to compile some of the most effective and out-of-the-box stain removal pointers, I surveyed my Instagram audience (about 30,000 people or so) for their best strategies for removing unwanted stains. Just as I expected, people were enthusiastic about sharing. I received more than 70 responses for how to expel stains of red wine, grease, ink, and just about every substance in between, suggesting tips including using your own spit on small blood stains and applying shaving foam to lipstick marks.
But here's the thing: All in all, 24 people — as in, more than a third of the people who answered — messaged me specifically to share their love for one common household product: the original blue Dawn dish soap.
According to these fans, the soap is a stain-removal powerhouse — and that goes for so many types of stains, from greasy salad dressing to set-in avocado.
Rocco Brudno of Denver shared that soaking a garment in water and Dawn and then scrubbing it with a toothbrush is his preferred move. Brudno says this has gotten everything from "coffee to pasta sauce" out of garments, and even fabric-covered furniture.
If you're a parent, you might be familiar with the mysterious and hard-to-remove stains that end up on nearly everything an infant wears (and touches). For Lee Johnson of Westford, Massachusetts, Dawn solved this problem and continues to fix others. "It's a trick I picked up when my kids were babies to get stains out of their onesies, and I use it all the time now," Johnson messaged.
Jordan Klee from Conshohocken, Pennsylvania, wrote to say they carry a travel-size of the Dawn dish soap with them for stain emergencies: "It's all I ever use!!! Saved the day at multiple weddings…MUST BE DAWN brand!!!!!! And the traditional blue kind. Cannot be generic!!!!" And yep, all of those exclamation points and caps are their own.
According to Morgan Brashear, a senior scientist at P&G, which owns Dawn, it's the "surfactant chemistry" in Dawn that makes it so good at removing stains. If we're talking makeup, food, or sweat stains, oil likely plays a role in making them set into garments. Dawn breaks down that oil, allowing the marks to be more easily washed away in the laundry.
As you can tell, people have found multiple ways to use Dawn to get stains out of their favorite clothing items, but it's important to remember to use it as a spot treatment before you wash clothing. Dawn's website recommends spot testing in a hard-to-see place on your fabric, then applying the dish liquid directly to the stain, rubbing it in with your fingers, then tossing in the wash. Away from home? The site says you can apply the Dawn, then wait a few minutes before scrubbing it out with water.
If you're looking to supercharge the pretreating power of Dawn, Tonya Harris, author of "Slightly Greener," suggests mixing one part Dawn dishwashing liquid and two parts hydrogen peroxide in a spray bottle. Spray the stain in question before throwing it in the wash, and it should be gone by the time it exits the dryer.
In other words, don't just squirt some of the product into the washing machine and hope for the best, because it's definitely not made for that.
Apartment Therapy's Laundry, Sorted vertical was written and edited independently by the Apartment Therapy editorial team and generously underwritten by Samsung.