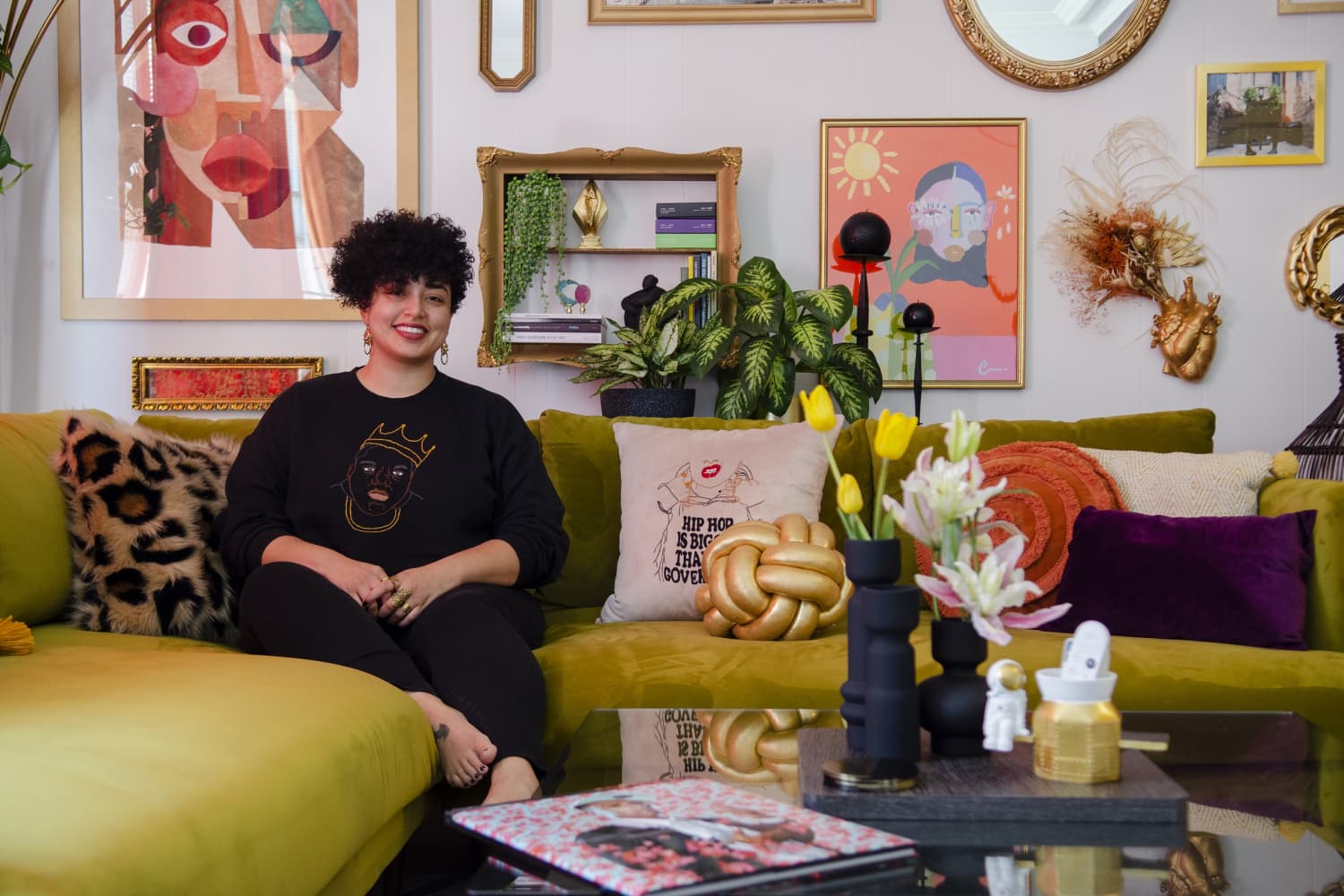 We independently select these products—if you buy from one of our links, we may earn a commission.
Name: Sophia E. Aguiñaga
Location: Oakland, California
Size: 900 square feet
Years lived in: 8 months
Every room in Sophia's dynamic and expressive Oakland apartment tells a story, from the wonderful vintage pieces, to the bright wall paint colors that give each space its own identity. Sophia has a clear vision as an interior designer and artist, choosing to surround herself with pieces that inspire and start conversations: art by Black artists and artists of color, queer artists, and pieces purchased from Black- and woman-owned shops.
"I consider my home to be a temple, a sanctuary," Sophia says. "It's not enough for it to simply be functional, and beauty alone doesn't constitute soulful. I believe there is an interior world residing inside each of us, a unique world that seeks to be expressed. As Emma Jung phrased it, 'an inner wholeness that presses its still unfulfilled claims upon us.' My work as a designer is to bring my interior world into reality."
Even more impressive is that Sophia has only lived in the apartment for a little over half a year. As soon as she saw the original drab, gray walls, she rallied with her partner to paint each room in bold colors that pop — a project that truly tested their endurance over five days. Since then, Sophia has paired those hues with beautiful furniture and unique art, resulting in a home that expresses Sophia's values and passions.
Apartment Therapy Survey:
My Style: Wild Eclectic Glam
Inspiration: The concept of sanctuary, which stems from the Late Latin word sanctuarium, "a sacred place, shrine." Thinking of home as a place for rest and worship (of whatever inspires you) is what inspires me. Also, giving old items new life. Vintage is beautiful because it's oftentimes some of the most unique work you can find, it reduces waste, and breathes new life into pieces that have maybe lost some wind.
Favorite Element: My favorite thing about my home is the living room. The huge bay windows let in tons of light, and the gallery wall is my eclectic, glam altar to Black women and women of color. Between that and the bold colors, it's the room that feels the most dynamic and expressive so I feel the most at home there.
Biggest Challenge: Painting. The apartment came with all cold gray walls, including some gray on the ceilings. It was brutal. I knew it needed to be painted before I could move in and I had a clear vision. A different color of paint in every room, alternating walls with white and color. My partner and I thought we could take a weekend to cover it, so I held off on moving anything in until we were done. But six rooms and two hallways (total of 36 walls) and seven colors? That took five days, working from morning until night, hiring help through Task Rabbit halfway through because we realized we were in over our heads. I slept at my partner's place and washed my two unpacked outfits every couple of days, used his shampoo and conditioner… it was a rough week, which finally ended with us moving my things into the apartment. We made it work, but if I ever have that big of a paint job again, I vow to hire help first thing.
Also, because I love handmade and vintage pieces, the biggest challenge has been getting pieces delivered safely from all over the world. I've lost out on a one-of-a-kind Lion in Frost coffee table, two 3' tall sculptures, and so many other unique pieces just through shipping. It's heartbreaking for a special piece I truly connected with to arrive in pieces. I've overcome it by shopping locally as much as possible. There are a ton of local vintage shops nearby that aren't on IG or Yelp but have amazing finds if you dig enough. There are also a lot of vintage shops on IG that source amazing pieces, and you can always find a bunch in your area with some research. It's been a lifesaver and an amazing community to connect with.
Proudest DIY: My leopard and gold vanity table. It started out as a broken table bought from Ohmega Salvage. The shape and the wood were gorgeous, but it needed a lot of work. I had to fill in gauges in the wood, stabilize the bottom tier of the table, reinforce the legs, and sand for what felt like forever. Once it was ready, I spray painted the frame gold and found self-adhesive leopard wallpaper to cover the tabletops. It's one of my favorite pieces in the house.
Biggest Indulgence: My fabulous Joybird sofa. It's the most expensive thing in my home, and it was absolutely worth it! I joke with my partner all the time that one side of the sofa is like a twin-sized bed. It's deep and lush, so we can snuggle or snooze on it together and be totally comfy. It's my favorite place to read a book, watch a movie, chat on the phone with family. Plus, it's right in front of my gallery wall, so it's the best place in the house for a killer Zoom background. It gets tons of use.
Is there something unique about your home or the way you use it? The most unique thing about my home is my use of ceramic hands as hooks. I have pairs of ceramic hands that I painted gold throughout my home, holding everything from my masks and wallet to my jewelry and towels. Finding unique functionality in items others may perceive as just decorative is one of my favorite design hacks.
What are your favorite products you have bought for your home and why? All the homages to the female form. I have a 3D printed golden statue of a vulva, sculptures of the female body by Abigail Ahern, a handful of oil paintings by Senny Mau from her Little Labia series, and pieces by Marcella Colavecchio featuring unique angles and shapes hidden with the female form. It's not just my gallery wall that is an altar to women, it's my whole home.
Please describe any helpful, inspiring, brilliant, or just plain useful small space maximizing and/or organizing tips you have: Function can be beautiful and stunning. My style doesn't make this obvious, but I'm a minimalist at heart. I only like having things in my home that serve a unique and specific purpose, and I prefer to shuck everything else away. Everything from storage of your pots and pans to where you store your shoes or dishes can be visually stunning. My trick? Use your walls — including your ceiling. Don't let everything sit on the floor, bring it up. Hang your pots and pans from the ceiling, use a wall-mounted bookshelf, display your knives and cooking utensils like art, display your favorite wines and spirits on a floating shelf. By doing this, you increase floor space, which increases flow, and displaying functional things artistically forces you to keep them more organized and tidier because they shift from being simply functional to being beautiful.
Also, even in a rental or on a budget you can do a LOT. Decals can work for everything from adding color, shape, and dimension to walls if you can't paint, to changing the floor tiles in your bathroom, or adding a backsplash in a kitchen. I've done all three — the black and white tiles in my bathroom are decals and even my property manager couldn't tell! Decals have been such an amazing find — reasonable cost, easy to apply, huge impact!
Finally, what's your absolute best home secret or decorating advice? Introspection is my secret to decorating. Bring what's inside of you out; splatter it on the walls, display it in shapes and colors, infuse it in your imagery, and reinforce it with where and how you source items for your home. Surround yourself, literally, with your innermost passions and values, and your home will transform into a sacred place of beauty and rejuvenation.
For me, it involves raising Black women and women of color up and reflecting my sense of inner strength through bold colors, strong prints, imagery of lions, etc. When I'm decorating for myself or clients, getting a clear picture of the person's internal landscape and reflecting that back through the home is the key to timeless and inspiring decor.
LIVING ROOM GALLERY WALL ART
This house tour's responses were edited for length and clarity.