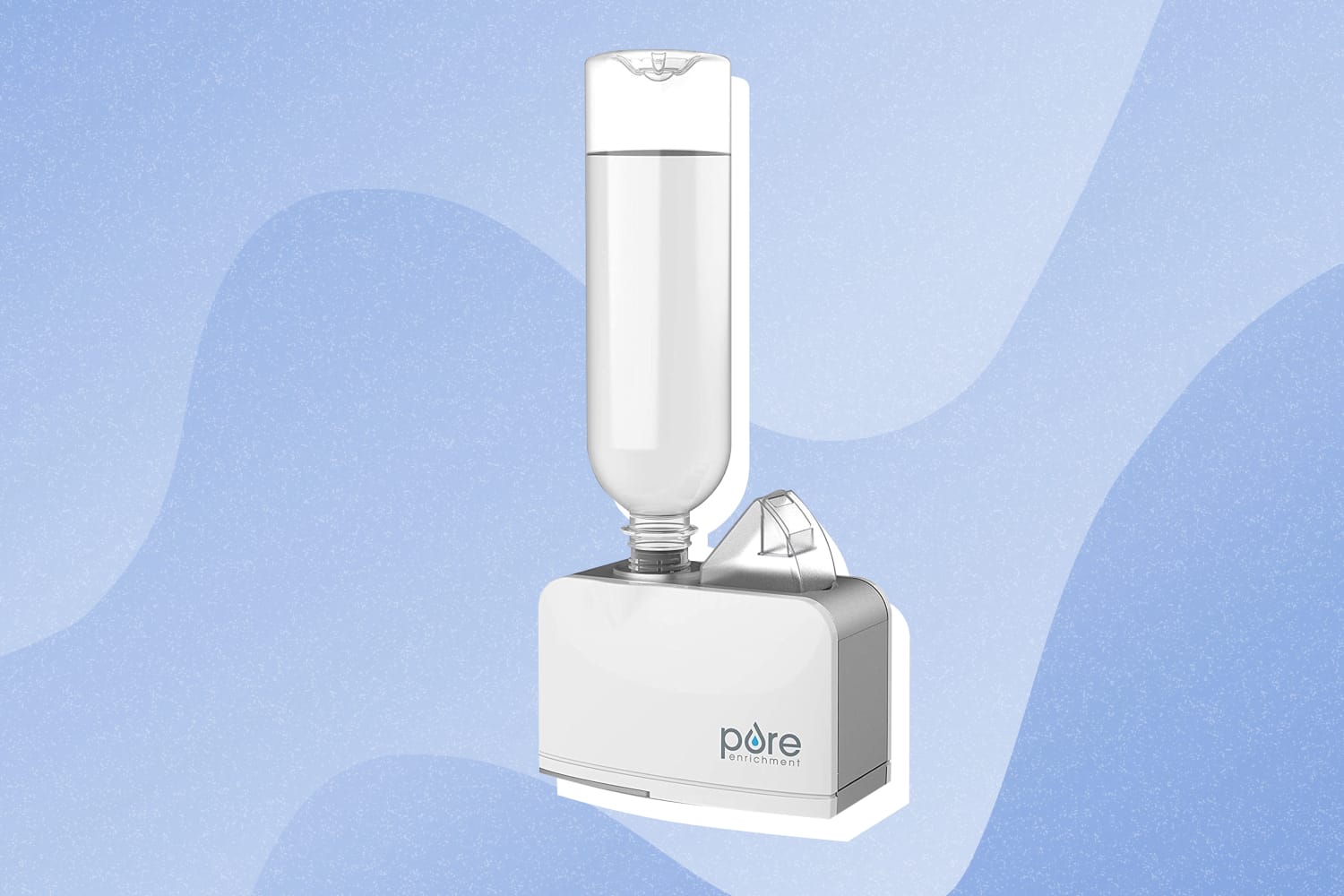 We independently select these products—if you buy from one of our links, we may earn a commission.
It's never too early in the year to start using a humidifier. In fact, I've been known to sporadically use my own humidifier all year round. But honestly, I would use it more if it wasn't such an inconvenient tool. (Yes, we're going there.) Let's face it: Humidifiers can be a hassle to set up. They're usually pretty clunky, not to mention heavy. They can be difficult to clean — plus there's the inevitable accidental spills to worry about. And it can be hard to remember to refill them, or bring yourself to drop what you're doing to do so. Last but not least, they can also take up a lot of precious space, whether they're in use or in storage. But they're also so necessary for combatting the dry air, whether in the winter or during the rest of the year. That's why this the small-space-friendly, portable MistAire humidifier from Pure Enrichment is such a game changer.
The humidifier itself is only 5.5″ by 5.5″, so it's pretty compact. But the best part is that the water source is just any standard-sized water bottle, which attaches and empties into the base of the humidifier. No more lugging around jugs of water or accidentally sloshing half the contents of the humidifier onto the floor. Because it's so small and portable, this humidifier can easily make your packing list for a trip. And it's the perfect solution for the dry air in hotels.
One reviewer wrote that this portable humidifier is perfect for someone who has to travel for work: "I spend lots of hours in hotels and airports and always end up with very dry and uncomfortable sinus issues. I absolutely love the convenience and portability of this humidifier."
Because it's so unobtrusive, it's also a great gift for someone moving into a dorm or heading back to the office. Plus, at $29.99, it's pretty affordable. The MistAire humidifier also automatically shuts off when it runs out of water. And if it needs a refill, all you need is a bottle of water and you're good to go. It has a knob that lets you control the mist, and it comes with a storage bag and cleaning brush.
Another happy reviewer wrote that they prefer smaller humidifiers like this one because of how convenient it is. "… we have several small ones throughout the house as the large room humidifiers create too much moisture and are a pain to clean and refill, but these small ones keep humidity at just the right level…"
You can keep this portable humidifier on your desk, by your bed, or move it around throughout the day. Whether you need a humidifier for traveling or staying at home, why not get a device that can do both?