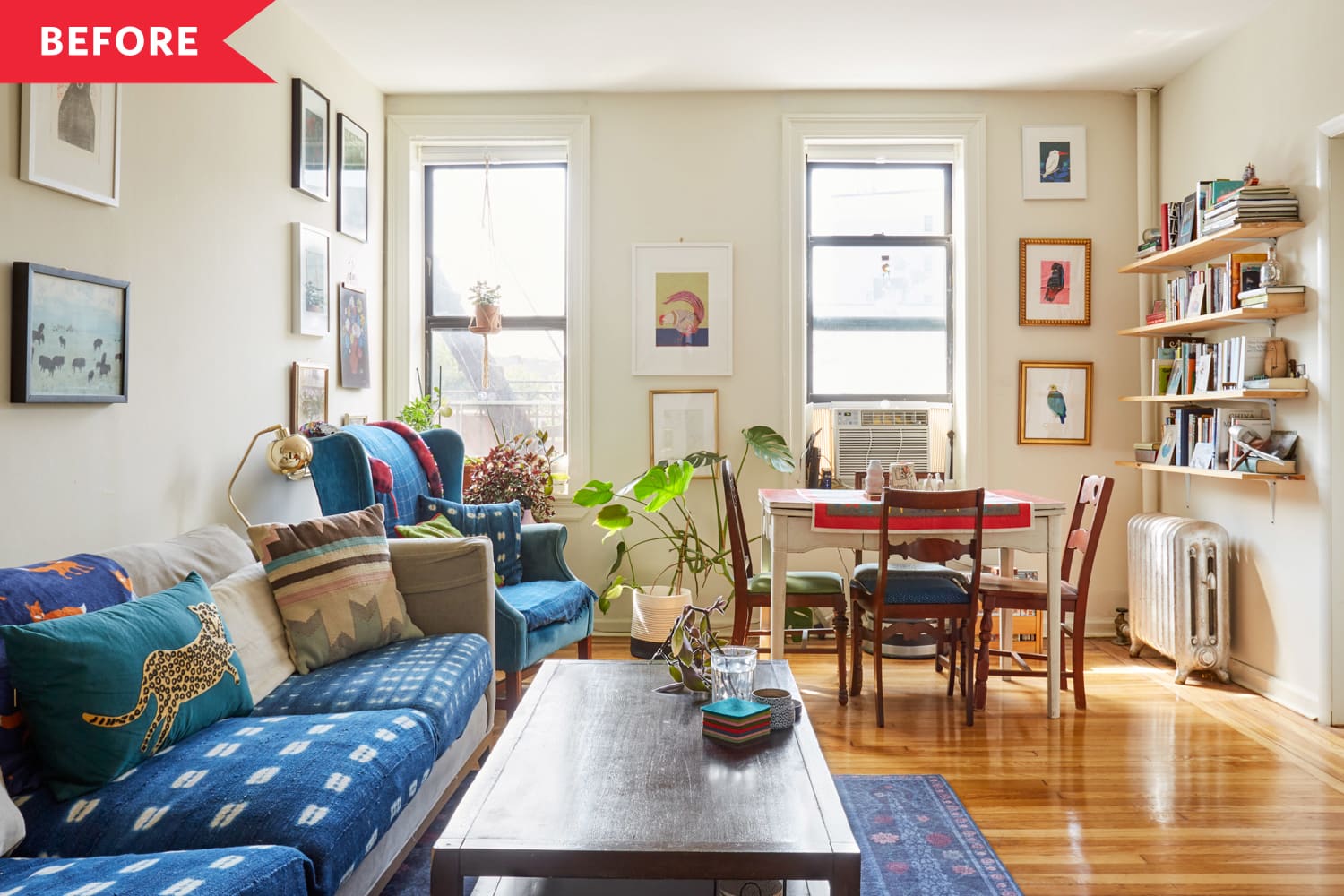 Sometimes even the most stylish spaces still need a little extra something. That was the case for Meredith's charming Brooklyn apartment, a whimsically maximalist space that a friend once likened to a curiosity shop. Meredith just wasn't sure what her added oomph should be — so she let the AT community help.
Meredith knew she wanted to paint some part of the living room, which features a cozy seating area and an open bookshelf. Since her adventurous aesthetic already lent itself to bold color choices, we knew Benjamin Moore — with its more than 3,500 unmatchable hues — would have just the thing. Designer and visual artist Sara Weissler narrowed it down to two options that suited Meredith's sensibilities. Then we asked our 3.1 million Instagram followers which color to use and where to apply it: a highlight wall or the bookshelf.
And now — drumroll, please — we cannot wait to show you the results!
Readers chose to emphasize Meredith's open bookshelf with Benjamin Moore Teal 2055-10. This deep, saturated blue-green complements Meredith's existing decor so beautifully that it feels like it could've been there all along. (Looking for your own perfect match? Browse expert-curated color palettes online at Benjamin Moore.) Such a stunning hue also makes a unifying backdrop for her eye-catching books and tchotchkes.
"I'm loving my deep-sea teal bookshelf," Meredith says. "With the ships-in-bottles collection and my wacky Victorian swimmers on the shelves, my living room is like a tiny library in Atlantis." She's also impressed by the big impact of this low-effort upgrade. "It was much less stressful to focus on a smaller paint project, without needing to make a big, forever-feeling, whole-room paint color commitment," she says. "I think next up may be a pink bathroom door, because why the heck not."
Makeover Takeover: Meredith's Bookshelf
Sara is also smitten with the new look. "One side of Meredith's apartment had a lot more color coming from the large pieces of furniture in varied shades of blue. The other side needed a big splash of color to balance out the room," she says. "Creating the illusion of a bookcase with just paint allows the books to feel contained, and that area then becomes a new visual destination."
With the rich pigmentation and superior coverage of Benjamin Moore paints, Meredith reinvigorated her space without wasting time or money. Now, her living room has a bold sense of balance that matches her quirky, colorful style.