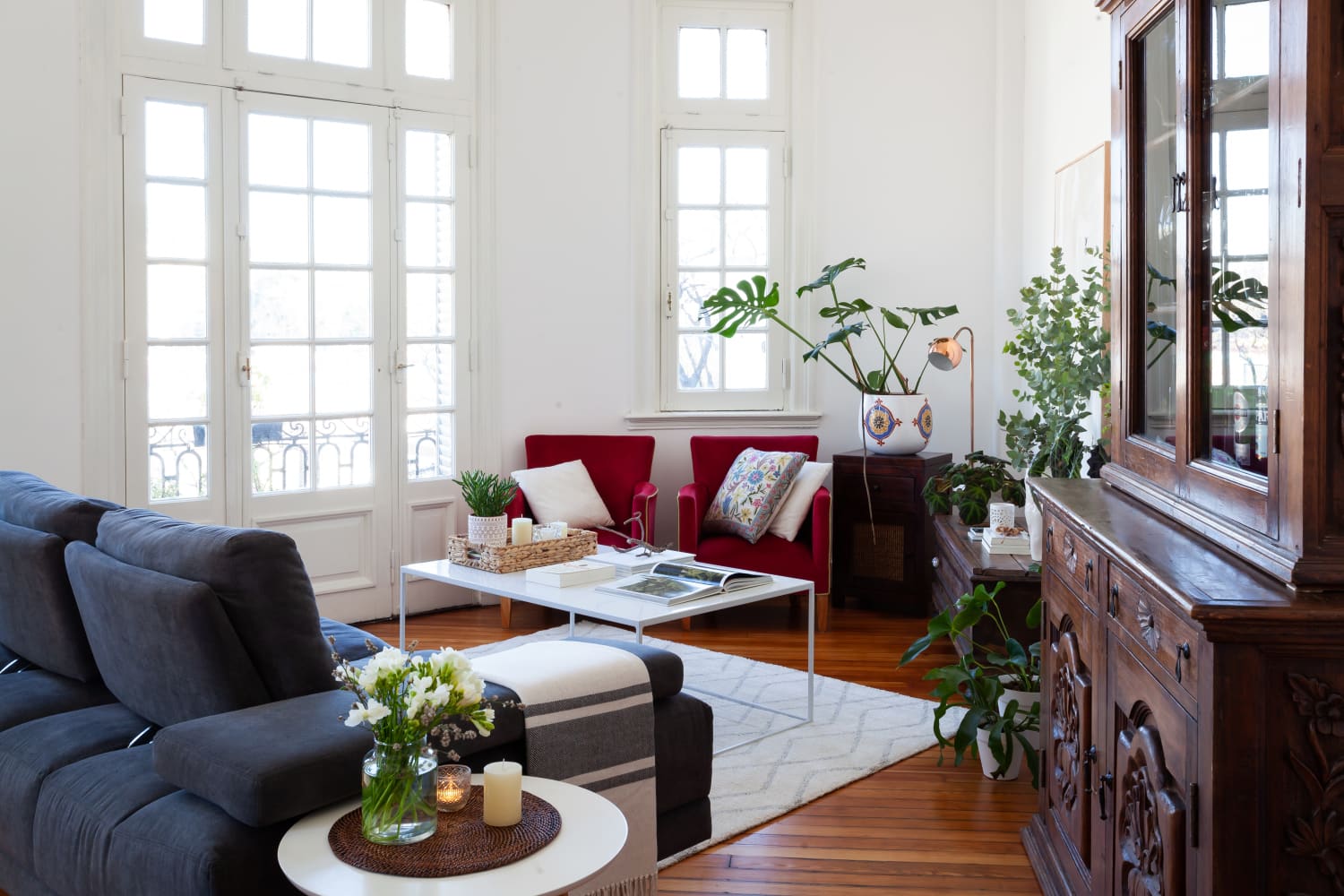 Name: Sebastian, Alejandro (my boyfriend), and Edith (our 14-year-old cat)
Location: Buenos Aires, Argentina
Size: 1,100 square feet
Years lived in: 5 years, owned
Sebastian fell completely in love with this apartment on his first visit. "I loved the four and a half-meter high ceilings, wooden floors, big white windows, and the traditional colorful iron glass windows, with fantastic potential!" he explains. "This large 90-year-old traditional apartment is located in a busy and centric area of the city of Buenos Aires. The entire building was actually abandoned and occupied in the '70s and '80s, and partially restored in the '90s. I completely renewed it with a eight-month long reno to give it the feel and practicality I wanted. There are all-white walls, an open concept for the living area, the kitchen was moved to what used to be the entrance to make it wide and modern, the bathroom was fully renovated, and I built a home office from the former bathroom and closet."
Like many people, Sebastian has been spending a lot of time at home, which he shares with his boyfriend Alejandro and their cat, Edith. "I love cooking and entertaining friends and to receive traveling family members (I'm originally from France!). I really enjoy spending time cooking yummy brunches and dinners in this great kitchen," he explains.
"I have always wanted my apartment to have big white spaces and neutral color basics to feel open, and clean, but also want it to be cozy, welcoming, and lively. I have tons of small colorful travel souvenirs and plants, and the entire thing brings a joyful feel to it."
Apartment Therapy Survey:
My Style: Mid-century modern/Scandinavian style
Inspiration: Emotions are my inspiration. I want my guests (and us!) to feel welcome and at home in my apartment. I wanted big open white spaces, neutral color furniture, colorful accessories, and lots of plants!
Favorite Element: No specific element but all my travel souvenirs — I love buying local handcrafted dishes wherever I travel to.
Biggest Challenge: One of the biggest challenges has been to combine all my very colorful and eclectic items I have recollected through my travels. That's why I've gone for a very neutral color palette for walls, floors, and the big pieces of furniture, so the color items would pop out, but not overwhelm.
Proudest DIY: I'm not very handy at crafting, so most of my DIY attempts have not lasted for long!
Best Advice: Plants, the more the merrier!
What's your best home secret? Nice scents, and Berger Lamp! Adequate lighting atmosphere depending on moods and rooms.
This house tour's responses were edited for length and clarity.