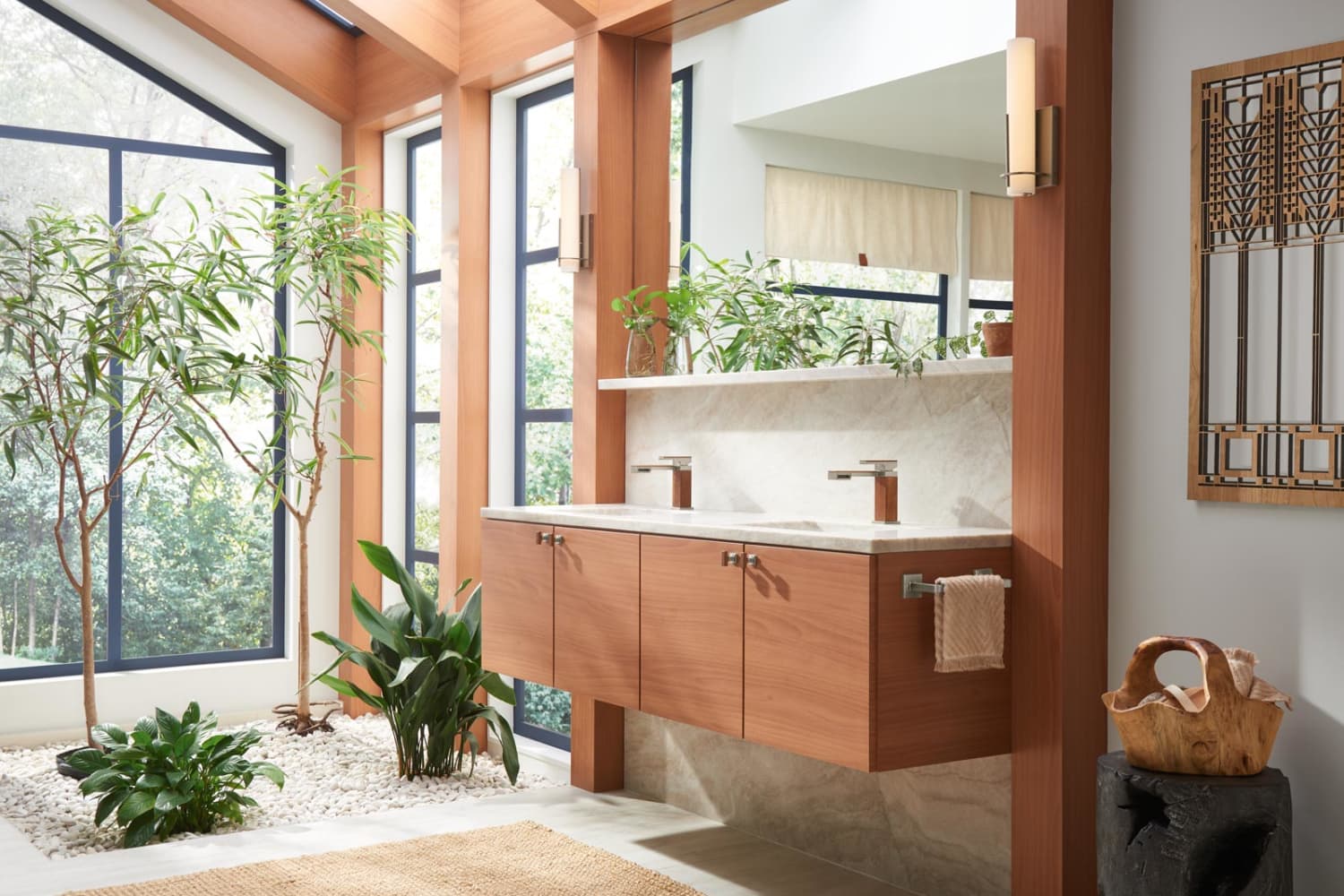 The Frank Lloyd Wright Foundation teamed up with luxury faucet and fittings brand Brizo to launch a brand-new collection inspired by the architect's famous designs. From the materials chosen to the construction of each fitting, Wright's philosophy and six principles of organic architecture (simplicity, individuality, belonging, palette, substance and integrity) shines through.
Brizo's brand-new collection, which will go on sale this fall, includes lavatory faucets, tub fillers and spouts, shower systems, shower components, and other fitting accessories. Each, like Wright's designs, are directly inspired by the natural world with metal finishes and natural woods.
"People sometimes make the mistake of thinking Frank Lloyd Wright's legacy is complete," said Stuart Graff, President and CEO of the Frank Lloyd Wright Foundation, in a July 28 press release. "But really, it's ongoing. It's not just about what he created in his lifetime — it's about all the artists and all the disciplines he inspired and their work going forward. That's why working with the Brizo brand has been such a delight. They understand that honoring Frank Lloyd Wright's vision means continuing it. And in this collection, they have."
Each model will be available in a variety of different finishes like polished chrome, nickel, and nickel with wood details.
"Staying true to Frank Lloyd Wright's vision of reinvention was core to our product development, and the Foundation's incredible knowledge and deep reverence for that vision has been invaluable," Judd Lord, Senior Director of Industrial Design, said in the press release. "Their dedication to create and inspire in the name of making life more beautiful mirrors our own steadfast commitment to inspire, challenge and elevate the world around us through distinct design and unparalleled craftsmanship."
While you wait for The Frank Lloyd Wright Bath Collection to come out, Brizo has put together a virtual showroom that models how each of their faucets and fittings looks and works. You'll feel like you're in a Wright-inspired oasis while checking out the collection.