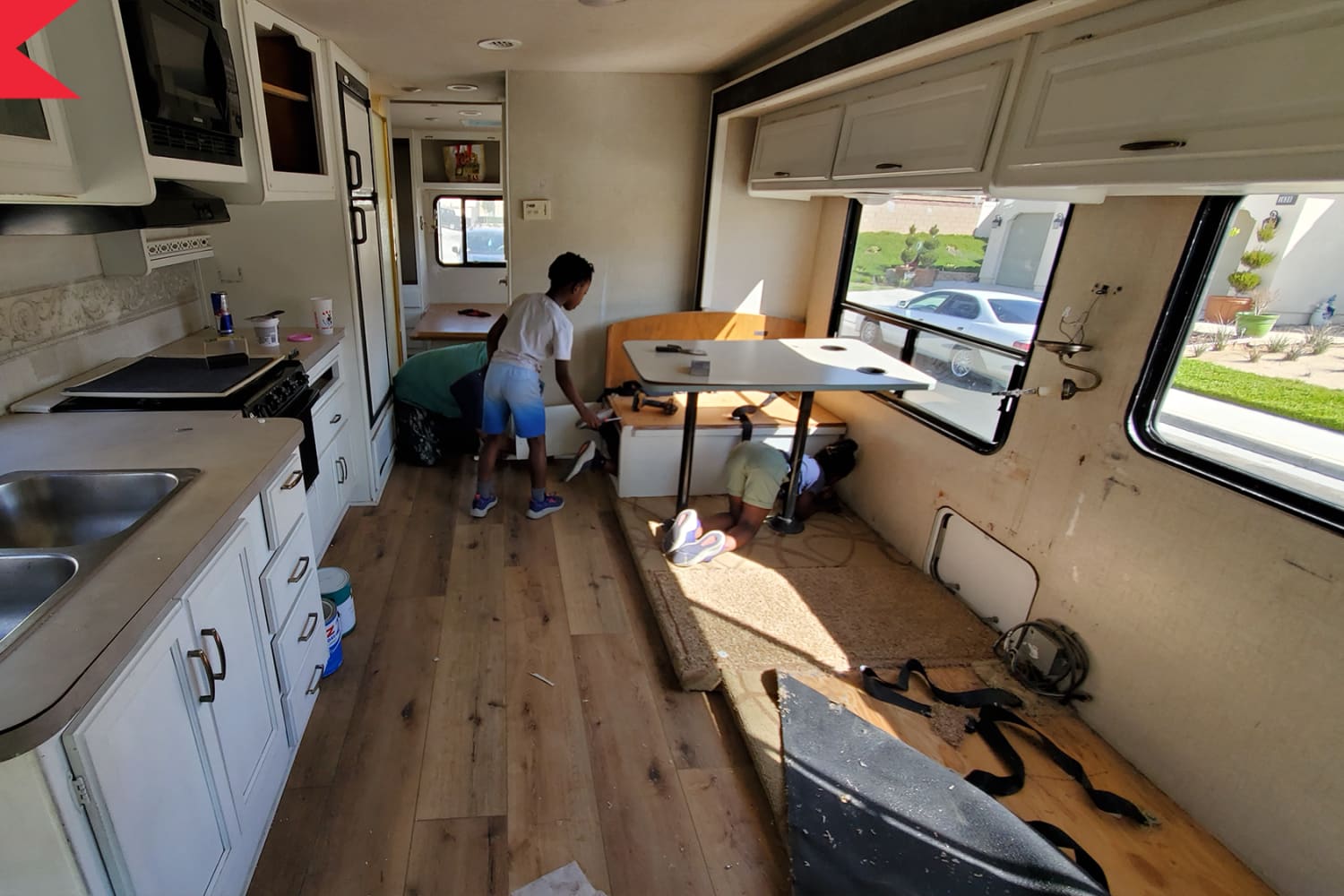 Name: Karen Akpan, husband Sylvester Akpan, and son, Aiden Akpan
Location: We are full-time digital nomads and live around the US in our RV.
Size: 260 square feet
Type of Home: Class C RV
Years lived in: 1 year, owned
At the start of the pandemic in February 2020, my family and I decided to make a big life change. In an effort to travel the U.S., spend more time together, and pay down the student loans and consumer debt that my husband and I accumulated, we sold our family's home and bought an RV off Facebook Marketplace to opt for a full-time life on the road to save money and travel. We spent about two months renovating our RV to make it home, and officially hit the road full time in May 2020.
Apartment Therapy Survey:
My Style: My style is simple and functional, yet beautiful. When living in an RV full time, it is important to think about those two aspects. Putting too many things in a small space can make it feel too tight. So we decided to go with bright and airy by painting all the walls white and then having one accent wall for some color.
Inspiration: Looking at several IG renovation pages.
Favorite Element: The accent wall. Every year I have a new color, and when we painted this accent wall teal, that was my color and it just fits so well and brings so much to the room. Teal represents open communication and clarity of thought. And it was exactly what we wanted to have in our RV.
Biggest Challenge: Trying to figure out how to remodel a small space. This was something my husband had never done before and had to basically figure it out.
Proudest DIY: The kitchen countertop. Every time I look at it, it just makes me so happy to see what it looked like before and looks like now. It is modern and just perfect!
Is there something unique about your home or the way you use it? We use the front cab / driver area as a garage to store all our stuff.
What are your favorite products you have bought for your home and why? Breville Bambino Plus. We are really big on coffee in our home and drink it every morning. When we moved into an RV we didn't want to lose that option, so we decided not to compromise and take it with us.
Please describe any helpful, inspiring, brilliant, or just plain useful small space maximizing and/or organizing tips you have: Lots of white helps the space look more airy and spacious, especially when the walls are painted white.
What's your absolute best home secret or decorating advice? Create a vision board of what you want the end product to look like. That'll help you pull things together for your final look.
This house tour's responses were edited for length and clarity.