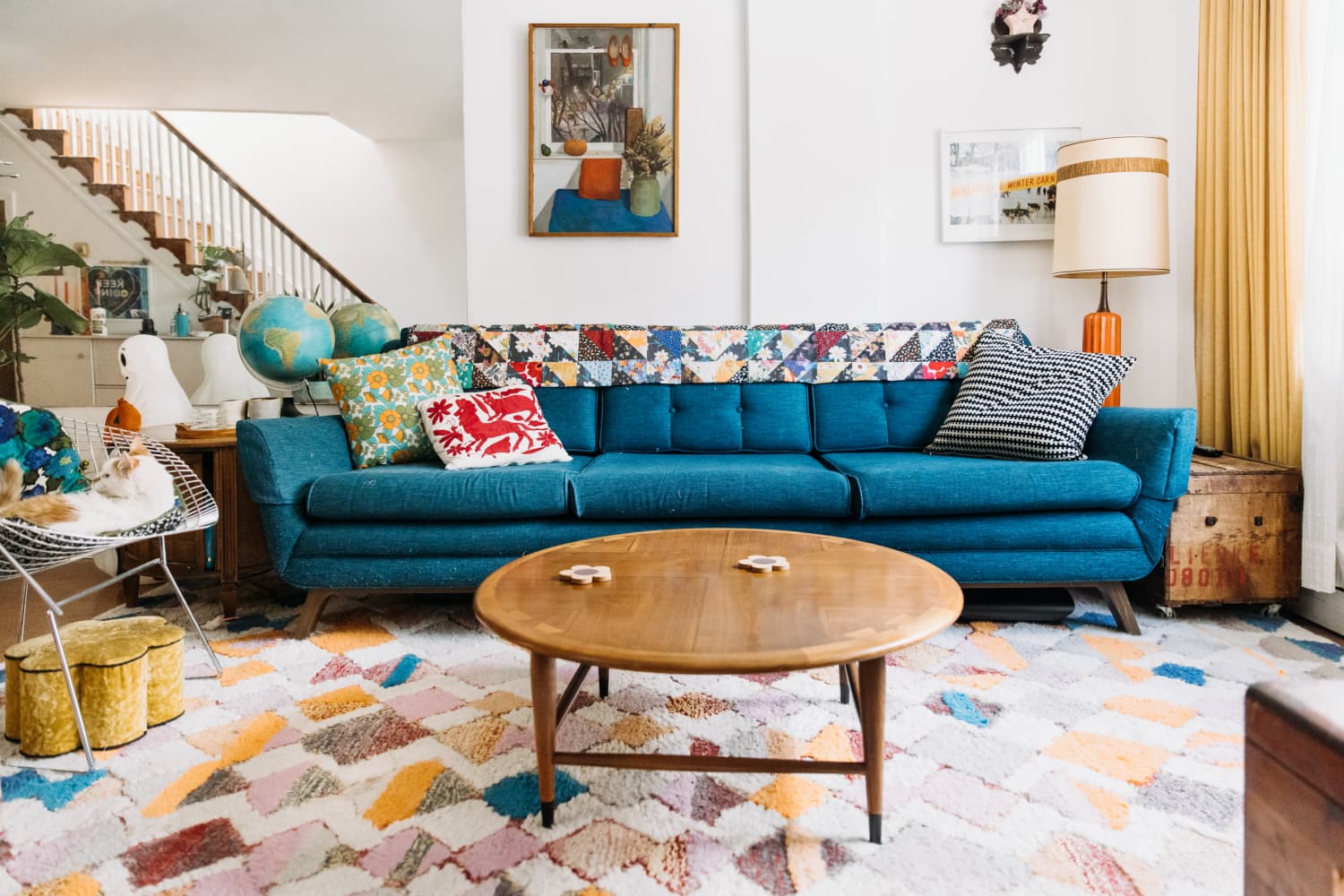 As much as designers love to stay on top of the latest decor trends and styles, they often yearn for the looks of yesteryear, many of which have plenty of design merit — but have fallen to the wayside over time. I spoke to nine top designers who shared the trends they wish hadn't slipped away. The good news: If one (or several!) of these looks speaks to you, there's no reason you can't introduce it into your home today. Some of these design ideas are already starting their comeback tours in certain contexts, so now's the time to get on board!
Repeating prints and pattern motifs.
"I miss prints on upholstery and repeating a print throughout the room. Some clients are hesitant to commit to one pattern, but with the right fabric, it can be magical." — Anne Wagoner of Anne Wagoner Interiors
"I love the idea of a true eat-in kitchen where the dining table is in the middle or corner of the room. My aunt had this setup when I was growing up, and it was so cozy and convenient. For guests to be able to sit and chat at the table while the host is cooking is a very nostalgic thing. I always loved watching old sitcoms where the table was in the middle of the kitchen! My new house (built in the '80s) actually has an eat-in kitchen, and I am excited for this traditional way of gathering and sharing meals with my kids. Of course, I plan to get a gorgeous light fixture to modernize the space, but I want to show that a small kitchen can still be beautiful and functional." — Caroline Harvey of Simply CH Lifestyle & Interiors
"One specific trend in the '90s that I loved was having posters in the bedroom. I had so many posters in my bedroom and was addicted. It would be interesting now to see how we could do it in a more stylish and chic way. Perhaps mixing framed posters with non-framed — having a nice matted framed poster in conjunction with something more raw? That could be an interesting vibe." — Louis Duncan-He of Louis Duncan-He Designs
Scallops and bright, bold florals.
"My very first home was built in 1941, and when I bought it, it was pretty much in its original state. I love many of the design elements from the '40s but particularly enjoy scalloped edge detailing in vintage kitchens. I would love to see more scallops in window treatments and decor details. And the wallpaper of this era was so fabulous! The bright, bold florals (some with gold foil!) were so exquisite. Even though wallpaper has made a comeback, most wallpaper today doesn't have the same texture and look as it did back then." — home stager and stylist Allison Rowan of At Home with Alison
"Even though younger generations tend to be more casual and less interested in traditional china, I believe the china cabinet still has a place in the home. It doesn't have to be for your grandmother's gravy boat! Use the glass-enclosed shelves to display beautiful serveware, pottery, ceramics, or collected objects. Showcasing your personality, it becomes the perfect piece to spark conversation as you entertain at home." — Emma Beryl
"Lately, we have rediscovered our love for granite. It comes in a variety of veining and colors and offers incredible strength and durability. For a while, it has been seen as a dated material, but we see it as a workhorse that delivers both aesthetically and functionally." — Melissa Lee of Bespoke Only
"Although an open concept is beautiful to look at, having a home with closed rooms allows more flexibility and variety when it comes to decorating, and usually is easier to furnish than an open space. It also allows for much more privacy and sound proofing." — Eugenia Triandos of Hi-Bou Design & Co.
"Come on, people, let's bring it back! We aren't talking a patchwork sofa with a pocket that you can stick your remotes in; we're talking about that beautiful blue color with great texture and incredible durability. Bring back the denim furniture with clean lines and simple silhouettes!" — Michelle Berwick of Michelle Berwick Design
"I'm definitely nostalgic for maximalist designs… in a way that lets each interior be more unique and rich with a strong personality. Although minimalism has been quite popular, I feel that it stripped away any ability for self-expression. People seem to want to copy white kitchens and neutral bedrooms to allow for crisp and airy spaces; however, we all end up having similar homes that are so immaculately staged." — designer Diana Rose of Diana Rose Architectural & Interior Designs