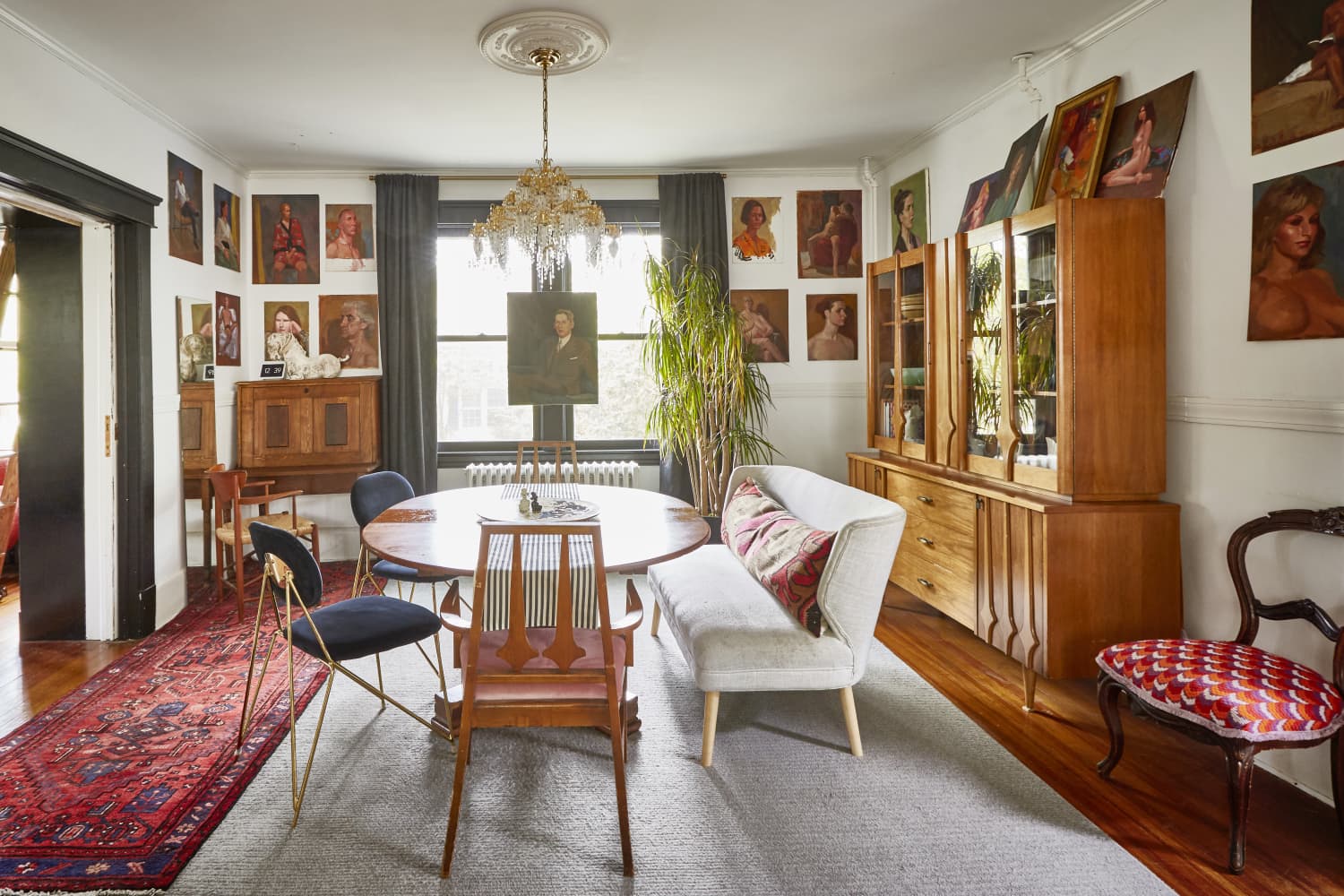 We independently select these products—if you buy from one of our links, we may earn a commission.
Painted arches and colorful murals are definitely having a moment in the world of accent walls. If you aren't quite ready to pick up a paint brush though, you may be looking for fun art or large decor to make your white walls a bit more interesting. The one item that I'll bet hasn't hit your radar yet is actually a staple in many studio apartments: a fabric room divider.
Typically, you float these privacy screens in the middle of a room to section off space, but guess what? They look just as good pushed right up against a wall, standing in for a painted wall arch or geometric shape when you can't or don't want to paint for whatever reason — that is, if Kate Pearce's 1800-square-foot home in Long Island, New York, is any indication.
An interior stylist obsessed with all things vintage, Pearce lives with her husband, three kids, and two dogs. Her home style is eclectic — what she likes to call "restrained maximalism" — fueled by her love of secondhand things and quirky art. "I love being surrounded by my estate sale and thrift store finds," she says. "I am constantly editing my spaces to make sure they feel interesting without feeling cluttered."
In her daughter Eva's room show above, Pearce placed an upholstered privacy screen from The Inside right behind the desk. Not only does the size and shape of the screen fill the blank wall space perfectly, but the three panels are covered in funky shapes, which adds visual interest and color to the bedroom. If a $429 screen seems a little pricey, you can purchase cheaper options from places like Walmart, Target, and IKEA. Better yet, this option means there's no need to put holes in a wall. The tension from placing the desk up against the divider should keep it in place.
Pearce's biggest decorating tip is to treat your room like a canvas and try to find balance between your design elements. "This is simply my own opinion, but I think that color is most effective when it complements neutrals," she says. This colorful privacy screen used as wall decor, paired with a large jute rug and the rustic white bed frame, is a perfect example of this philosophy at work. "I think most people think you need to be all in or all out when it comes to color," Pearce says. "I like to think that my designs show that you can have some fun with color while still maintaining a feeling of sophistication." Her interiors also prove that you can always find a new way to use a familiar furnishing!